In:
Royal Caribbean reported its first quarter 2013 financial results today with almost double net income this year compared to the same period in 2012.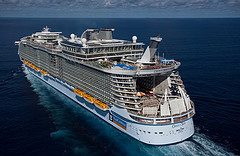 Royal Caribbean chairman Richard Fain was excited to report the news, "It was a gratifying first quarter. Ticket revenues were better than expected, costs were well controlled and it was encouraging to see record guest satisfaction and noticeable improvements in onboard spending as a result of our revitalization efforts."
Royal Caribbean's first quarter 2013 net income was $76.2 million ($0.35 per share) compared to $47.0 million ($0.21 per share) in the first quarter of 2012.
Both onboard revenue and ticket pricing improved, contributing to a Net Yield increase of 3.6% on a Constant-Currency basis. NCC excluding fuel were also better than anticipated, primarily due to timing, and declined 0.5% on a Constant-Currency basis.
Bunker pricing net of hedging for the first quarter was $699 per metric ton and consumption was 5,000 metric tons lower than expected at 345,900 metric tons. Versus the first quarter of 2012, fuel consumption per APCD was 1.2% lower.  
Look forward to the rest of 2013, Royal Caribbean's booking volumes are averaging 5% ahead of last year.  Bookings from North America have remained strong since the beginning of the year, even with the company's expectations of "modest disruption" of demand for Caribbean cruises thanks to negative media coverage.  Demand in Europe increased in early February and Royal Caribbean expects pricing improvement for the region this year. Demand from China has weakened somewhat due to itinerary changes related to the territorial dispute with Japan.