Autopsy reveals Royal Caribbean cruise ship passenger died of natural causes
In:
Earlier this week the FBI investigated the death of a Virginia woman that died aboard the Royal Caribbean cruise ship, Enchantment of the Seas.  An autopsy was performed on the woman and it revealed that she died of natural causes.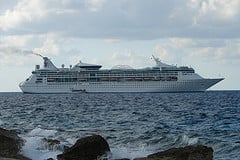 FBI spokesman Rich Wolf identified the woman as 64-year-old Katherine Kennedy, of Midlothian, Virginia. Wolf says Kennedy died of heart disease.
Officials were called in after Katherine's husband found her dead Sunday in her cabin aboard the cruise ship.  FBI agents were waiting when the ship arrived back in Baltimore on Monday to begin the investigation.
Wolf says Kennedy also had a laceration on her forehead, but authorities determined that she got the cut when she fell down. They said it had nothing to do with her death.