Freedom of the Seas Live Blog - Day Six
In:
Today was our second sea day and it was certainly the tale of two cities to say the least. Let me explain what I mean by this. We woke up around 8am or so for my wife to get her massage for the cruise. She had scheduled her hot stone massage for 9am, which was her traditional gift to herself of getting pampered. Meanwhile I had woken up but felt like a zombie, specifically just walking around feeling like I could fall asleep at any time.
I'm not sure why I was so tired but me and my daughter went up to the Windjammer for breakfast and ate a little and then returned to the stateroom to watch TV until my wife returned. When she did around 11, we eventually made our way to the Windjammer again for an early lunch but we were all feeling a little run down. After lunch we returned to our stateroom and started watching TV but very quickly we decided on a nap.
Fast forward 4 hours, yes 4 hours, and we woke up at about 4:30. I guess this is where I tell you about one advantage of a cruise vacation is you can choose to do as little or as much as you want and I think running around for the last 5 days finally caught up with us because we were all pretty tired. Part of me lamented in the fact we didn't do more but truthfully I knew that we needed to relax like we did and just take it easy.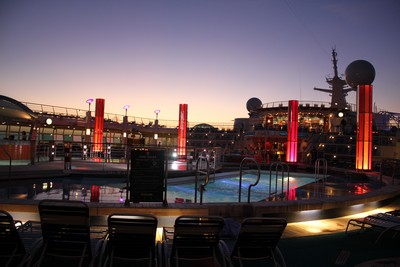 By now it was about 5pm and our evening plans were to have dinner at Portofino, the speciality Italian restaurant onboard, and to have a night out for me and my wife. We dropped my daughter off at the daycare and arrived at Portofino a little early for our reservation, which was not a problem.
This was our first time at Portofino and we were excited to try it all. The menu was mostly what I would consider to be traditional Italian fare. We had eaten at Gionvanni's Table on Oasis of the Seas and I felt like Portofinio on Freedom of the Seas was more formal than Gionvanni's. It felt upscale and I'll have more on our dinner here on a future restaurant review to dive into our experience here.
The food at Portofinos was quite good and compared to our dinner at Chops the other night, I enjoyed dinner here more. It's hard to compare the two but if I had to eat at just one, I'd lean towards Portofino honestly.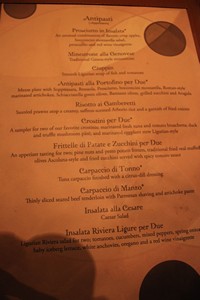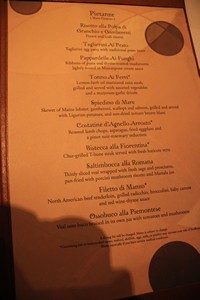 I opted for the Minestrone soup and the tuna carpaccio for my appetizers. I loved the soup but didn't enjoy the carpaccio as much just because it was heavy on citrus (oranges, limes) and didn't do it for me. A+ for presentation for both.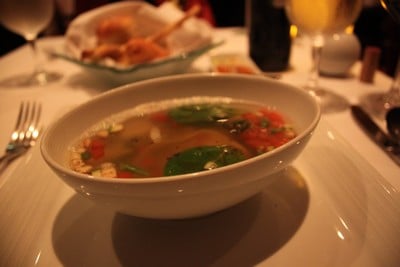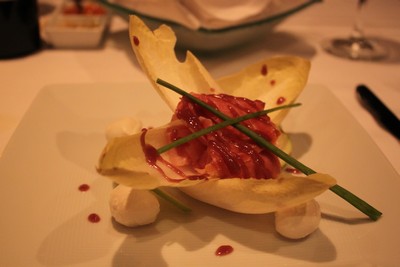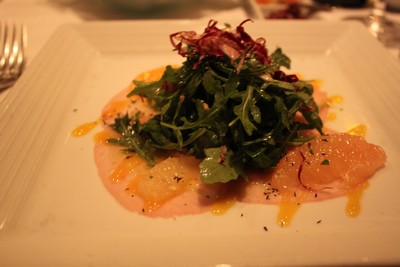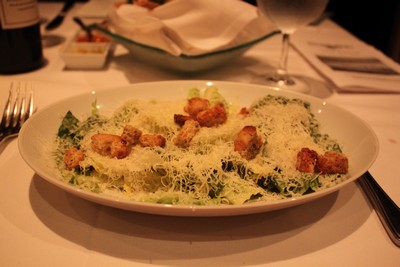 For entrees I chose the tuna steak and the pesto pasta. These were both really good and something I would order again.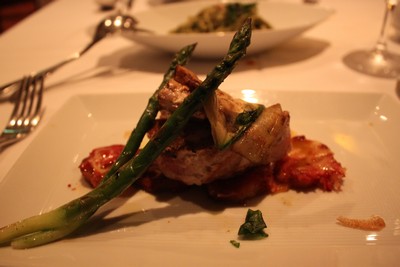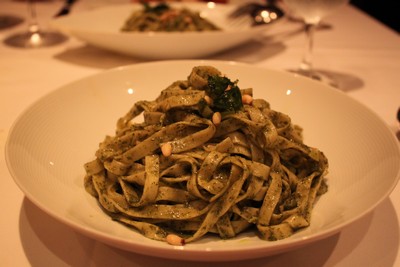 In addition to the food, the service here was quite good and the cost here seemed to definitely be worth it. Like Chops, if you've never eaten at Chops or Portifinos, I'd definitely recommend eating at both for the experience. They offer good menus and Portofinos is slightly cheaper so hard to go wrong.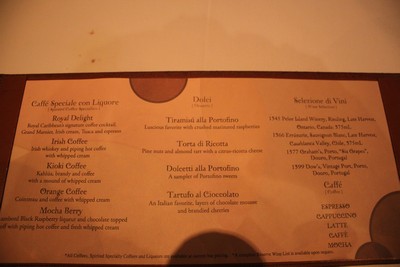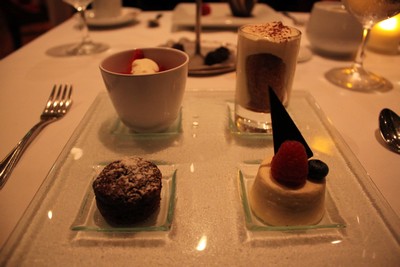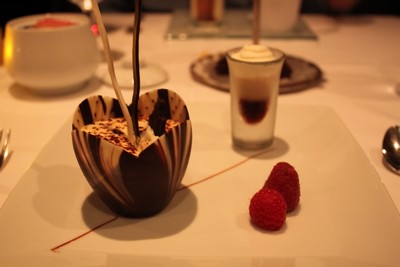 After dinner, we decided to do a bit of a bar crawl. What follows is a review of each bar we went to and what we had to drink.
Bolleros: This is a Spanish themed bar with some dancing available. We opted to go for what the bar promotes the most, which are margaritas and we were not disappointed. Bolleros seems to be the place to go for pre-dinner drinks prior to going to the main dining room. There is live music here too so it's quaint.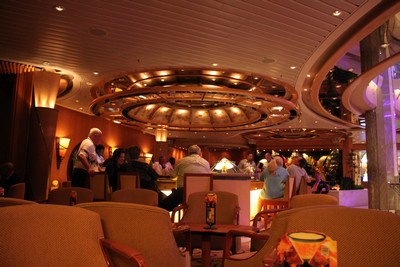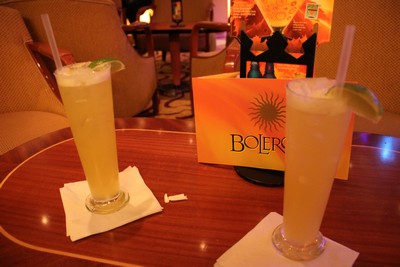 Schooner Bar: This is definitely a bar that benefits from some sort activity going on, such as trivia. When we went there there was nothing going on and maybe a half dozen people at the bar so as you might imagine, it wasn't that "happening".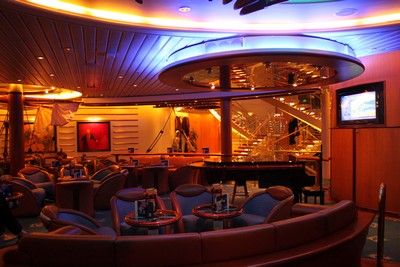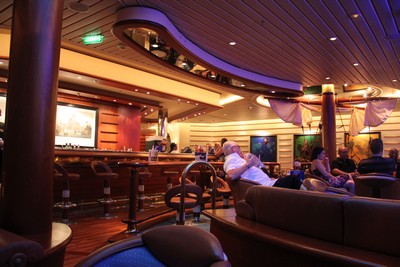 Bear and Bull: When we arrived at the Bear and Bull, it was like the Schooner Bar and not that exciting. They do offer a WIDE array of beers to choose from. They are all bottled (no draft beers available) but I love the selection here. Within about an hour or so, some live music started and the bar really picked up. It may have been the aggregate effect of drinking for the past couple of hours but I had a great time trying new beers and enjoying the music.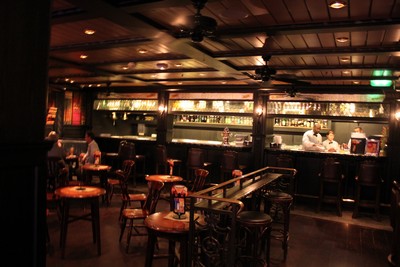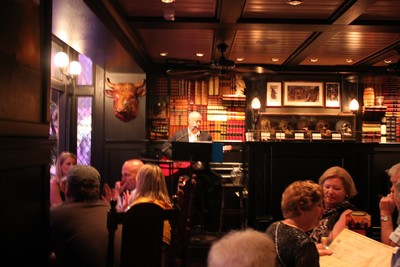 Tomorrow it's our last day on the cruise and another sea day. I've got a lot of things planned, and assuming I don't sleep all day (again), should have a lot to report!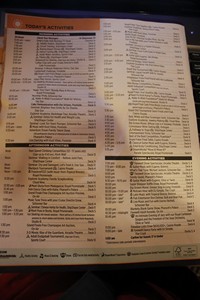 Be sure to post your comments and questions in the comments below!