Freedom of the Seas Live Blog - Day Three
In:
Today was our first sea day and that means there is LOTS to do onboard Freedom of the Seas. The sad thing is we always have lofty goals of "doing it all" and we end up just taking it slow to relax. We still have fun, but part of me is always disappointed we aren't doing more. Oh well, either way we are having a great time!
Since we left CocoCay yesterday the ship has been moving. Nothing terrible, but you can definitely feel the ship moving a lot. It's GREAT for sleeping because you are literally rocked to sleep and when you are awake, well, you get used to doing the stutter step. What's interesting is the ship is going with the wind, so with the ship's speed plus the speed of the wind, the perceived wind speed on deck is 50 miles per hour! Walking on the top pool deck (Deck 12) is certainly...challenging.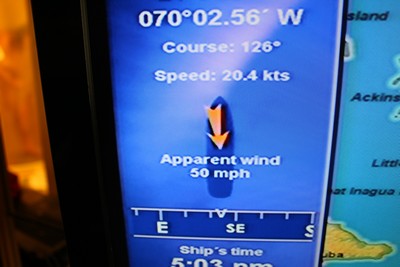 Aside from the wind, the weather has been great. Sunny and warm temperatures so as you might imagine on a sea day, lots of people out on the pool deck enjoying it.
We slept in today and didn't get up until about 9am. I think the early mornings the last 2 days caught up with us so we decided to take it easy. Naturally we went up to the Windjammer for breakfast and I had my "breakfast of champions" of a custom omelette from the omelette bar with breakfast potatoes. The omelette bar is a must for me for breakfast and it's fairly quick...usually waiting about 5 minutes for it.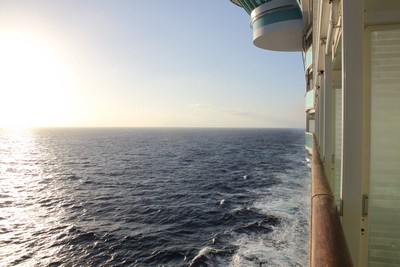 Following breakfast we went to the Cruise Critic Meet n Mingle. For those unaware, the mega message board CruiseCritic.com allows its members cruising to have a meet onboard the ship that is sanctioned by Royal Caribbean. I wont bore you with the details of how a meet n mingle happens but you need to basically go to the cruisecritic website and register with Royal Caribbean. At any rate, we went up there and met up with a group of about 30-40 people I'd estimate. Royal Caribbean does a quick speech about the importance of the online community and then does a raffle for some small Royal Caribbean swag (bags, pens, etc).
I met Kris and his family from Canada who are also readers of RoyalCaribbeanBlog.com and we had a great conversation about cruising. It was a fun little meet up and very informal. Frankly, I'm impressed with how cooperative Royal Caribbean is with this because my background is working with Walt Disney World and Disney Cruise Line and this is something they would NEVER do, let alone condone. Bravo Royal Caribbean.
Following the meet up, we decided it was time to hit the pool. This was around 11am or so and as you might imagine most of the pool chairs were taken. We did manage to find some chairs near the kids pool but I think the high winds helped reduce the amount of chairs that were taken up. My 2 year old went in the baby pool and interestingly the "pool patrol" Royal Caribbean employees are certain to keep kids that are not wearing diapers out of the area.
Following a swim we changed and went to the main dining room for lunch. I've always enjoyed the main dining room for lunch and the selections here were good. I had a Lebanese salad and a fish enchilada, both of which were quite good (I apologize for not remembering to take a photo of the menu). There's also a large salad bar which my wife enjoyed. We met a nice couple from Florida who were also big cruisers and we had a good conversation.
After lunch it was time go back to the room for my daughter to nap, which turned into the whole family taking a nap. Again, the rocking of the ship makes sleeping soooo easy.
After our nap, it was time for the ice skating show called "Freedom-Ice.com". We arrived 30 minutes early and there was a HUGE line already. We had booked tickets ahead of time on the Royal Caribbean web site and I HIGHLY RECOMMEND booking your tickets in advance as well.
This was the third or fourth time we've seen the show and I believe there were some new songs/sequences. Regardless, it's a fun show and I'd recommend seeing it regardless of your opinion of ice skating shows. Ice skating doesn't excite me but it's a fun show set to popular music and everyone enjoyed it. Two thumbs up!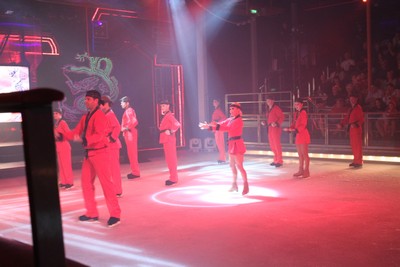 Dinner was again in the main dining room tonight and once more, the food here was great. Someone in an earlier blog post commented that I thought the food here wasn't great but truthfully the food in the main dining room has ranged from "okay" to "very good". I really cannot think of anything I or anyone at my table got that was anything less than acceptable. Tonight I had the New England Clam Chowder and Hot Harira Soup. Both were very good, with the harira soup standing out. Even the clam chowder was certainly better than anything in a can so I was happy with it. I tried the conchiglioni pasta, which in layman's terms was stuffed pasta shells. Not bad either.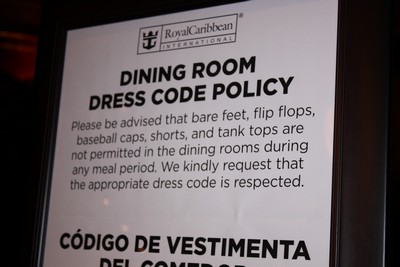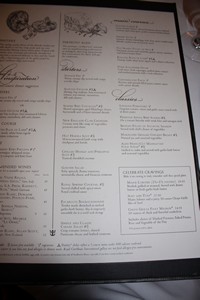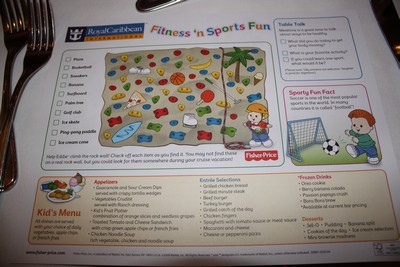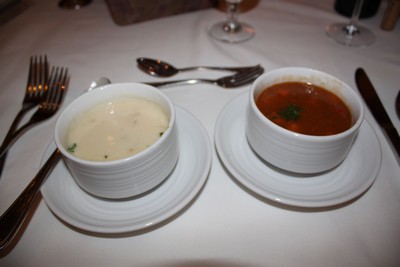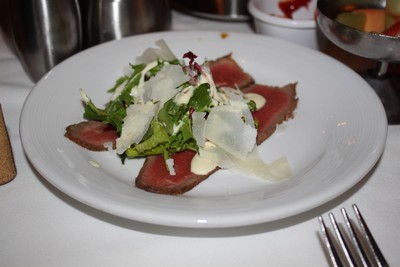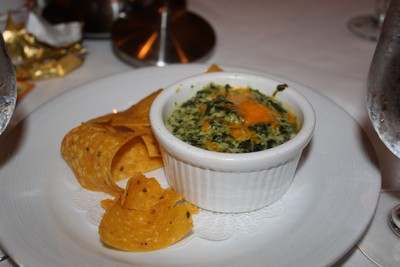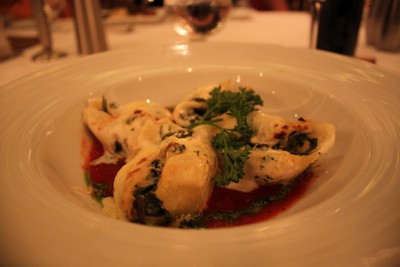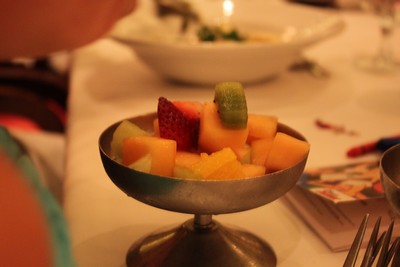 This is given to kids every day in the main dining room as they are seated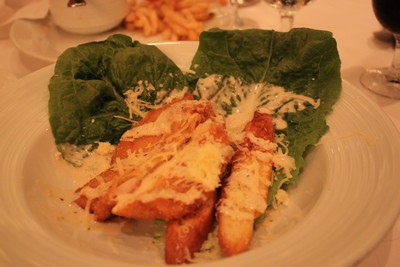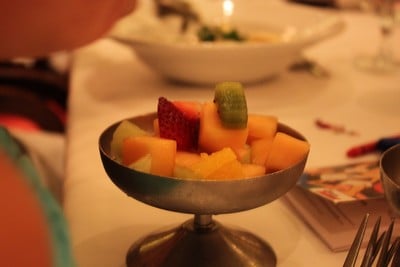 Following dinner we put my daughter in the Royal Tots Nursery again and once again she LOVED it. Each time we come to get her she insists on staying longer. Best $8 per hour I've ever spent.
We went to the Crown and Anchor Society Member Thank You event, which is always well received. It might have something to do with the free alcohol they serve but it's always a fun event. The crew mentioned there was about 1700 Crown and Anchor members onboard. Also of note, the loyalty officer mentioned Crown and Anchor members could start booking Quantum of the Seas in April and to look for an email for more information. No other news about Quantum divulged, with most of the rest of the event spent on discussing what Freedom's crew has done to help the people of Haiti.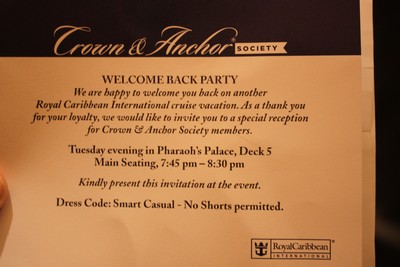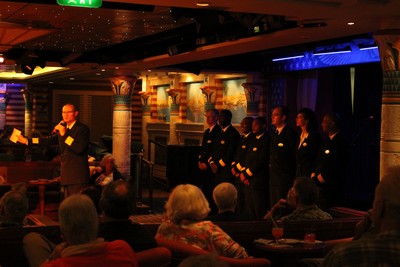 The rest of the evening we spent in the casino using our Crown and Anchor coupons and just having fun. I'm fairly certain we lost more than we won but we enjoyed it for what it was worth.
We had intentions to see the entertainment tonight, which was an Abba cover band, but decided to just gamble a little bit more and to walk around the ship. Definitely one of those moments on the walk in the evening when you realize how special cruises are.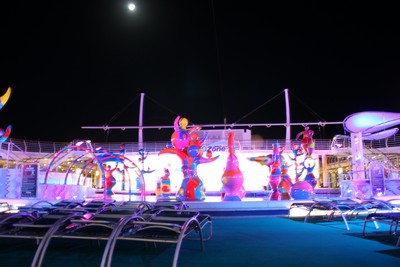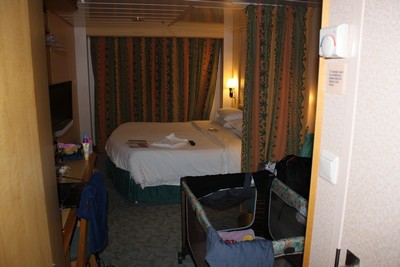 Our cabin (don't think we posted a photo of this before)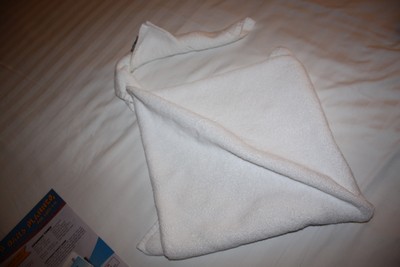 Our towel animal (a sting ray)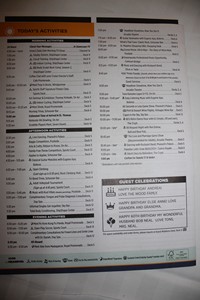 Tomorrow we're docking in St Thomas at 11am and we've got LOTS planned. We will also have cell service tomorrow so expect plenty of photo updates throughout the day on the Royal Caribbean Blog twitter.
As always, feel free to post your comments and questions below and I'll try my best to answer them for you!