Freedom of the Seas Live Blog - Day Two
In:
We got up this morning at 7:30 so we could get ourselves moving because today is CocoCay day. We were tired but since there are 3 sea days on this cruise, we feel there will be other mornings we can sleep in.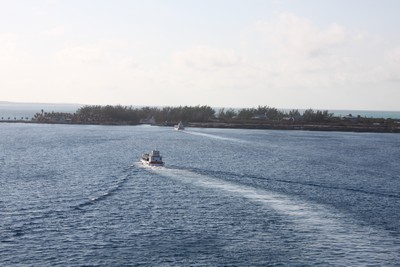 CocoCay as seen from Freedom of the Seas
After getting dressed, we headed up to the Windjammer for breakfast. By the time we got there it was already fairly busy and we had to wait a few minutes for a table. Our breakfast there was about what you'd expect from the Windjammer breakfast and no issues.
Weather was perfect today, with temperatures in low 80s and a slight breeze. CocoCay has a reputation for rough seas that hamper attempts to use the tenders to get to the island but today was not anything like that. We made our way down to Deck 1 to get on a tender and luckily got on one that was almost full.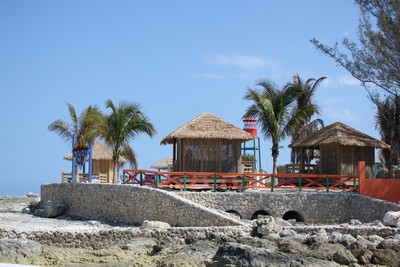 After a quick ride, we arrived at CocoCay and got onto the island. CocoCay feels smaller than Labadee but our experience felt the same as any other cruise line island. We got a few chairs for us and rented an umbrella, which was cheaper than I thought ($8) but I had to install it myself. I recall in Labadee an army of employees who would gladly do the work for you for a modest tip.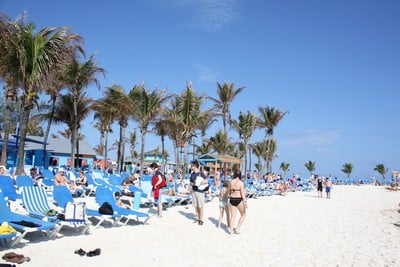 Beach at CocoCay
The water was cool, but after a few minutes you'd get used to it. Certainly warm enough for anyone that wanted to swim. My daughter was content playing in the sand where the surf comes in. We let her play for a while before deciding we did not want to bother with the island lunch, which have always been rather uninspiring. We took a quick walk to the straw market but nothing really caught our eye so we grabbed a tender back to Freedom.
Lunch was back in Windjammer, which was quite empty. There's something serene about a cruise ship on a port day and enjoying the relative quietness onboard when most are somewhere else is nice. Like last night, the international foods available in the Windjammer were to my liking. There was a Morrocan couscous and vegetables along with a great beef stir fry. Definitely better than burgers and hot dogs back on the island.
By now my daughter was getting tired (although refusing to admit it) so we decided to head back to the cabin for a nap.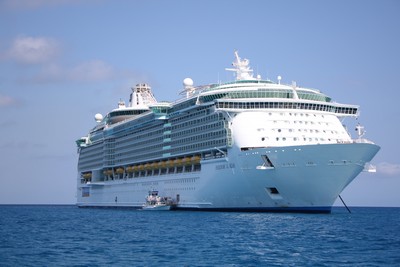 Tonight was the first formal night, so we decided to get dressed up early and then walk around the ship a little prior to dinner and take some photos. My daughter was thrilled to meet King Julian and Alex from Madagascar on the Royal Promenade. Neither had much of a line and it was pretty easy to meet the characters, which is in stark contrast to meeting characters in Disney World or even on the Disney Cruise ships.
Speaking of kids, there's definitely not a lot of children on this ship. We knew there was going to be a gay group and a Parkinson's Disease group, although neither group thus far has been that visible. I will say there's a lot of older people onboard, which is just interesting since most cruises we've gone on with Royal Caribbean have been more families than any other age group. I guess that's what happens when you cruise during the school year; You never know who will be onboard. All the guests we've met have been very nice so I really cannot complain.
Dinner tonight was good, although the menu wasn't as good in terms of selection as last night I felt. The filet of beef was the big dish tonight and I had it medium rare and it wasn't bad at all. I did bring my own bottle of wine to dinner and had it opened for me. At least thus far, I have not been charged a corkage fee, but it's not like they can't find me.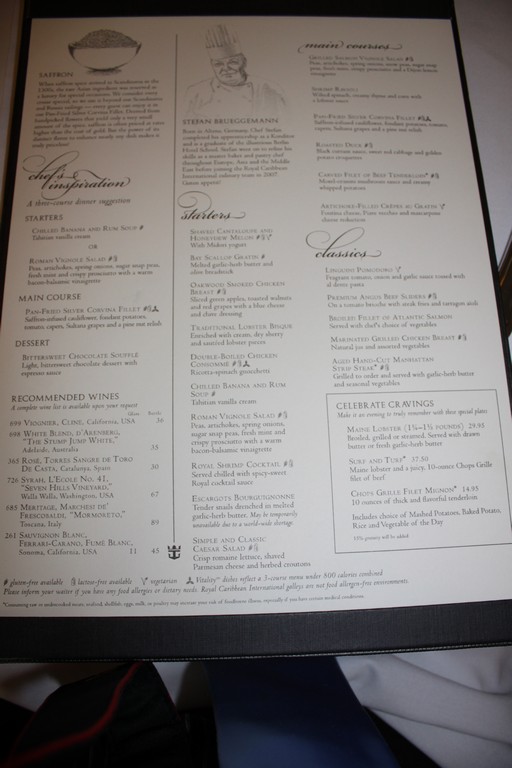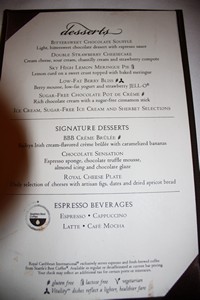 Following dinner we took a few more photos and then dropped my daughter off at the Royal Tots Nursery. There was just one other kid there and they had my daughter's favorite movie on (Tangled) so we had no concerns leaving her there.
We grabbed a quick bite to eat in the Windjammer and also stopped by Chops to make a reservation there for later this week. More on that later when we get to check it out.
The wife and I did a little gambling in the casino, which was busy but not full. They do have some newer slot machines that look 3D. Always nice to not have to gamble on what look like older machines. We tried to go see the Marquee show tonight in the Acadia Theater but when we arrived about 15 minutes early, the entire theater was full! Yes, top and bottom decks which was a surprise to us. We joked that the older demographic onboard contributed to the bigger crowd.
In lieu of the show, we went to the Viking Lounge for a few drinks and then collected my daughter who was having an awesome time. We had to almost drag her out, but I was glad to see she enjoyed her time there because I'd like to utilize the nursery more on this cruise.
Tomorrow is a sea day and we've got lots planned already. Thanks for reading and check in for my future posts soon!
If you have any questions, feel free to post it in the comments below and I'll do my best to answer them.