Inside look at how Royal Caribbean manages IT on cruise ships
In:
Royal Caribbean offered an inside look at how they use software to manage their fleet of cruise ships to CIO.com.  It's always interesting to see how Royal Caribbean manages to perform its daily operations given how many thousands of passengers it has to accomodate.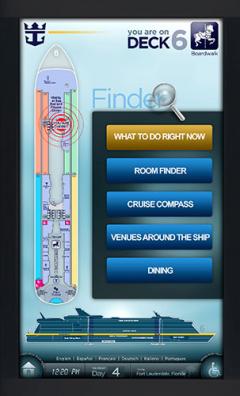 The case example begins with Allure of the Seas, where Royal Caribbean director of software engineering Jose Machado and IT manager James Defendis offered a tour of the ship's IT resources.
Royal Caribbean provides the software to run the hotel, from reservations to guest relations to point-of-sale software at the shops. In addition, Royal Caribbean provides Internet for guests, email for employees and, as well as software to count the number of checked-out towels at the pool.
As an example of how Royal Caribbean develops its technology quickly, the 32" wayfinder LCD screens throughout the ship are developed using emerging Linux touchscreen technologies.  To get this product to their ships quickly, Royal Caribbean essentially "rents" expertise to accelerate the development process. The applications that will never be seen by guests, on the other hand, including staff email, the reservation system or the towel check-out, have a lower priority, he says. They need to function, and the cost of maintaining them needs to be stay lower than the cost of a rewrite.
Royal Caribbean has deployed iPads to every suite onboard Allure of the Seas as well as Oasis of the Seas.  Challenges with having iPads work the way the company want popped up immediately.
Beatriz Rivero, the project's program manager, describes operational challenges such as testing streaming video on multiple devices on a floor running simultaneously. (To address this, Royal added routers and reserved extra bandwidth.) The devices also have cameras, which pose a privacy risk: Next week's guests seeing last week's guests personal photos. Royal deals with this by treating an iPad like a pair of bed sheets—each device is replaced with a fresh one and wiped. Meanwhile, the technology group is working with vendors to lock down local-save features.