In:
We wanted to share a quick update as to what the status of Royal Caribbean ordering a third Oasis class ship is and what the negotiations are looking like.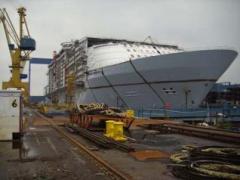 As you may recall, Royal Caribbean announced a few months ago it was in negotiations with STX Europe shipyards in Finland to possibly order a third Oasis Class ship.  The primary issue has been securing financing for the construction of the cruise ship, which is something Royal Caribbean has looked to the Finnish government in assistance with.
Last Thursday, the Finnish government rejected Royal Caribbean's financing proposal because the state was concerned about being a guarantor for the capital.  
Yesterday and today, the shipyard has become involved in the negotiations by trying to extert pressure on the Finnish government to make a deal happen.  The shipyard is concerned that Royal Caribbean will have the ship built elsewhere, jeopardizing a lot of money and jobs for the company.
Royal Caribbean needs a loan of about 50 million euros to cover the ship construction cost.  The Finnish government is concerned about giving out big project loans using tax payer money.
On the other hand, the STX Europe shipyards could lend the money to Royal Caribbean but the South Korean ownership group of STX want the Finnish government to take on more of the risk.  STX points out that around €100 million in tax revenue will be collected during the €300 million project lifetime.
From last we heard, representatives of the STX Europe shipyards are meeting today with Finnish government as well as the Ministries of Employment and Economy.