In:
Since Royal Caribbean announced yesterday that it was considering building a third Oasis class ship, one of the early question is where would it be built?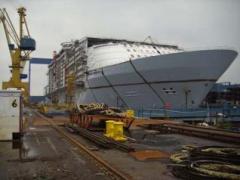 Many believe that the STX Finland's Torku shipyards are the front runner, including experienced shipbuilder Martin Saarikangas, who believes that STX Turku is in a strong position to take the order.
There are basically four options for Royal Caribbean to build the ship: Meyer Werft in Germany, Fincantieri in Italy, as well as the STX French or Finnish shipyards.
Saarikangas believes Meyer Werft is too busy, given the fact they have their hands full with existing order for a number of years to come, including the two new Sunshine Class ships Royal Caribbean has on order with them currently.
Fincantieri shipyards is a viable option but the problem with them is Royal Caribbean has never had a ship built at Fincantieri.  Royal Caribbean's chief competitor, Carnival Cruise Line, usually has their ships built at Fincantieri.
STX France had built ships for Royal Caribbean in the 1980s through 1990s, but there hasn't been an order placed with STX France in quite a long time since.
So that leaves STX Turku, which has recent experience building ships for Royal Caribbean, including the previous two Oasis class ships: Oasis of the Seas and Allure of the Seas.  Saarikangas says the design time would be shortened by a year because this would be a sister ship.  Time is of great importance since Royal Caribbean wants the new ship in 2016.
Saarikangas believes it will come down to financing.  Cruise ship building requires massive loans, and in turn guarantors.  We've heard rumors that state-owned Finnvera has already offered to back the loans for Royal Caribbean. Saarikangas says that the Turku shipyard will most likely resolve any funding problem and get the proper guarantees for the order.