In:
According to America World City  Inc, the Finnish government has agreed to provide financial backing for Royal Caribbean to build a third Oasis class ship at STX's Turku shipyard for around one billion euros.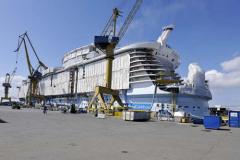 "The Government of Finland has agreed to fund a third of Royal Caribbean cruise ship in order," said the America World City in a statement.
Finnvera, the Finnish state-owned specialized credit institution, did not comment in any way on Friday because the law prohibits them to discuss financial target confidentiality.
Turun Sanomat reported on Friday that the government's deliberations with Royal Caribbean for the cruise ship order financing will probably be postponed next week. Economic Policy of the Cabinet meeting schedules and agendas are secret.
Basically, Finnvera gives the buyer money for burrowing & guarantees the loan repayment period.  The Finnish government granted 3.0 billion euros in September in funding to Finnvera. This allows a new form of export credit financing, for the benefit of Finnish export companies to compete.