In:
Royal Caribbean CEO Adam Goldstein spoke in Milan, Italy yesterday about new investments, ships, airports and important partnerships.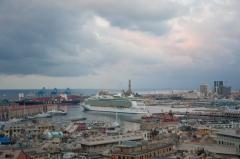 "For years Italy has played a strategic role in the planning of Royal Caribbean International: Since 2005 we have more than doubled the ports of embarkation in the area, adding to Civitavecchia and Venice also Genoa, Messina and Naples. The arrival of a ship like Liberty of the Seas, which next season will embark from the port of Naples, confirms the company's commitment towards the Italian market, " Goldstein said.  " Even in 2013 Royal Caribbean International will pay particular regard to Italian guests with a special offer on board: from excursions, offering food and beverage, staff of dedicated service, all in an international environment that meets the needs of Italian. "
Coinciding with Goldstein was the debut of two new Royal Caribbean ships in Italy.  Liberty of the Seas will go toItaly for the first time and offer 7-night cruises out of Naples to the Western Caribbean while Legend of the Seas will take the place of Mariner of the Seas and offer 7-night Western Mediterranean cruises out of Civitavecchia and from Genoa to France and Spain.
"The ships dedicated to the Italian market in 2013 are the most innovative in the fleet," adds John Rotondo, CEO of Royal Caribbean, Italy "In 2013 there will be 5 ports of embarkation and 13 ports of call in Italy for four ships of the fleet Royal Caribbean International, for a total of 18 ports, 330 airports and more than 850,000 passenger movements, a further indication of the fact that Italy is a very important basin for. "