Royal Caribbean explains cutback in cruises to Bermuda
In:
Last week Royal Caribbean announced it would scale back the amount of stops in Bermuda and now we know why.  Royal Caribbean is citing guest demand for the change.  The company has recieved feedback that its passengers want to visit other destinations, especially from the cruises that depart Baltimore, Maryland.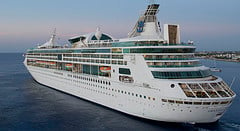 A Royal Caribbean spokesman elaborated on the issue, "While Bermuda continues to be a great destination for our guests, we also have received feedback that they want more variety of destinations from Baltimore."
"As a result for 2013, we will alternate Bermuda and Bahamas sailings with Grandeur of the Seas."
Royal Caribbean is scaling back Grandeur of the Seas' calls to Bermuda to just 26 in 2013.  Explorer of the Seas will continue to make some stops in Bermuda but the total between the two ships will amount to 41 trips total in 2013, which is a drop of 14 compared to 2012.
Royal Caribbean added: "Bermuda is a spectacular destination and very popular with our passengers."
"While we would have liked to visit more often, the difference in the number of port calls is largely due to a change of itinerary patterns from Baltimore, which limited our ability to call in Bermuda."