Royal Caribbean cuts cruises to Bermuda in 2013
In:
The island of Bermuda is seeing cutbacks of cruise ships stopping there across the board, including Royal Caribbean.  Royal Caribbean will cut back the number of calls they will be making to the island in 2013 by 11.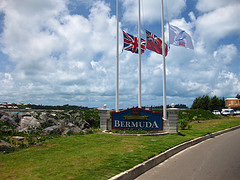 At the end of 2012, Explorer of the Seas and Enchantment of the Seas will have visited Bermuda a total of 55 times between the two ships.  Next year, however, Grandeur of the Seas will replace Enchantment of the Seas and make ten less stops to Bermuda, for a total of 15 calls.
A spokesman from the Bermuda government commented on the change, "We had early discussions with Royal Caribbean to include additional Grandeur of the Seas calls from Baltimore, with a weekend stop in Bermuda and continuing to Maine and other locations in New England."
"Royal Caribbean decided that these cruises were not selling well, and decided not to include them in their 2013 itinerary."
"However, we will still have 15 calls from the Grandeur of the Seas in 2013. We will also have 29 calls from the Explorer of the Seas in 2013, compared to 30 Explorer calls in 2012. "