In:
Royal Caribbean's Liberty of the Seas arrived in France earlier this month and now is based out of southern France.   Since the beginning of June, Liberty of the Seas offers each week more than 3,600 cruise to discover the Mediterranean from Toulon.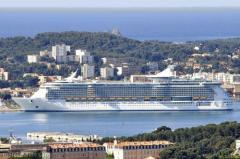 "One year after the opening of our office in France, we are very pleased to offer our first departures from French ports", says Frederic Martinez, CEO of Royal Caribbean France.
Liberty of the Seas is not the only ship from France, as the Grandeur of the Seas will sail from Marseille and the Brilliance of the Seas, from Havre. "We worked hard to adapt our offer to French customers, says Frederic Martinez. A significant part of our staff speak French. The menus are in French, the French television channels are available. And we worked our wine. "Interest in the French market is due to its dynamism for several years. Last year, 441,000 passengers were carried by cruise ships, according to the French Association of Cruise Lines (AFCC), an increase of 14%.
Regarding the effect the Costa Concordia disaster has had on Royal Caribbean, Royal Caribbean has taken steps to hinder the negative effects. "We have reduced our ambitions, however, recognizes Frederick Martinez. We visions French 40,000 passengers this year. They will eventually be only 30,000 to 35,000. "This is still a nice progression: the group table and a market share of 6% this year, against only 4% last year. For 2013, the group is up 10%. The starting number will increase from 27 to 39 this year next year. Despite the loss of the ship from Le Havre. "Next year, the Brilliance will be used in Asia, where we record very strong growth, said Frederic Martinez. Pending the arrival of our ships coming in 2014 and 2015, we must make trade-offs depending on the strength of our markets. "