In:
Cruise tourism in Abu Dhabi is going to get a bump when Royal Caribbean sends its recently revamped Serenade of the Seas to the middle eastern city in 2012-2013.  Serenade of the Seas replaces Brilliance of the Seas  and will mark the first time Serenade of the Seas has served the Middle East market.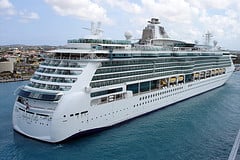 Serenade of the Seas will make 17 stops in the UAE capital starting in January 2013.
Royal Caribbean Regional Director for Europe, Middle East and Africa, Helen Beck, commented on the news, "The resilience of the Middle East market is very encouraging. Bringing a new-look Serenade of the Seas to the region is testament to that belief. She will undergo a complete renovation and will boast a number of new food and beverage outlets and attractions that haven't been seen here. It will certainly up the game for the regional industry."