In:
Royal Caribbean announced it is planning on doubling its presence in the UK next year.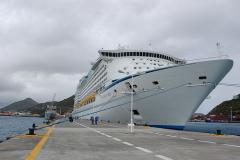 Coming to the UK in the summer of 2013 will be Adventure of the Seas, which will join Independence of the Seas.  Independence is returning for its fifth season in the UK.
Adventure of the Seas will offer seven-night cruises to France and Spain, and include stops in ports such as Vigo, Gijon and Le Havre (Paris).  In addition, Adventure of the Seas will offer 12-night Baltic cruises to ports like Oslo, Copenhagen, Talinn and Helsinki.  Royal Caribbean is also planning to send Adventure of the Seas on 14-night Mediterranean cruises.
Royal Caribbean's Vice President and Group Managing Director in Europe, Dominic Paul, commented on the addition, "The UK cruise market has long been a success story for Royal Caribbean International and doubling the number of ships sailing from Southampton is another great milestone."