Police investigating suicide aboard Allure of the Seas
In:
Bahamas police are investigating an apparent suicide of a British man on Royal Caribbean's Allure of the Seas that occurred this past Friday.  This investigation is related to the incident first reported about a man who fell off the ship.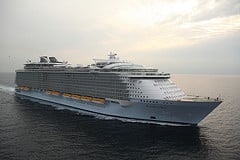 Police report that at 7:10am while aboard Allure of the Seas, the man committed suicide while the ship was off the coast of Cozumel, Mexico.
American Federal agents are assisting the police in the Bahamas, including Superintendent Paul Rolle, Head of the Central Detective Unit, along with officers from the Broward County Sheriff's Office and Customs and Border Protection.
"We do not have much information we can share with the public at this point. All we know is a British man is dead and it may or may not have been suicide. We are still conducting our on scene investigations and interviewing eyewitness. We are being assisted by other law enforcement agencies and expect to wrap up our investigations shortly. At that time, I will provide an update," he said.
Royal Caribbean issued a statement said the 30-year-old fell from the balcony of his stateroom on Deck 11.  The statement also said, "The ship made multiple public announcements and began a complete search of the ship, in efforts to locate the guest. When the guest did not respond to the pages and was not found onboard, the captain alerted the local authorities of the situation."
The victim suffered serious injuries and was declared dead at the scene.