In:
Due to fear of Hurricane Irene impacting Serenade of the Seas, Royal Caribbean decided to leave San Juan, Puerto Rico earlier than the scheduled 8:30pm time.  The earlier departure time may have gotten the ship out of the path of the storm, but it stranded some Royal Caribbean passengers in San Juan after they claim they weren't made aware of the schedule change.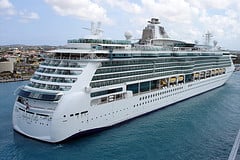 Passenger Nicole Washington of Baltimore, MD arrived at the docks Sunday shortly after 5, she found the gates locked and the ship gone.
"There was nobody there," she said. "Everybody was gone and there was nobody there to tell me where the ship was."
In a statement, Royal Caribbean spokesperson Cynthia Martinez explained the change, "On Sunday, due to the projected path of Hurricane Irene, and the weather forecast to reach San Juan, Puerto Rico that evening, authorities at the Port of San Juan limited traffic in and out of the port.  As a result, Serenade of the Seas was required to depart earlier than our originally scheduled time of 8:30 p.m."
Washington did admit that she never checked into the cruise so according to Royal Caribbean, the line had no idea she was even in San Juan.
Martinez went on to say, "There was no way to notify our guests of this change in departure time. We apologize for any inconvenience this may have caused our guests, but this decision was made by the Port of San Juan to ensure the safe transit of all guests and crew through the port."