Jamaica Labor Party blasts Falmouth for slow development
In:
Senator Dennis Meadows of Jamaica's Labor Party lashed out over the lack of development in Falmouth, Jamaica since the port opened to cruises in February 2011.  Falmouth's cruise port is a $7.5 billion endeavor that is a partnership between Jamaica and Royal Caribbean.
"The apparent abandonment of the town since the opening of the cruise ship pier demonstrates the perceived lack of commitment on the part of various government agencies in sustaining the focus on the development of Falmouth."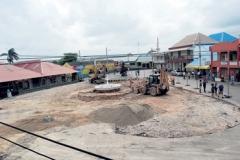 According to Meadows, businesses in Falmouth have experienced up to a 50 percent fall-off in their revenues since the implementation of the traffic management system in February.
When Falmouth was being planned, there were several projects that were to be included in the finished product including an artisan village, municipal market, and a transport center.
Meadows went on to claim that the people of Falmouth were feeling a sense of abandonment and urged the government agencies in the area to make plans to finish development of the area.
"There is a pervasive sense that the people are subjects of Royal Caribbean Cruise Lines which seem to be the primary focus and the sole beneficiary of the development that has so far taken place, and this is unsustainable."