Bari, Italy offers train service to Royal Caribbean passengers
In:
The tourist port of Bari, Italy is taking a big leap forward this year with Royal Caribbean's mega cruise ships calling on Bari for a total of 22 times, which will bring 80,000 more tourists this year.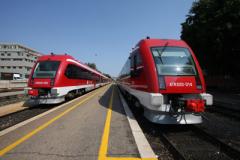 To help accommodate the passengers, the province is offering a shore train, the pilot project of the Department of mobility. The idea is to take through the intermodal bus and train cruise passengers visiting the port of Bari to visit the centers of major artistic and historical interest of the Province.  Partners of the project include the Port Authority of the Levant , the City of Conversano and Royal Caribbean.
The City of Conversano has provided a welcome service in the language, guided tours, tastings and wine, cooking classes and shops open.
The Councillor of Apulia Region Guglielmo Minervini explains the shore train project makes sense, "By enhancing the hospitality offered by the area more attractive we make the first step of Bari The trial will cover the city of conversation, but other centers will be able to join as early as next year."