In:
The regional governor in Italy, Claudio Burlando, has proposed today better synergy between Genoa and Savona on the arrival of cruise passengers.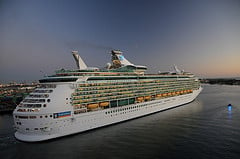 "The collaboration with Royal Caribbean is very important, since it is a group among the largest in the world with next to Carnival and MSC, which incidentally is growing very well," said the president, during the first arrival in Genoa of Mariner of the Seas, flagship of Royal Caribbean in Italy.
"Last year, we met with Royal Caribbean officials on a cruise, and from there began a relationship that has led to increased calls. Next year we will already be at 60,000 passengers, so a number of all respect, then it may be that collaboration is being extended to become a customer and Caribbean ports of Liguria. And who knows not form a relationship with the company for construction at this time are the thorn in our side. It 'obvious that if we found a new party prepared to build here, the situation would change profoundly. "
Royal Caribbean has already bet on the port of Genoa to grab a share of the Maritime Station, the company that operates the passenger traffic. "When he left Genoa to Savona Coast had 500 to 600 000 cruise passengers in 2012 we will have as many 1 million in Savona and Genoa. It is about four times as much - still Burlando - The huge amount of passengers waiting to Savona places a high level of importance and necessity, more than double its terminals, while Genoa opened the new west pier, and you start works for the Ponte Parodi ".
"The movement hotel in Liguria attendance records 10 million and 3 million arrivals, with average attendance of 3 days - is the reflection of the regional governor - If we consider only to cruise passengers who arrive in Genoa, which this year will be 1 million and 800 thousand, it is a stream that does not deviate much from the classic hotel network users. This means that the cruise is a very valuable way to raise awareness of Liguria and should prompt us to promote a more articulate and attentive host, adapted to the needs of cruise passengers who decide to leave here because they want to spend a part of the journey. We can have a closer relationship with these people in Genoa tourism next year will have 2 million people. "