In:
Royal Caribbean has increased its focus on the Italy cruise market, with an emphasis in Genoa.  An interview was published recently with the new Royal Caribbean commercial manager for Italy, Mario Paquero.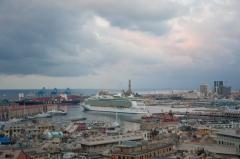 The tragedy of Costa Concordia has strongly affected the entire national market for cruises. You ever expect to have a problem like that?
"We have always believed you could do great numbers, even if there were a couple of months rather difficult for everyone. But things quickly changed and bookings for the current season have gone beyond our expectations. If we also consider the difficult time of global economic crisis this represents for us an even greater success. "
How was it possible to reverse this trend?
"The company has decided to hold rates quite low given the high quality that will still offer the tourist. And then, for that matter, in the cruise price is really all inclusive, those who get on board our ships must not pull out a dollar for extras. "
And in Genoa, which are the next steps of Royal Caribbean?
"First, we plan to increase the number of our direct employees because the company believes very much in the Italian market and the future we hope to witness a fast and progressive growth of the group. Not only that, but from an operational standpoint, the port of Genoa will be reconfirmed as one of the major airports across the country. "
The relationship between the city and the cruise is not always positive: closed shops, a few attractions, little assistance to visitors. You who give judgment?
"I do not think this is true. For our part we have been from the beginning excellent relations with local government, the Port Authority and more generally with all the components of the economic fabric of the city that have supported our investments. By tourists, then there is a high rating to the city and the judgments that have emerged from our evaluation boards are more than good. Of course things can still improve and by the Royal's best efforts to make this happen through a constant dialogue with the institutions and associations. "
Not only Genoa: Your company also believes strongly in the port of La Spezia.
"The port of La Spezia is indisputably a major arrival point for our ships. And this for the extraordinary opportunity offered by the territory, rich in culture, natural beauty and geographically strategic with respect to the most important and famous Italian art cities. "
The cruise market, filed in 2012, will continue to grow?
"The feeling we have right now are positive although it is impossible to predict long-term. The index to the holidays of this type, however, increases from year to year. And this happens not only in the Mediterranean but also throughout the rest of the world. "