In:
Royal Caribbean was forced to cancel stops at Piraeus, Greece (Piraeus is the cruise port that serves Athens) yesterday and today because striking taxi drivers blockaded the port, preventing passengers from getting to their tours.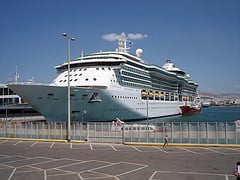 Royal Caribbean's Voyager of the Seas was due to stop in Piraeus on Monday.  Royal Caribbean had hoped to arrange transportation to the Athens Metro for its guests who wanted to see Athens on their own, but a Royal Caribbean spokeswoman cited, "When the ship arrived, the taxi drivers were blocking the entrance/exit to the port. Because of this, guests could not get off the ship and so had a day at sea."
The good news is the strike is due to end at 5am tomorrow, in time to allow Splendour of the Seas and Navigator of the Seas to dock.