Royal Caribbean warns Key West that no dredging will result in ships passing them by
In:
On Wednesday, residents of Key West, Florida discussed plans to dredge the channel to allow larger cruise ships to visit the city.  Royal Caribbean warned without such a dredging, Key West would simply be passed over by it and other cruise lines.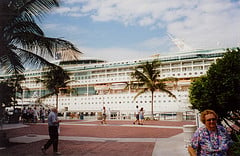 According to a reconnaissance study by the U.S. Army Corps of Engineers, the project would be economically viable and cost about $35 million.
There are opponents to the plan who cite economic and environmental concerns.
Key West's Director of Port Operations, Jim Fitton, is worried that without dredging the channel, Key West will simply be bypassed by Royal Caribbean and other cruise lines on their way to Mexico.
Fitton told the room of residents, "They'll bypass us and go straight to Mexico. Royal Caribbean used to be our biggest client. In a couple of years, it'll be down to no boats; that's where we're going. "
Some residents wanted to know who exactly made the statement that Key West would be crossed off itineraries.  In response, Fitton named Royal Caribbean's vice president of government relations for the Caribbean, Latin America and Asia Michael Ronan.
In an email Ronan sent to Fitton earlier this month,  "All ships we have built and are planning to build since 2005... cannot call Key West under present channel conditions. We operate our newest, largest ships in the Florida/Gulf and East Coast itineraries.
As we bring on our newer vessels they replace older, smaller ones on the preferred U.S. itineraries. We presently operate routes that would call Key West if the channel could accommodate them.
With the opening of the new larger locks in the Panama Canal [scheduled for a 2014 completion] our ship designs for the forseeable [sic] future will be of a size that will not be able to call Key West if the channel is not modified. "