In:
Very little is missing for the Genoa, Italy debut of Royal Caribbean's Mariner of the Seas. From July 23 to September 3, Royal Caribbean will have Mariner of the Seas docked in Genoa for guests to board for its seven night itineraries in the Western Mediterranean, to Cannes, Ajaccio, Barcelona and Palma de Mallorca.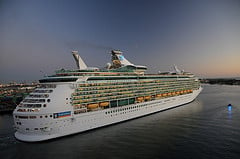 Aboard Mariner, the Italian spirit is everywhere: from entertainment (activities and TV programs) to food and wine, to the staff - with a team dedicated to the Italian guests - to the guaranteed excursions in each port of call in Italian. On board the attractions that have revolutionized the cruise product: the climbing wall at 60 meters above sea level, the regulation basketball court, the ice rink.
The first departure from Genoa will be celebrated as early as July  22 with a major event dedicated to the trade, called Friday Night Fever for more than 500 travel agents and journalists. On July 23, in Genoa, Mariner will be celebrated with the exchange of crest and plaques - officiated by the Captain of the ship - between city and port authorities and ship's officers, as tradition dictates for the first stop of a ship in a harbor.