Royal Caribbean moves Navigator of the Seas away from Europe
In:
Royal Caribbean has decided to redeploy one of its cruise ships away from Europe.  Navigator of the Seas will head to the Caribbean for the 2011-2012 cruise season and sail out of Port Everglades, Florida.  Navigator will offer various five- to nine-night Eastern and Western Caribbean itineraries beginning on Nov. 20.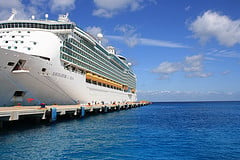 Navigator had been scheduled to cruise in the Mediterranean and subsequently canceled a number of of 14-night Mediterranean cruises that had been scheduled between November and April out of Barcelona, Spain.
Before Navigator of the Seas can start its new deployment in the Caribbean, she will embark upon a 14-night trans-Atlantic journey from Rome, Italy to Port Everglades, Florida.
Navigator will return to Europe with an April 14, 2012 cruise that will send it back to Italy.