In:
Royal Caribbean's Freedom of the Seas has completed a series of upgrades it received at the Grand Bahama Shipyard.  Freedom will return to service this week with a slew of new changes to the ship.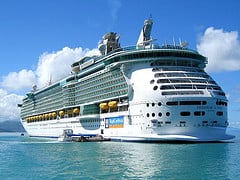 Freedom of the Seas received these upgrades while in drydock
Royal Babies and Tots Nursery
Large 18.5-foot video screen overlooking family pool area
LCD wayfinder system
Cupcake Cupboard restaurant
Vintages lounge will be redone
DreamWorks Experience
3D movie screen
Imaginocean! puppet show
outdoor LED video walls
The upgrades, part of Royal Caribbean's Royal Advantage program, invested $70 million in ship upgrades to help keep Freedom and other Royal Caribbean ships more appealing to consumers with newer and bigger ships coming online.
Royal Caribbean vice president of hotel operations Lisa Bauer thinks the upgrades to Freedom of the Seas will make a difference based on what they've seen for Liberty of the Seas, "The outdoor video screen installed aboard Liberty of the Seas in January has already been so well received that we have decided to deploy it aboard all the ships scheduled to undergo the Royal Advantage revitalization in 2011."
As of today, Freedom of the Seas and Liberty of the Seas have finished their upgrades with Radiance of the Seas set to be changed in May and Splendour of the Seas in October.