Royal Caribbean challenges Jamaicans to finish Falmouth port
In:
Royal Caribbean Vice President of Commercial Development John Tercek is encouraging Jamaicans to work harder in the development of the new cruise port at Falmouth in Jamaica.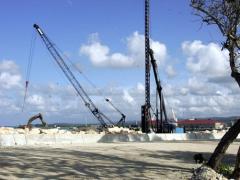 Falmouth is a joint venture between Royal Caribbean and the Port Authority of Jamaica, but the project has been delayed quite a bit from it's initial plans.  Tercek's call to action is a response to Royal Caribbean's desire to complete the project.
Speaking at the Stocks and Securities Limited investors forum on Tuesday, Tercek was giving a speech on the topic: 'Falmouth and the cruise-ship pier'.  When asked why Jamaica was not realizing its potential in the sector, Tercek responded , "Jamaicans are very good at talking and they are not so good at action. We try to take the initiative. We try to show up, not as talkers but as doers. We are putting a lot of money into the town. We made a lot of commitments to the town and to Jamaica."
"We have been trying to be a catalyst. We can't do it all - we can't restore, rehabilitate ... all of the town (Falmouth). We can do our project. We can bring our guests. We can make further investments into the town, and we are doing all of that ... but it is going to take a lot of initiative, not only from the Government," Tercek said, pointing out that all parties involved will have to take part.
Delays at Falmouth have caused cruise ships to cancel calls to the port.  Royal Caribbean's Navigator of the Seas had been scheduled to make its maiden call at the port back on January 7 burt was forced to cancel. 
The updated schedule has Voyager of the Seas arriving on February 17, followed by Oasis of the Seas in March.