Port Everglades port traffic up 25%
In:
Port Everglades, Florida is the home to Royal Caribbean's flagships, Oasis and Allure of the Seas and the last quarter of 2010 saw cruise traffic up 25% to 1.17 million cruise passengers.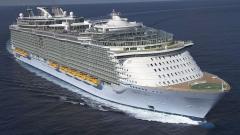 This is great news for not just Royal Caribbean but the cruise industry as a whole because it shows the industry has rebounded nicely from the recession, thanks in part to new ships like Royal Caribbean's Allure of the Seas or Oasis of the Seas.  Locals in Fort Lauderdale area are happy as well as that means more cruise passengers spending money in the local area before and after their cruises.
In addition, port revenue for the first fiscal quarter was at $37.5 million, a level that exceeds the previous first fiscal quarter peak of $30.6 million in 2008.