In:
West Indian Company Ltd. President and CEO Ed Thomas said it and Royal Caribbean were going to spend a combined $15-$20 million to dredge St. Thomas Harbor so that mega ships Allure of the Seas and Oasis of the Seas could dock there but not anymore.
"The cruise lines are not going to put up that money because they accomplished their goal," he said. "Their ship is in St. Thomas. Certainly the West Indian Company is not going to put up money to do that kind of dredging because the ship is already in St. Thomas."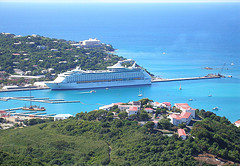 Problems started back on October 14, 2009 when Governor John deJongh Jr put the dredging project on hold after substantial public opposition.  Those opposed to the dredging plan were concerned about the part of the plan that called for dumping 162,000 cubic yards of material into an existing depression in Lindbergh Bay.  While searching for an alternative, Oasis of the Seas would have to dock in Crown Bay.
Despite the halt in the plan, deJongh was confident that the dredging project would be complete in time for Allure of the Seas' first stop in St Thomas on December 10, 2010 during the busy tourist season.  However, talks never progressed very far according to Thomas, talks collapsed in January.
The trend of cruise ships getting larger and larger means St. Thomas Harbor will eventually need to be dredged acrroding to Thomas and that the harbor is already due for maintenance dredging thanks to all of the debris kicked up by departing and arriving cruise thips over the last few years.