In:
The Evening Herald, an Irish newspaper, sent a reporter to cruise on Brilliance of the Seas to check it out.  The reporter flew to Dubai to board Brilliance and came into the assignment with the notion that cruises were for old people but that seemed to quickly disappear once he boarded the ship.
I feared that I was entering a floating retirement home, where dinner would take place at 5pm, and a game of bingo would set you up nicely for hitting the hay at 8pm. But in truth, the stereotype didn't stick.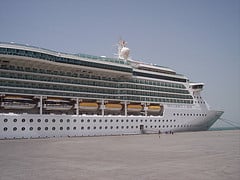 The stateroom seemed to be more than he was expecting and his only issue was with the shower, which he found small and the shower head wasn't very accurate.  Otherwise, he found the stateroom a nice place to spend the next few nights.
He also documented much of the activities and entertainment on Brilliance of the Seas, taking time to explore the ship properly.
The boat's central atrium, its regular clinking of glasses accompanying the tinkling of a piano, gave it the feel of a plush hotel lobby, and lulled you into the mood to slump into a comfy seat and gorge yourself on brandies.
Like many who go on cruises, food was a big deal and he seemed to be rather impressed with what he found both in the complimentary dining as well as elsewhere on the ship.
The food on board was a revelation. The main restaurant, which served buffet meals all day, catered for every imaginable taste, all laid out in a cavernous area which meant that there was no queuing, and no scramble for seats, even though up to 800 people could be eating at any one time.
I dined in Portofino, and it was better than any Italian restaurant I've been to in Dublin.
Overall, the author seemed happy with his experience and definitely seemed to be recommending a cruise aboard Brilliance of the Seas to everyone.