Tea Party holding special cruise
In:
If you affiliate yourself with the Tea Party movement, then there's a Royal Caribbean cruise for you.  Conservative publishing site WorldNet Daily is sponsoring a special cruise dubbed "The WND Tea Party at Sea" to be held aboard Liberty of the Seas September 19-26, 2010.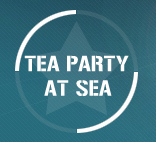 This cruise will feature teaching sessions by Joseph Farah, Alan Keyes, Jerome Corsi, David Kupelian, and Aaron Klein, all of whom are contributors to WorldNet Daily, a site with politically conservative tenancies.
The cruise follows the WorldNet Daily "Taking America Back" conference, a three-day extravaganza at Miami's Doral Resort and Spa (home of the Blue Monster golf course). The conference spans Constitution Day, Sept. 17, and features a current elected representative, Michele Bachmann (R-Minn.); a couple of formers, Jeremiah Denton (R-Ala.) and Tom Tancredo (R-Colo.); and a couple GOP hopefuls (Floridians Allen West, seeking a House seat, and Alexander Snitker, running for Senate). And, for all of you who have been wondering, "Where's Ann Coulter lately?", the conservative commentator will be on board, too.
If September 2010 doesn't work for you, there's another cruise being held by the same organizing group in January 2011 for "true patriots who are passionately committed to the principles of liberty and freedom as granted to us by the Founding Fathers."  This cruise will feature Keyes as well as former Georgia congressman Bob Barr and Gary DeMar, founder of American Vision.