Excursion Focus: Maya Chan Beach
In:
If you're looking for an all-inclusive beach resort in Costa Maya where you can feel like a king (or queen), Maya Chan Beach Resort is the place to go check out.
Description
Maya Chan Beach Resort is a private all-inclusive beach resort located in minutes south of Puerto Costa Maya in Mexico.  This resort limits the amount of guests on any given day to about 40, to ensure a private and secluded feel to the beach.  Guests are picked up at the port and driven by bus to the resort.  Once there, guests are escorted individually to their spot on the beach, which can feature amenities such as palapas, couches and lounge chairs.
In addition to the beach, included in the price for the day are access to water toys such as bikes, snorkels, kayaks and water floaties.  Moreover, guests are provided with a freshly cooked buffet lunch and unlimited alcoholic drinks.  Internet is also available for free.
Comments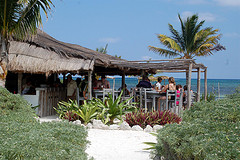 Beautiful beaches in Mexico are a dime a dozen, but what makes Maya Chan Beach so great is the personal attention to detail the resort's staff provides their guests.  The included drinks are top shelf liquor and flow freely.  All too often I've been to all inclusive resorts where the staff is stingy with the drinks, but not here.  Staff regularly walk around offering to bring you drinks as well as complimentary snacks such as local fruit.
Lunch is served buffet style and comprised of fajitas that are all cooked freshly that day.  We found the food offered here to be the best Mexican food we had in all of Mexico.
In the end, it's the amazing customer service that won us over.  It's hard to describe just how accommodating everyone here was.  The staff speak very good English (most are American ex-pats, while others are Mexicans with very good English) and there is nothing here that they seemingly wont do for you.  
Location: K.M. 6.5 Carretera Majahual-XcalacSouth just after K.M.6.5.Majahual, Quintana Roo, Mexico 77940
Website: http://www.costamayabeachresort.com/
Cost: $46 + $10 transportation