Royal Caribbean largest reason for increase in tourism in Bahamas
In:
The Ministry of Tourism in the Bahamas released new tourism statistics for the country that first quarter numbers for 2010 are "a new Dawn of Hope" for a country that has been hit hard by the global recession.  Cruise arrivals for Nassau/Paradise Island and Grand Bahama as first ports of call up by 22.9 per cent and 41.8 per cent for the three months of 2010 and the largest reason? Royal Caribbean's Oasis of the Seas and Freedom of the Seas.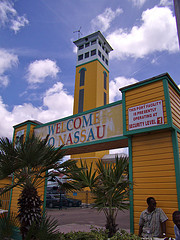 Assessing the reasons behind the increase in cruise passenger arrivals, the Ministry of Tourism said: "Most of the increase by first port of entry to the Bahamas overall came from Royal Caribbean International's Oasis of the Seas. Royal Caribbean's Freedom of the Seas helped to push the increase in cruise arrivals even higher. With the introduction of the Oasis of the Seas and the Freedom of the Seas to the Bahamas itinerary, it increased the number of passengers brought in by Royal Caribbean by 68.3 per cent.