The fight for families
In:
There's been a slew of articles all over the interwebs all about the Royal Caribbean and Dreamworks alliance and it seems everyone has an opinion on it.  MSNBC posted an article about the fight for families cruise lines are now engaging in with Royal Caribbean and Dreamworks, Norwegian Cruise Line and Nickelodean and Disney all vying for families to choose their ships.  The premise is that these alliances are hoping the kids will influence their parents to choose a cruise line, an idea we first posted about last week.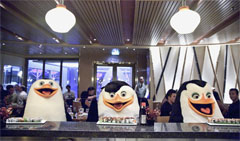 Anyone who doesn't think that the Royal Caribbean deal is about competing with Disney has their head in the sand.  Is Royal Caribbean looking to go head-to-head with Disney in terms of characters? Maybe not.  But what Royal Caribbean is trying to do is not cede the entire family cruise with young children demographic to Disney.  An under reported benefit of the Dreamworks deal is that Royal Caribbean also gets the rights to show the Dreamworks film library on board its ships.  That's a big bonus for kids who will be able to watch Shrek or Kung Fu Panda ad nauseum in their staterooms.
I know there's a lot of backlash from cruisers who are concerned their next cruise will be filled with character based entertainment that will ruin their cruise.  If you consider what Disney does on their ships the crux of character integration on a cruise ship, on Disney ships, you really have to go out of your way to see a character, much less interact with one.  You can be in the pool, or on the sun deck or at dinner and never see one.  The character entertainment on Disney is very compartmentalized and I imagine Royal Caribbean will have a similar model as well. 
How much of an impact this alliance will have remains to be seen but this deal shouldn't be vilified or feared.  Rather, it looks to be (on paper) a good deal for both sides and hopefully something that will fatten Royal Caribbean's bottom line, which in turn helps us all.