In:
With the launch of Royal Caribbean's Harmony of the Seas, there is a new ship that can use WOWbands and it got us thinking about the top reasons to use Royal Caribbean's RFID bracelets.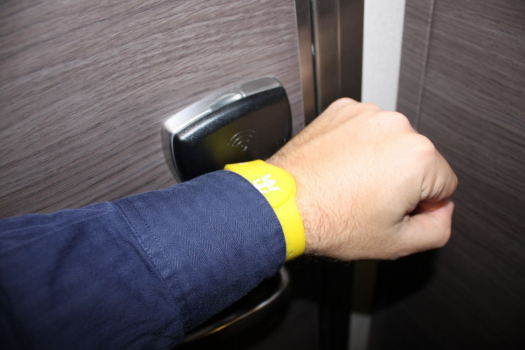 WOWbands allows guests to use these bracelets just like their SeaPass card, but with much more convenience.  They are the latest innovation from Royal Caribbean and incredibly cool.
If you happen to find yourself on a Royal Caribbean ship that has WOWbands, such as Harmony of the Seas, here are the top five places you will find them really helpful.
4. Gym
Those looking to burn off some extra calories on their cruise will really enjoy having a WOWband instead of carrying a SeaPass card.
One constant when it comes to working out is getting sweaty and not having to stash your SeaPass card somewhere makes things much easier.  
Plus, pockets are not common among active wear, so having a bracelet is much more convenient.
3. Casino
The casino on your Royal Caribbean is the place to try your luck, but it seems having to remember your SeaPass card in each slot machine is always a gamble.
The slot machines in the casino allow guests to track their progress and earn points for the money they gamble.  The problem is it is really easy to forget your SeaPass card in the slot machines when you are done playing on that machine.
With the SeaPass card, there is no forgetting your SeaPass card in the machine. Just let the slot machine read your WOWband and you are on your way.
2. At the pool
Just like the gym, when you are ready for a day by the pool, having to carry (and not lose) your SeaPass card is always a challenge, but a WOWband is the perfect accessory.
WOWbands are made from waterproof silicone and can make having access to charging drinks, getting towels and getting back to your stateroom a whole lot easier.
1. Coming back to your stateroom
Eventually, you will have to get back to stateroom and it seems like there are plenty of times you will be returning to your room throughout the day.
With WOWbands, there is no digging for your SeaPass cards because all you have to do is move your wrist in the general direction of the stateroom door reader and you get access!
For parents, who often have their hands full with children, bags or both, WOWbands make things so much simpler.
Where do you like using your WOWband? Tell us in the comments!