In:
Perhaps no space on Royal Caribbean's Anthem of the Seas is as innovative, impressive and down right fun as the aft-facing theater known as Two70.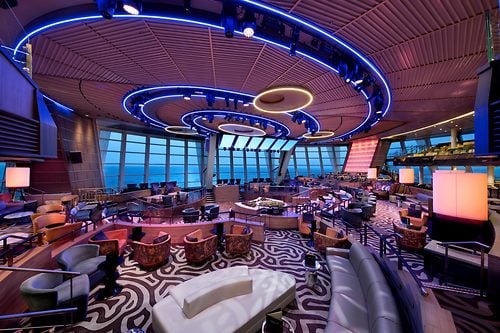 Two70 is an unique venue to the Quantum class of ships, and offers guests multiple experiences throughout the day that makes Two70 a hub of entertainment.  This means, there is almost always something going on in Two70, and it has quickly become a favorite among guests.
If you have a cruise booked on Anthem of the Seas, here is the important information to know about everything going on in Two70.
What is shown in Two70
Royal Caribbean offers a few different shows in Two70 to enjoy.  Exact shows and schedules will depend on your sailing.
Vistarama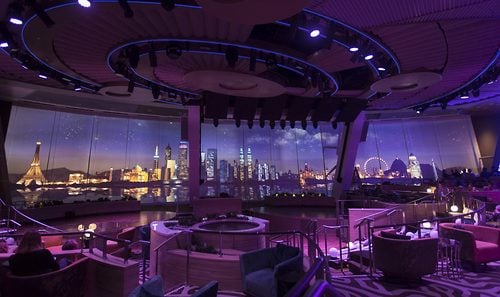 Ordinarily, Two70's giant windows offer sweeping views of the ocean, but quickly those windows can be transformed into a theater experience with Vistarama. Vistarama transforms Two70's floor-to-ceiling sea view into any scene, real or imagined. You will find cityscapes, glass windows, expansive rooms and a lot more.
Vistarama is made possible by 18 projectors that combine to create an ambient surface over 100 feet wide and over 20 feet tall in stunning 12K resolution.
Vistarama is not just a passive experience, because impromptu digital shows come to life at any point in the show. Simply put, Vistarama is a stunning display that is as beautiful as it is immense in scale.
There will be different Vistarama shows throughout any given point in the cruise, so it is one of those experiences you need to stop by and see what is being shown.
Roboshow
RoboShows are perhaps the most impressive use of the amazing troupe of six agile Roboscreens, that are capable of moving in many different directions and tells a story through the use of amazing technology, music and well-choreographed video.
Each of the Roboscreens measures seven feet and is controlled by mega-powerful robotic arms.  When working in tandem, the Roboscreens can twist, spin and move all around to offer a very impressive visual experience.  
Of course, the show is why guests should stop by, and there are a variety of different shows to see.  Each is unique and it is something that has to be experiences to truly understand and enjoy.
Spectra's Cabaret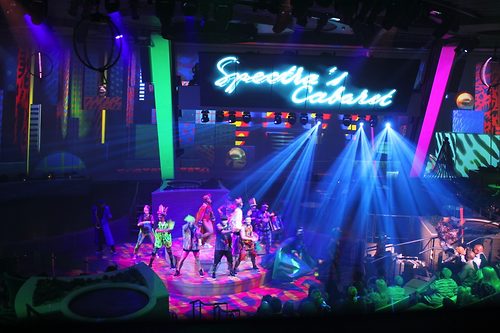 Spectra's Cabaret is an original Royal Caribbean production that is shown in the evenings and is a featured show onboard Anthem of the Seas.
Trying to explain Spectra's Cabaret is not easy, but it features the Maestro and his Agents of Rhythm, whom take the audience through an, "an electric multi-dimensional cabaret" that involves singing, dancing, plenty of lighting effects, integration with the Roboscreens and much more.
What is truly impressive about Spectra's Cabaret is that it is a multi-media extravaganza brimming with kaleidoscopic sounds, effervescent colors and dazzling movement. Spectra's Cabaret blends live performance and experiential cinema along with music from popular culture.  In short, it is like nothing you may have seen before.
Virtual Concert & Virtual Symphony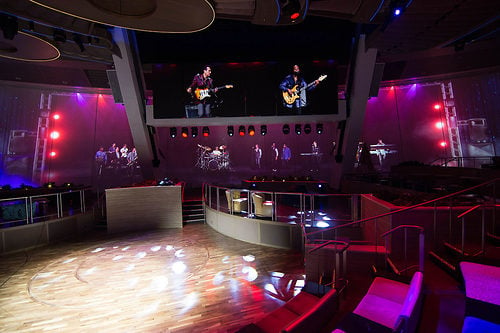 Royal Caribbean has built a reputation for offering terrific music on its cruise ships, and Two70 offers virtual concerts that are the next best thing to the real thing.  In fact, it can be difficult sometimes to hear a difference.
There are Virtual Concert & Virtual Symphony performances offered throughout Anthem of the Seas sailings, that feature performances by the American Philharmonic Orchestra or the Santa Fe & The Fat City Horns.  
This is a real concert that was recorded in ultra-high definition and broadcast on the amazing screens in Two70.  
Seminars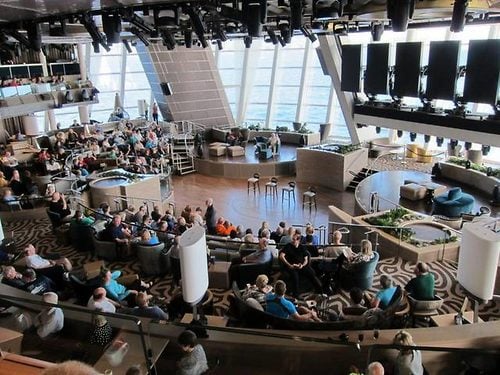 There is a lot of entertainment offered in Two70, but some of it involves you.  Often, there will be classes and lessons offered in Two70 during the day, where guests can go to learn about a certain topic.  This can come in the form of dance classes, educational seminars and more.
We have seen a lot of different kinds of classes offered here, including ballroom dance (which is quite popular), culinary lessons and jewelry making workshops.
Nightclub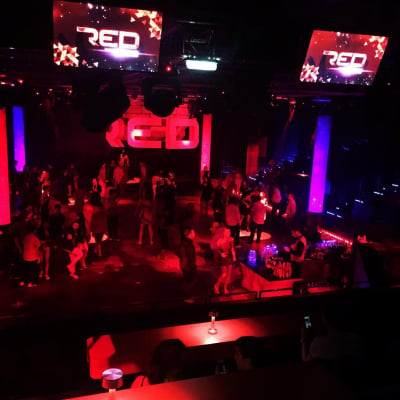 When evening turns to night, Two70 is transformed yet again into an adults-only nightclub.  Club two70 offers plenty of music for adults to dance to, in a nightclub kind of experience. 
Loud music, flowing drinks and plenty of space to dance.  With the large dance floor and ample seating, Club two70 is a mix of a lounge and club that should provide the right kind mix of both for guests looking to dance the night away.
The view
While there is lots of great entertainment in Two70, visiting this part of the ship is worth it just for the sweeping views available.  Whether you are in port, or out at sea, there is always a very impressive landscape to enjoy.
Two70 got its name by the fact it offers a two hundred and seventy degree view of the aft of the ship, and this means you can enjoy one of the best views on the ship, inside or outside.  
In truth, Two70 acts kind of like the ship's "living room," and like most living rooms, it is a great place to just sit back, relax, and enjoy the view from the comfort of a couch.
Cafe @ Two70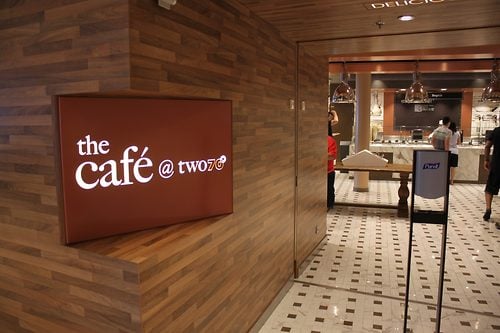 It just would not be a Royal Caribbean cruise if there is not food conveniently located nearby, and adjacent to Two70 is the cafe that shares its name: Cafe @ Two70.
Throughout the day, guests can get meals and snacks from Cafe @ Two70.  By far, the best choice for food here is the Kummelweck Sandwich.  This sandwich was first offered on Oasis-class ships, but is available on Anthem of the Seas in Cafe @ Two70.  It is essentially a rare, thin cut of roast beef, dipped in au jus and served on a roll with a touch of horseradish.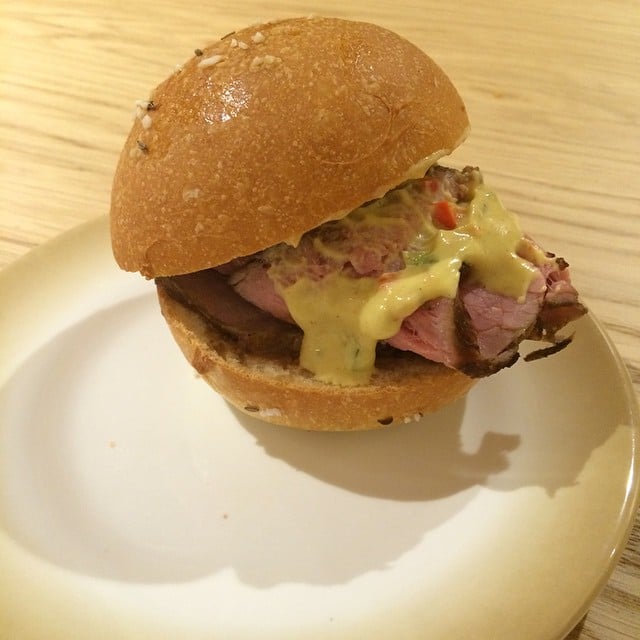 If it sounds mighty tasty, that is because it really is and something that is a must-try (at least a half dozen times) for any guest.
There is plenty more of food served in Cafe @ Two70, and is a great less-crowded breakfast option.  Regardless of which meal you choose to eat here, the best part is taking your food over to Two70 and enjoying the view with your food!
Two70 Bar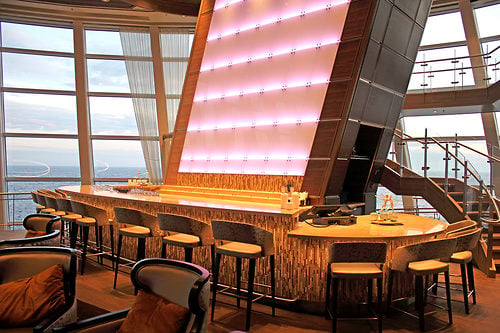 If you like a view with your drink, head over to Two70 on one of Anthem of the Seas ships because it is hard to beat what you can see here.
With all the goings-on in Two70, grabbing a drink at Two70's bar makes for the perfect accompaniment to any performance.
Besides the view, the drink quality at this bar is quite good.  In our experience, this bar tends to rely less on mixes and hand-crafts many of the drinks served here. This means the quality of the drinks are far often superior to other locations onboard.
Your thoughts
Have you been to Two70 on Anthem of the Seas? What is your favorite aspect of Two70? Which performance stands out as a real crowd pleaser? Share your opinion in our comments below!