In:
Royal Caribbean's Anthem of the Seas offers a lot of things to see and do onboard, and today we are highlighting one of the more impressive visual elements on this brand new ship, the Vistarama.
What is Vistarama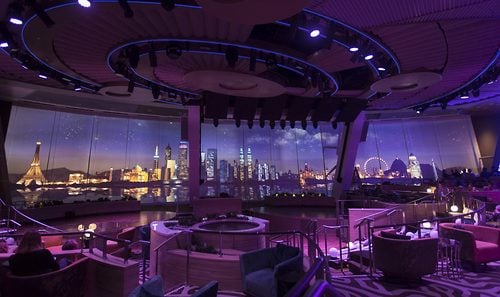 Photo by Moment Factory
Vistarama is a show in Two70, where Two70's iconic floor-to-celing glass windows are transformed into a "digital canvas", where pretty much any scene, real or imagined, can be displayed on them.
Two70 is a two-deck high, multi-purpose entertainment venue is located at the rear of the ship. It features wraparound, floor-to-ceiling windows that give an amazing 270-degree view of the passing landscape.
Check out this preview of Vistarama for a good example of what this show is all about.
How does it work?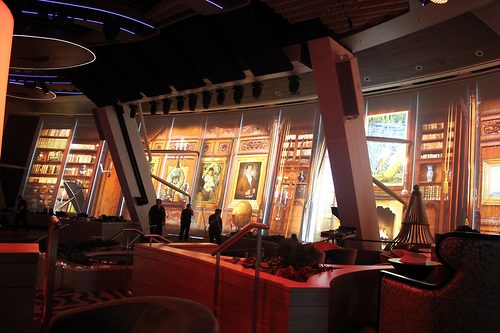 Royal Caribbean utilizes 12K resolution projects (that means it is 12 times high definition) and the result is some stunning views for guests to enjoy.
Before the show starts, the sun shields that serve as the projection surfaces are rolled down to cover the windows.
Eighteen projectors are used to create an ambient surface that is 120 feet wide by 23 feet tall, in a 5:1 aspect ratio.  This is an industry first in terms of this kind of projection technology.
The slope, curvature, and surface textures of the Vistarama system require the image content of the projections to be geometrically adapted to the circumstances. The result is a projection with a total resolution of 12,480 x 2,280 pixels and a projection size of 36 x 6 meters.
The Vistarama show content was developed by Moment Factory, while the hardware set up was made possible by Amptown System Company.
What are the Vistarama shows?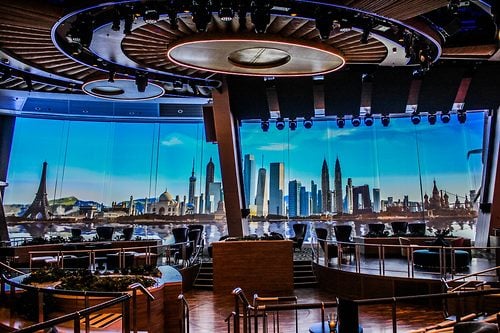 Royal Caribbean routinely offers different kind of shows throughout any given Anthem of the Seas cruise and is regularly adding new ones with each new Quantum class ship launch.
In our own experience, we have spotted these shows onboard
Cityscape
Leonardo's Dreams
Tropical waterfall
The Library
Moon
Drawings
Under the Sea
Test Pattern
Why is Vistarama worth your time?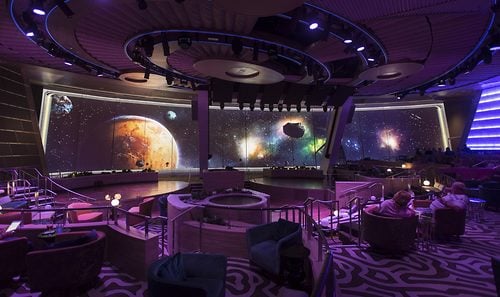 Photo by Moment Factory
What makes Vistarama so impressive a show is the visuals that can only be found here.
Vistarama's ultra-high definition displays transform the entire Two70 space and it is one of those things you have to see to appreciate.  
Simply put, Vistarama is a stunning display that is as beautiful as it is immense in scale.