In:
I had placed the room service breakfast card out for 7:30AM delivery and it arrived ontime.  I requesting orange juice to surprise my girlfriend with mimosas on our balcony, but we got apple juice – well it's the thought that counts right?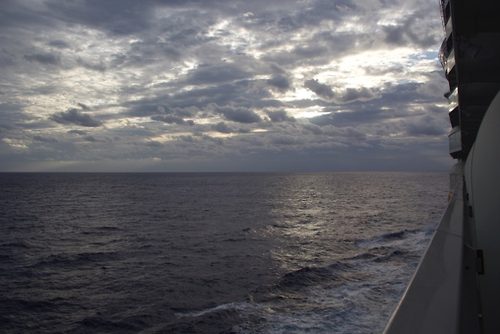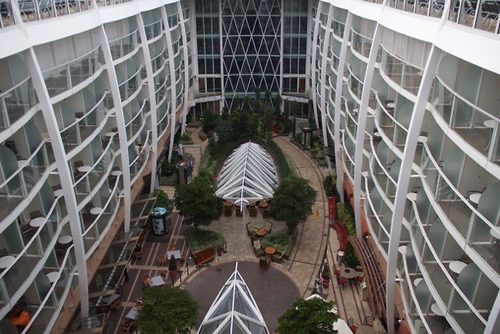 By now it was getting close the 8AM and I wanted to head up to the pool deck because I know how the pool gets on the first sea day, well any sea day really.  And sure enough we were already beat by all the chair hogs.  We found a seat, just not front row center, cruise life problems.  
Checking Out Pool Towels
Royal Caribbean recently changed the process for getting pool towels, where you no longer have to scan your sea pass card to check out a towel.  Well I guess they forgot about Lady O, because guess what - I had to provide my seapass card and check out a pool towel.  I'm not sure if they are bringing to program back or they just forgot to change it on Oasis.  This is really annoying because you have to stand in a line to return the towels, or to simply get fresh towels.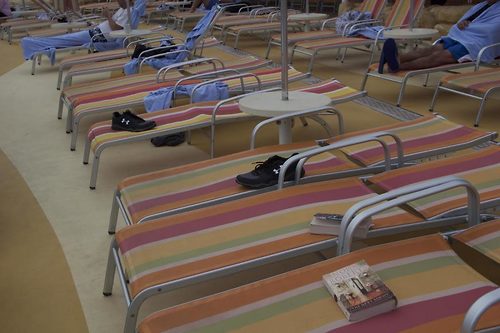 I'm currently writing this from the Beach Pool with my feet in the water, and the sun's starting to come up.  Today should be a great day, I look forward to sharing my day with you on the next post!  
Well I'm sad to report we never saw the sun today, just clouds and high wind.  This did make me a little sad, but a cloudy day at sea is better than a sunny day at work.  Around 11:30AM we decided to head to the boardwalk and eat lunch at Sabor. 
This was my very first time dining at this restaurant, and based on all the reviews my expectation were pretty high.  Well they lived up to what I was expecting and surpassed a bit. 
We started out with some Margaritas, which are included in the unlimited alcohol package.  Followed by some guacamole, which is made table side, I do recall its $4, and worth every penny.  For lunch they had beef/chicken tacos and I had a chicken Quesadilla.
Cats
Since the weather was not up to par today we headed to our reservations at Cats at 2pm.  This is the first full length Broadway show at sea and they have intermission halfway through.  My thoughts on Cats are the performance was outstanding, actually the best I've ever seen.  The story line is very slow, and I saw people walking out quite often. 
I must report about an hour in I actually left myself, I think during the 80's this was an amazing show but times have just changed.  I would recommend seeing Cats it just wasn't for me.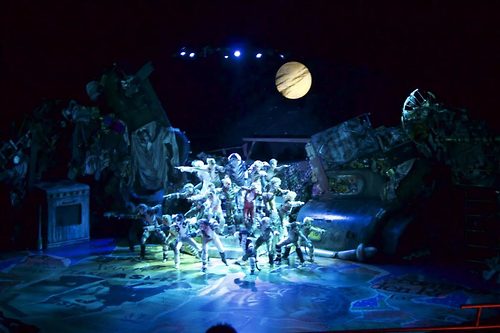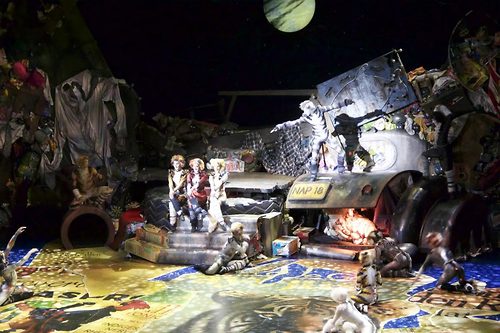 Afternoon Time On Board   
Well now what should we do, it's the afternoon and we are hanging out on board?  Well I wanted to take my girlfriend on the rising tide bar since I've talked about it so much.  This is a moving bar that takes you between deck 5 and deck 8; once we got to Central Park we grabbed a snack at Park Café.  They have a great salad bar with so many toppings, you could latterly eat here every day its so great. 
Formal Night
Tonight was formal night and the Captain's reception on the Royal Promenade.   If you recall from last week's podcast this is one of my favorite traditions and just makes me so happy.  Everyone is all dressed up and free champagne is offered for everyone.  The captain came out and introduced his team and does a quick intro about the ship. 
One interesting fact is our sailing; March 28th holds a record for the most people ever on a cruise ship.  Our total with crew and passengers is 8,490 people on board.  The captain said this has never been done before between the Allure and Oasis, so very cool! 
Dinner
Tonight we headed to the main dining room and we were on deck 3, which is the American Icon Grill.  I'm going to be honest I tried to talk my group into something else, but off to the dining room we went.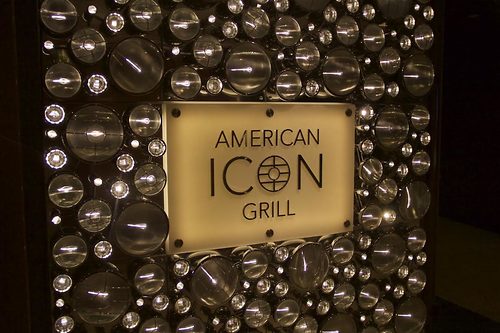 Dinner was at 8:30pm and surprisingly not that bad.  I had the lobster bisque soup, well okay I'll be honest I had two lobster bisque soups to start.  Followed by the filet of beef and it was amazing!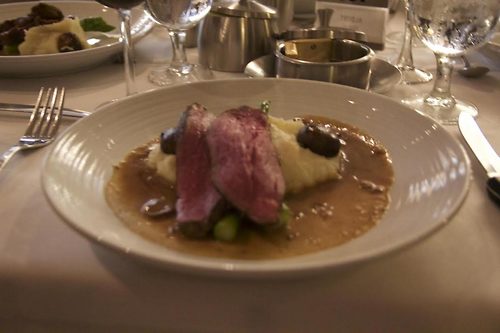 I couldn't believe the quality of the beef for the main dining room.  The service was a little slow, but the waiter said many times, if you want me to speed up tell me.    
Overall was a great day after all.  The weather is something you can't control so I don't let that control my vacation.  You just have to find something else to do and on the Oasis that is not hard.