In:
Royal Caribbean's Voyager of the Seas arrived for the first time at Bintan Island, Indonesia on May 2, 2019. 
The visit is part of a 3-night cruise from Singapore, which also called at Kuala Lumpur (Port Klang) yesterday.
To commemorate the occasion, a traditional plaque and key ceremony was held onboard, whereby Voyager of the Seas' Captain Wu Huimin exchanged plaques with Mr Nurdin Basirun, Governor of Riau Island and Mr Frans Gunara, Vice President Director of PT. Bintan Resort Cakrawala. Angie Stephen, Managing Director, Asia Pacific of Royal Caribbean Cruises was also present at the ceremony.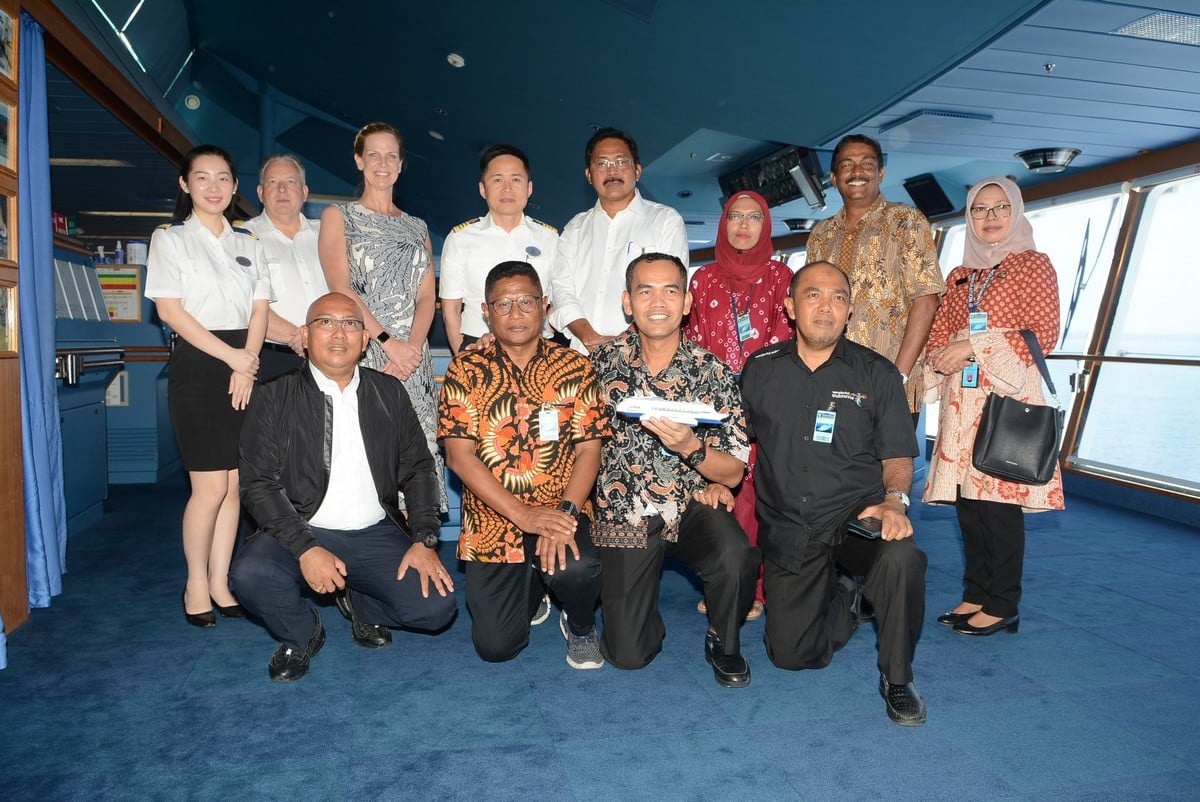 The Indonesian port and government delegation with the Royal Caribbean team onboard Voyager of the Seas in Bintan.
Bintan Resorts is famous for its pristine sandy beaches and boasts of 13 different types of resort accommodation. There are many attractions and all visitors are treated to a vast variety of indoor and outdoor activities. These include water and sea sports, Crystal Lagoon Treasure Bay which is the biggest sea water swimming pool in Southeast Asia,  golf at four different designer courses, various traditional Indonesian massage and spa therapies, mangrove discovery tours and the nature walks at Safari Lagoi where visitors can soak in the beauty of nature.  Guests will also get a chance to immerse themselves in Indonesian culture and tradition particular to the Riau region. In addition, they can partake in the local delicacies, especially fresh seafood that can whet any appetite and make one crave for more.
In greater Bintan, guests can enjoy the Trikora Coastal Exploration Tour which is an eight-hour adventure that brings guests to sacred caves to learn about the island's migrant history.  On the Tanjung Pinang Highlights Tour, guests can learn about the Chinese heritage at Tian Shang Miao, a walk around 500 Lohan Temple with life-sized sculptures, Vihara Dharma Sasana temples followed by Banten's oldest monastery before ending with picturesque sand dunes and blue lagoons.
The ship will continue her Southeast Asia season out from Singapore until late June, which includes itineraries such as the 3-night cruise to Penang, 4-night cruise to Penang and Phuket, and a 5-night Spice of Southeast Asia cruise to Penang, Langkawi and Phuket.