In:
What to wear on your Royal Caribbean cruise is a source of controversy among fans and a never ending source of debate.  Nonetheless, dinner time on a Royal Caribbean cruise comes with suggest dress attire and for first time cruisers, what you should and should not wear can be confusing.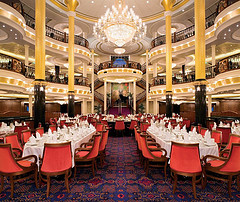 The good news is cruising these days is a far cry from the "old days" of cruising in the last century when ball gowns and tuxedos with tails and top hats.  Royal Caribbean is pretty open about what you can wear throughout the cruise but at dinner time, there's still a few elements of formality left to consider.  And for those that don't want to dress up beyond t-shirts and shorts, Royal Caribbean has options for you as well.
Casual
Casual dress code is defined by Royal Caribbean as, "Sport shirts and slacks for men, sundresses or pants for women."  This basically means its clothing that is a step up from what you might wear around the ship during the day.  Often during the day, guests will wear shorts, t-shirts and other pool-friendly clothing.  Casual dress code means it should be nicer than that, with the suggestions we see above.
In our experience, we see men wearing long pants with polo shirts with  khakis or "nice jeans" (no holes) and a collared shirt.  For women, we often spot skirts, sundresses or just a nice blouse.  The best way I can describe it is what you would probably wear to visit your grandmother on a holiday.
Casual night dress code is the most common dress code you will find on your cruise and it's the easiest to pack for.  
Smart Casual
The smart casual dress code is the next step up from casual and Royal Caribbean defines it as, "jackets and ties for men, dresses or pantsuits for women."  For men, you swap out the polo shirts for collared shirts and add a jacket with tie.  For women this can be more formal dresses or pant suits.
Smart casual clothing is the sort of clothing you might wear on a religious holiday to a place of worship. 
The number of smart casual and formal nights is at the ship's discretion but on a 7-night Royal Caribbean cruise, there will be usually be 1 smart casual night.
Formal Nights
Formal night dress code is the most stringent in terms of formality (hence the name) and Royal Caribbean defines formal clothing as, "suits and ties or tuxedos for men, cocktail dresses for women."  
Formal night clothing is what you would probably wear to a traditional wedding and should be a step up from any other night's clothing.  You may see some men wearing tuxedos but a vast majority of men on Royal Caribbean cruises these days opt for a two or three piece suit.  For women, it's an opportunity to dress up as much as possible, with gowns, cocktail dresses and lots of accessories. 
What about kids?
Children are expected to follow the evening's dress code just as closely as adults.  There may be a little more leeway in terms of the degree of formality for children's clothing, but at the same time children are expected to be dressed up more than what they would wear during the daytime.  For boys, polo shirts and nice pants will suffice for most evenings and girls can wear dresses, skirts and sweaters.
Specialty Restaurants
The specialty restaurants onboard have their own dress code each evening, which super cedes what the main dining room dress code may be.  Of course, you can always over dress for these restaurants by wearing more formal attire, but that's up to you.  
A trick some veteran cruisers will try is booking specialty restaurants on formal nights of their cruise with the rationale if you have to dress up anyway for the specialty restaurant, then you may as well do it on a formal night and "kill two birds with one stone".
What if I do not want to get dressed up?
The fact is you do not have to dress up at all for dinner on your cruise.  Royal Caribbean gives you the option of dining in your stateroom (room service is complimentary) or at the Windjammer buffet.  In either case, you can wear anything other than swimsuits (with shoes) to dinner and it will be perfectly acceptable.
Is the dress code enforced?
Officially Royal Caribbean states they will enforce the dress code every night, however the reality is the staff cannot screen everyone and what they are wearing.  
There's plenty of cruisers out there that will tell you about people they have seen at a restaurant wearing shorts or a tank top.  Moreover, people may cite what others are wearing isn't formal enough for the suggested dress code of the evening.  Inevitably, it's a decision the Royal Caribbean staff will make depending on the situation.
The dress codes offer suggestions but they are starting points for what to wear.  Because Royal Caribbean does not explicitly list everything that  you may not wear, there's room for interpretation by passengers.  Nearly every description of dress codes for Royal Caribbean cruises mention passengers should not wear shorts, but you will likely see someone on your cruise wearing shorts in the restaurants.