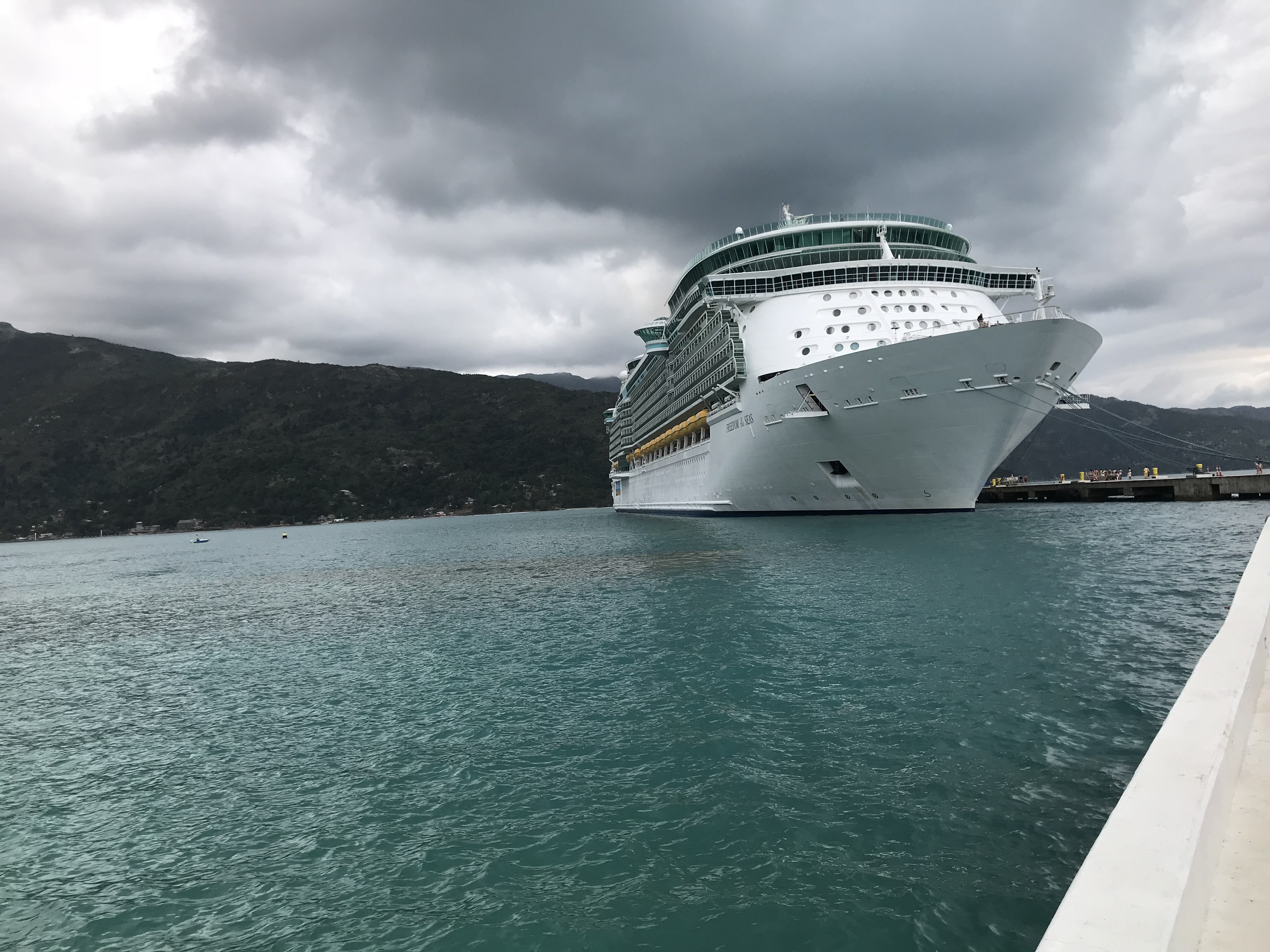 Content Count

41

Joined

Last visited
Everything posted by Jedi Jason
BTW, in the diamond lounge they do not swipe your card or keep track of how many drinks during the diamond member hours. So, you could double dip by getting drinks there and still get your three drinks around the ship if you want more than three as long as they are what's included on the diamond member drink list. There is typically a red and a white wine available on the diamond drink menu but the selection may be limited.

You might be able to get on board as early as 11:00 if you arrive early. Use your priority check in line and they will board the consecutive cruisers and suite guests and pinnacle members first followed by diamond plus etc and eventually general boarding. All of this happens within 10 minutes of each other typically since there are not that many in the upper categories and not all of them will be there that early. The only special lounge as already stated is for suite guests.

@MeaganA if you are still confused you might want to have your TA help you out. On board the gratuities are charged per person daily to the payment method setup if not pre paid. Generally prepaid gratuities are made for all in a room but you probably could pay for only some in a room. RC isn't going to know that you are staying in different rooms than you are booked into just give your stateroom attendant a heads up though.

I believe you can get an extra seapass card that gives room access without charging privileges especially if it is for a minor.

So, when you check in online which helps shorten your check in process at the terminal it should ask you if you are using cash or credit card for on board expenses which will include gratuities if not prepaid. It should also prompt you to indicate which guests you will be using the same method of payment. Check in each cabin in your party indicating the payment method for each person. You may have to figure out how to settle up with your step mom since her gratuities are pre paid by you and yours are not. Whatever the daily gratuity rate is will be charged daily to the sea pass card for the room. At the end of the cruise the credit card will be charged with the total balance of all on board expenses including the daily gratuity. I hope this makes sense. BTW, they will probably ask you again for your credit card info for on board expense account when you check in at the terminal even if you provided it during online check in.

I think the benefits of using a TA are more than what you get from it financially like an additional OBC. TAs are helpful if you need to make any changes or have any questions or have an opportunity to rebook at a lower price due to price drop or new promotion. They will deal with the hassle of contacting the cruise line for you saving you time having to sit on hold. They are especially helpful if you are cruising with others and want to link your reservations for dining or other activities.

Gratuities will be charged daily to your on board expense account if you do not prepay them. You may check your balance throughout your cruise on the TV or with guest services. It is possible to have people in your room not have charging privileges or set up on a different card or cash account. I believe your kids in another room could have a limit on their charge privileges and/or be setup to be charged to your card. It will become more obvious once you complete the online check in the few weeks prior to your cruise. I personally like to prepay the gratuities so I don't get such a large bill at the end of the cruise and only need to pay them and the cruise fare by the final payment date. You can always verify with guest services on board or when you check in at the cruise terminal.

Juice is complimentary for breakfast only.

Each port has some unique things but doing those with an infant might not be possible. Visiting cichen itza Mayan ruins in Mexico would involve a lot of time on a bus but would be possible. There are lot of resort for a day options in Cozumel that are all inclusive and affordable (around $55). For an a la carte option try Paradise Beach. Many of them have been reviewed on the blog. Grand Cayman is most famous for the stingray city interaction but for something infant friendly there are tours of other things like turtle farm, gardens, trip to Hell etc. In Jamaica the most popular thing is climbing Dunn's River falls but it is not infant friendly. The resorts for a day are more expensive here so a city tour or something else might be an option. Unfortunately the ship docks in Falmouth which doesn't have much to do nearby and most of the attractions are in Ocho Rios or Montego which are in opposite directions. I hope this helps some. I tried to give you a couple of options even if not infant friendly in case your family was feeling like helping you out and watching your young child while you went on an excursion assuming you are ok with that. Enjoy the cruise.

Some bars or restaurants might have cocktails that aren't available at other locations on the ship so check out any drink menus. I recommend a few tropical drinks that I like: mojito and frozen mojito as well as mai tai.

Thanks for sharing. I loved my Edge preview sailing. It was very innovative and lots of ocean facing or ocean view spots on ship.

I would say the excursion highlights for me would be Stingray city in Grand Cayman and river cave tubing in Belize. Not sure if that interests you but they are fairly unique activities in those ports.

I have seen beach beds and cabanas offered randomly but briefly in the Cruise Planner for Coco Cay (on South Beach) in the areas outside of Perfect Day (the ones that have been previously available prior to perfect day). I believe the chill island cabanas are new. Also, there are the new cabanas in the water park area that include water park admission and the ones at the oasis pool but of course these are more expensive. I am sure they are trying to sell their higher priced cabanas first or have some strategy as to why these other less expensive options aren't continually offered. I have enjoyed them in the past but the low tides can reveal a lot of sea grass and other plant life which is not as enjoyable as viewing the ocean waters. So, keep checking your cruise planner.

Welcome @MarvinS I wouldn't worry about the water park on Coco Cay not being ready for a late May cruise. Glad you are enjoying your RC cruises. It sounds like you got some good ones booked. I also have recently started booking with MEI and also have Michelle for my travel agent.

one option would be to upgrade your entrée for a fee in the main dining to get a chops steak. Sometimes they will also run specials on board for a reduced cover charge if they don't have enough specialty dining bookings.

Here's what I would recommend. Coco Cay: you could do a beach bed, bungalow, or cabana if you want to splurge and ensure some shade otherwise enjoy it as it is, a beach day that is an extension of the ship essentially Cozumel: been here several times and done a variety of things, the one I did most recent was a jeep tour. We booked through an independent tour company and we had a personal guide for our family of four in an AC enclosed Jeep. It was really nice. We stopped at several spots around Cozumel island including a beach resort that included lunch and snorkeling. It was originally going to be a dune buggy tour but they were able to switch us to the jeep tour when the dune buggy was cramped. This was a blessing since it was hot that day and it worked out in our favor. I have seen this tour offered where there are multiple jeeps that travel together and was customizable like our tour. We opted to skip the tequila tour since we had young children with us. There are lots of reasonable priced all inclusive resorts here but due to a lack of unique things to do in Costa Maya that day might be a good beach day. Costa Maya: Maya Chen resort if you want an affordable all inclusive, it's amazing,, if you want a cheaper non all inclusive option then try Mahahual. There are some things to do including pools right at the port as well. Roatan: lots of nature oriented things to do such as snorkeling that is well above average for the Caribbean, also some animal sanctuaries nearby Interested in your decisions and experiences since I am traveling that itinerary in October

It never hurts to look. I understand how making time for both family vacations and cruising can be challenging unless you can get them to go on a cruise with you. 😀 I have the advantage of living in central Florida and having multiple cruise ports within a short drive and don't have the added expense of flying or needing the extra day for travel. So, short cruises are another option for some of us.

Lots of great suggestions. Combo some of them: show up early, tell them you are in a rush to make a show, consider skipping dessert (you may be able to get it delivered to your room). I would normally expect about 1.5 hours from my prior experience unless you told them to serve you quickly.

My situation was a little different on a cruise that included an overnight there. I remember it being a commercial port. I don't recall if they shuttle you out of the port or if you need to get transport but I don't think they let you just walk around in the port area and it is a little ways to be able to exit anyways. We did a tour from the ship the first day which included a bus tour (90 minute ride to reach Rome). The second day we did our own thing and we took the train which is near the port into Rome. The cost was much better than car transport. However, it sounds like you have your luggage so this may not be the best option for you as opposed to find a bus or other shared transport.

Welcome @DublinFC I hope you have a great time on your cruise. I think you will really be wowed by Oasis and find that Royal offers a great value for everything you get including the service and amenities on the ships. Maybe you will find yourself cruising every year instead of every couple of years after your cruise.

It's not as cheap as Mahaual but still a lot better than on the ship. We haven't been to Maya Chan or Costa Maya before but I definitely am considering it. We already have Coco Cay and El Cozumeleno in Cozumel so not sure if we will book another beach day or not but it doesn't seem like there is anything especially unique at this port so we probably will do some sort of beach thing.

We are going to Costa Maya in October on Harmony. Its our first time going there and I have heard there may be inexpensive massages available in this port. Does anyone have any experience with this? I was also considering going to Maya Chan for our day there and not sure what they offer there for massage services. Most of the information I can find is regarding Mahahual. I am curious about rates and quality of massage regardless of location.

Reserve your shows and dining times (if you have my time dining) in the cruise planner online in advance of your cruise. Almost everything is less expensive if purchased prior to your cruise (drink packages, excursions, etc.) and watch for the cruise planner sales.

I don't know the pricing but I am sure someone could help us out on that. It is a punch card which could be shared unlike the royal refreshment package which also includes soda and fresh squeezed juice and mocktails. You get a certain number (around 10) of specialty coffee drinks like lattes, fraps, ,etc. for use at cafe promenade or other locations except a Starbucks kiosk if your ship has one for a set price. Of course if you use the entire card it would be a good value as opposed to purchasing them a la carte or a drink package unless you would take advantage to the other drinks offered.