In:
A brand-new water slide is set to open at Perfect Day at CocoCay's Thrill Waterpark in 2024.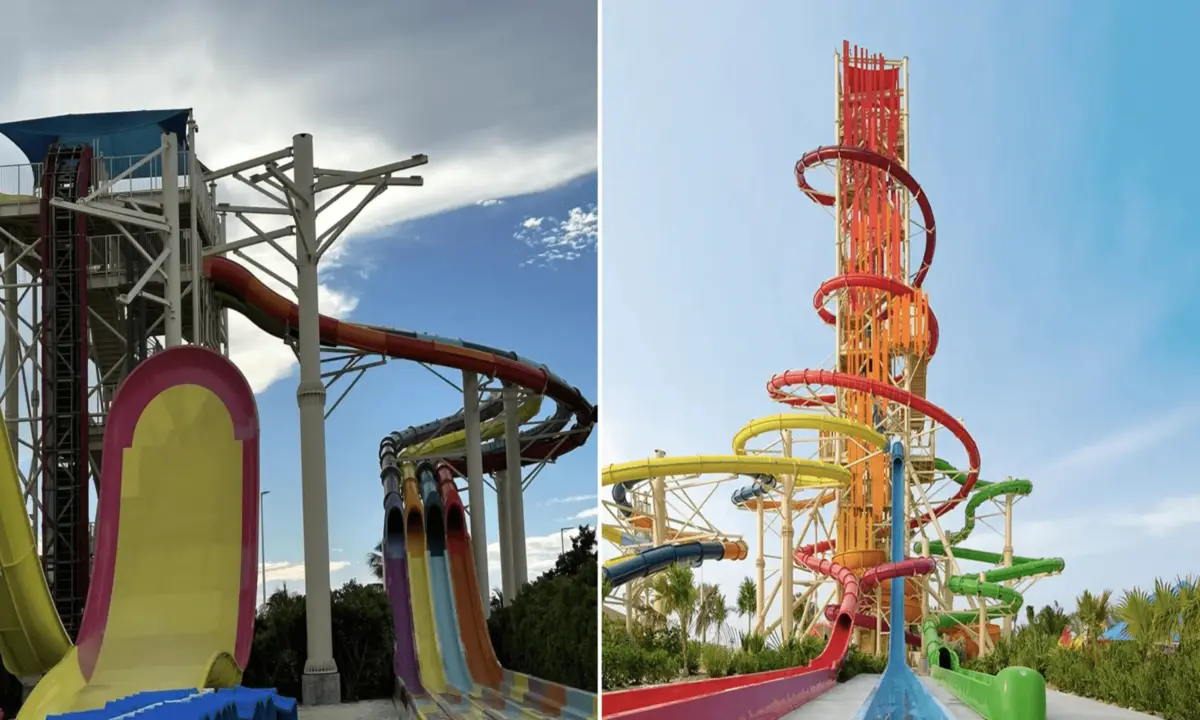 The Family Flume Water Slide will be able to accommodate groups of 2-4 people at a time and will be part of the Splash Summit Tower, where you can currently find the Sling Shot family raft slide, Splash Speedway mat slide, and Twister tube ride.
Royal Caribbean Blog reader Bobby Southard visited Thrill Waterpark last weekend and noticed a new pole. While initially a new ride was just speculation, the addition of the new water slide has been confirmed by Royal Caribbean International.  
"We are very excited to add another amazing addition to Thrill Waterpark for families and friends to enjoy together," said Neva Heaston, Director of Private Destinations for Royal Caribbean International.
The ride, whose name has not been announced yet, will use the same raft as the Sling Shot.  
Royal Caribbean is also working on adding a new staircase for the Splash Speedway, which will provide direct access to the mat races, improving the flow and convenience of Thrill Waterpark since mat riders won't have to mix with raft riders. 
Related: 10 things you didn't know about Perfect Day at CocoCay
What is Thrill Waterpark?
Thrill Waterpark opened as part of Royal Caribbean's $250 million renovation of the island in 2019. It's an extra-cost activity, meaning that it's not included in the cost of your cruise fare. 
You're still able to enjoy the island without purchasing admission to the waterpark, which usually ranges from $89 to $169 per person. It does not include admission to other areas like Coco Beach Club and the adults-only Hideaway Beach. 
If you want, you can splurge on a cabana rental inside of Thrill Waterpark. Included in the cost is admission for up to six guests, as well as a cabana attendant, a lush sectional sofa, two resort-style chairs, power outlets, towels, and complimentary water bottles. 
The price of admission varies depending on what ship you are sailing on, as well as when your cruise is set to commence. Like other add-ons, Royal Caribbean uses dynamic pricing to determine the cost. 
Currently, there are eight different slides for guests to enjoy. There's also a wave pool, which is the largest one in the Caribbean, and an obstacle course pool named Adventure Pool that has lily pads, a rope swing, a rock wall, and more. 
Daredevil's Tower is one of the two different towers that's home to five different slides, including  Daredevil's Peak. This is currently the tallest waterslide in North America at 135 feet high! 
Splash Summit is the other tower where the new ride is being constructed. It will live alongside of the mat racer slides, family raft ride, and tube slide. 
If you do decide to visit Thrill Waterpark, you'll want to try and ride the slides before 11:00am or after 3:00pm for the shortest wait times. You're free to come and go as you please, so you can spend the early morning and later afternoon in the park while still having time to explore the rest of the island and grab a bite to eat at the Chill Grill for lunch.