In:
Royal Caribbean is still very early in developing a new kind of restaurant concept, but we have a first look at the direction they are considering.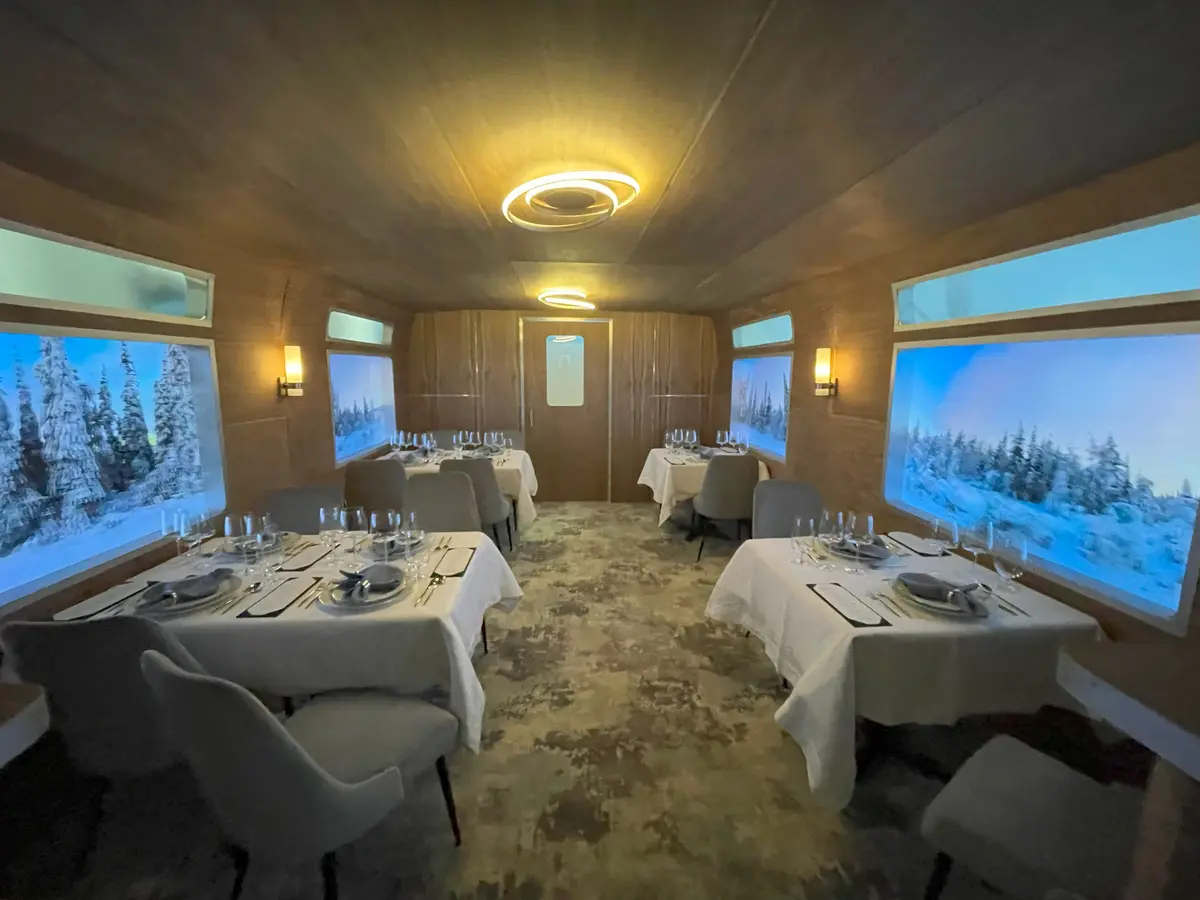 As RoyalCaribbeanBlog.com first reported, the cruise line is working on a new restaurant concept that will rely on mixed reality and have a classic train dining car motif. The intention is to have it as one of the restaurants on Utopia of the Seas.
While many details are being worked out, Royal Caribbean wanted to assess the viability of this sort of a restaurant, and so it created a life-size mockup at its Miami, Florida headquarters.
The cruise line invited RoyalCaribbeanBlog.com to tour the concept and get a glimpse of the possibilities they are considering. It's important to note what we saw is just a proof point, and executives were adamant how early in the process this dining idea is, so expect the final product to look different.
In fact, our visit was more about better understanding the concepting process that Royal Caribbean goes through with designing its cruise ships. Royal Caribbean's position as a market leader is largely based on its ability to innovate and deliver to its guests time-honored favorites along with brand new ideas.
Regardless of what the final version of this restaurant looks like, it was a fascinating look in how Royal Caribbean does concept development.
Guests want more unique dining
Royal Caribbean started down the road of developing a mixed reality restaurant because their customers indicated they wanted something different.
Royal Caribbean's Senior Vice President and Chief Product Innovation Officer Jay Schneider said their customer feedback has told them guests, "want more immersive and unique dining."
Royal Caribbean has also seen a recent surge in immersive dining around the world, such as Sublimotion in Ibiza or Atmos in Fort Lauderdale.  Moreover, Disney Cruise Line has its own mixed reality restaurant on the Disney Wish and Carnival Cruise Line has Fortune Teller Bar on Mardi Gras. Princess Cruises has a 7-course meal in which guests are wrapped around a circular LED screen at their 360 restaurant.
While none of these restaurants are exactly what Royal Caribbean wants, Linken D'Souza, Global Vice President Culinary, Dining & Beverage, thinks it's a good starting point, "I think it gave us the first kind of introduction to this possibility of bringing a whole immersive experience into the dining world of what we do in world."
Part of the reason why Royal Caribbean wants something different is none of these truly brought the guests into the experience.
"It was part of that experience, but it wasn't really immersive. I mean, it was interesting. It was fun. It was cool to have the vistas around you, but it didn't draw you in necessarily into the experience the way that I think we envision what we're talking about to be able to do," said Mr. D'Souza.
Thus, Royal Caribbean had 4 primary goals:
Creates an immersive experience with entertainment
Highly unique and new to cruise
Appeal to everyone, including families or someone on a date night
Evolves over time to offer repeat guests new and exciting adventures
With those goals in mind, the team worked through various ideas and ultimately came to the idea of a train, assuming they could make the experience convincing enough, "is there an opportunity to make it feel like you're on a train, make it feel like you're on a dining car and bring to life this kind of new concept of a dining car restaurant experience," is what Mr. Schneider wrestled with early on with this project.
The train dining restaurant
The team admitted there's no name yet, and the final direction may change, but they wanted to share a look at one possibility.
Royal Caribbean is still playing with ideas and ways to make it convincing, but they came up with a story for this experience and even went as far as to model it out as a proof of concept.
The experience begins on deck 4 of Utopia of the Seas, where Izumi specialty restaurant currently exists.
Similar to how Wonderland on Wonder of the Seas has a themed motif to the elevator lobby that indicates there's something different about this floor, the elevator lobby and staircase near the restaurant will have a distinct look to it.
"As you're coming up the stairs or you're coming down the stairs, even the stairwell, " Mr. Schneider explained. 
"You'll start to immerse like you're moving into a space that is very different than what you're used to on the Oasis class, as well as just an experience we provide because even the stairs will start to feel no longer like a classic cruise stair, but they'll start to feel like you were walking up into a train station for the first time."
As you turn the corner, you'll see a train facade instead of the large Izumi sign against the wall.
"The idea is that you're going to go have dinner at what we're currently as a working project called the Dining Car," Mr. Schneider said and quickly noted that is not going to be the final name.
There will be multiple trains that you can board based on your reservation.
In fact, your name will be listed on the classic split-flap display that used to dominate train stations. You'll hear the sounds of a train and the split-flap display updating, the smell of the food, the look of the uniforms crew members will wear, and this all works towards that multi-sensory experience Royal Caribbean wants that goes beyond a digital screen.
One other idea they have is to give guests a classic looking train ticket in their stateroom that they can not only bring to the restaurant to confirm their reservation, but be able to keep it as a souvenir after the cruise.
As you walk in, there are a couple of options. As you enter what is today the entrance to Izumi on other Oasis class ships, you would find a train platform.
There will be a platform bar over to the right, and the entire train facade to the left of the entrance would be visible to you
"You'd see the full train built out on the right hand side. You may only see partial train, but you'll see the back of the train and then be able to enter the venue. Whether you're going to train one or train two or even the platform. But the idea is that you start to see the real thing."
As to where your train will go, the direction is still a work in progress, but one idea Royal Caribbean has is a train visit that takes you to multiple destinations.
"We would take you to say 4 or 5 destinations, and your journey would be fixed, much like your cruise itineraries fixed, your train journey would be fixed," Mr. Schneider explained.
"We can take you to 4 or 5 different journeys because we get the affordance of a train, goes into a tunnel, the tunnel gets dark, and when you pop out, if you think of the light experience you get coming out of a tunnel, you're going to go somewhere new."
As an example of one possibility the team is considering, your train might begin at Grand Central Station in New York with your first course of food and wine pairing, and when that is complete, your train enters a dark tunnel to take you to the next place in the journey, which could be the Canadian Pacific Railway. 
You're then served your second course with second pairing. Then you go through another tunnel and pop out in the next destination, which could be Italy for your third course.
Mr. Schneider reiterated that this is by no means the final concept, just one possible idea they have.
Other ideas is to have the train visit fictional places or places and times that no longer exist, such as the Polar Express or the old west.
One idea that Royal Caribbean International President and CEO Michael Bayley came up with for the project was to have the train visit the Southwest of the United States and see outside the window a man on a horse riding with a mask on, with a sheriff chasing him.  As time goes by, you hear noise and a bandit comes rushing through the train with gun drawn.
"It's just a surprise and delight overlay that this could give you to mash a little bit of entertainment."
"Food is the hero here. Entertainment is not. But that doesn't mean there's not an opportunity to dial up just a little bit of surprise and delight in the moment to get people just, again, immersed in the experience."
Speaking of the food, there isn't a specific cuisine outlined yet for the restaurant, partially because of how early it is still in the design phase.
"We may end up being in one country doing one experience that's really immersive in that space with the food that ties to that experience. We aren't there yet, but I think the idea here is that there is a ton of diversity of things you could do. It may flow through different destinations, but it definitely kind of brings this multi-sensory experience of the food along with the sight, sound, smell, taste, etcetera into it," Mr. D'Souza explained.
Can they make it feel real?
One question the team had to figure out was could they make the train experience real enough that it didn't feel as though you're eating and watching a television of scenery.
Additionally, would the visual of being on a train and it moving along with the ship's natural movement lead to problems with motion sickness for guests.
Mr. Schneider said this has been an ongoing research project for the cruise line, "we've been studying for a couple of years now, how far away from a screen do you have to be to make it never feel like a screen. How much light do we push onto it? How much? How much plexiglass or other do we put behind it? How do we make sure that you look this way? It looks like you're looking down an actual window."
In fact, that research was initially done to create an improved virtual balcony experience.  When the dining car concept was introduced, the team leveraged that research to help with this prototype.
Royal Caribbean took a 360 degree filming rig to Sweden and started filming in 8K resolution and experimented with various movement speeds.
"Speed is one of the things that we're learning. How fast is it moving? How fast do we want to capture? And then how much do we want to manipulate?"
They wanted to figure out at a very early stage, could they make it feel convincing enough that it's real, "do we believe at an alpha version that there's something here? Or should we just say, this was really great? We spent a couple of grand building a wooden box and borrowed some screens and a couple of grand with a dude in Sweden shooting some footage."
To better illustrate the concept, they built out the prototype because the concept was better understood once people sat in the mock dining car.
Mr. D'Souza thinks the prototype is a real selling point, even in this very alpha stage, "I think conceptually, everybody sitting here goes, wow, this is this could be a pretty cool experience. And I think that's the way we're thinking about it, is how do we take that and really bring it to life using all of your senses."
According to Mr. Schneider, the next step is to expand this prototype to exact scale of the one they intend to build on Utopia, "We're just going to build one train car. So then we can get a real sense of length, and then can go through the iterative process."