In:
Royal Caribbean has always been a cruise line known for innovation, from creating the Royal Promenade to building the first "Central Park" at sea and, of course, designing the largest cruise ships in the world.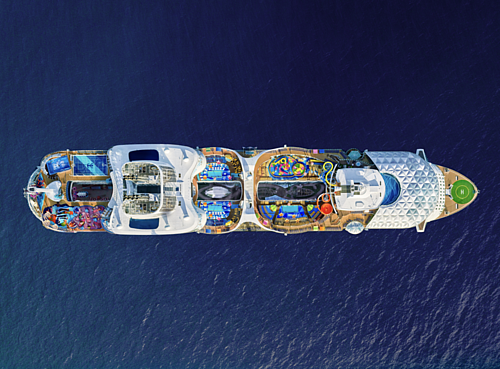 I love everything about cruising with Royal Caribbean, but I can't help but brainstorm new ideas and features I'd love to see on the fleet's future cruise ships.
Whether new specialty restaurants, onboard activities, or new cabins, here are 13 changes and upgrades I'd love to see incorporated on Royal Caribbean ships.
Promenade deck pool area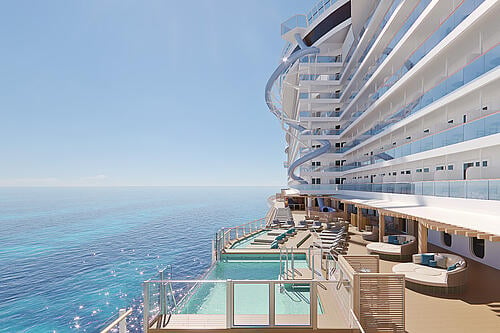 Photo credit: Norwegian Cruise Line
The outdoor Promenade deck is one of my favorite places on any Royal Caribbean cruise ship, especially on ships where the Promenade deck wraps entirely around the ship's circumference.
The Promenade deck is such valuable real estate, yet it seems Royal Caribbean does not take advantage of this space as much as other cruise lines.
Many cruise lines use this space for comfy seating, hot tubs, pools, outdoor dining, bars, and other hangout spaces. I'd love to see this concept on a Royal Caribbean ship as opposed to just a walking area!
Thai restaurant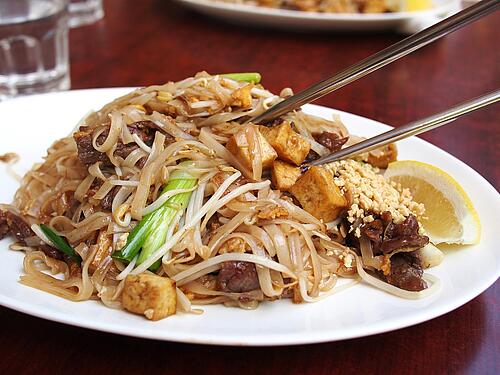 Thai cuisine is one of my absolute favorites, but it's something that's hard to come by on a Royal Caribbean cruise. Other than the occasional "pad thai" served in the Windjammer, I've never seen any other Thai dish offered onboard.
My top wish list for a new specialty restaurant would be a Thai restaurant, although I'm not sure this is ever something that will come to fruition as Royal Caribbean ships already have Izumi onboard for Asian cuisine.
Related: Food on a Royal Caribbean cruise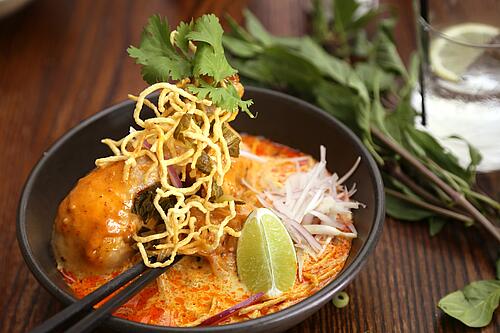 While Royal Caribbean caters to a wide population of guests and therefore tends to select cuisines well-known by all age groups (Italian, Mexican, American fare, etc.), more and more people are enjoying cuisines like Korean, Indian, Vietnamese, Thai, etc.
Expanding culinary options might attract more young people and foodies to Royal Caribbean cruises.
Street food stand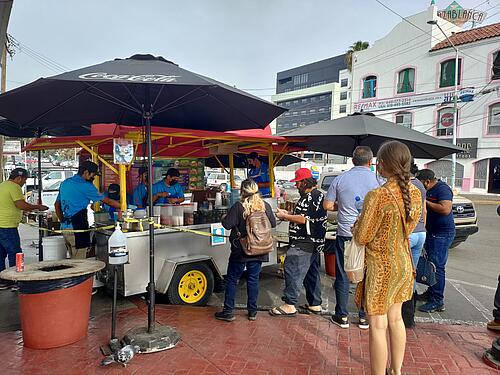 Another random item on my wishlist for future Royal Caribbean ships is a "street food" cart that changes locations around the ship.
One of my favorite parts of traveling is tasting local street food, whether elotes in Mexico, falafel in Egypt, or bánh mì in Vietnam, and I think street food has become increasingly popular in recent years.
It would be interesting to see Royal Caribbean take advantage of this trend by introducing some sort of "street food" on their cruise ships. I'm imagining a food cart with easy, made-to-order dishes that moves around the ship each day offering cuisine not found elsewhere onboard.
Food hall/marketplace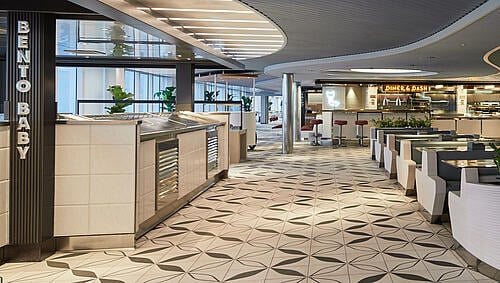 Photo credit: Virgin Voyages
If the street food cart is a little too far-fetched, I think there is great potential for a food hall/marketplace option on future Royal Caribbean ships.
Different from a buffet, a food hall consists of made-to-order food stands with diverse cuisines, from noodle bars to Texas-style barbecue and build-your-own salad stations.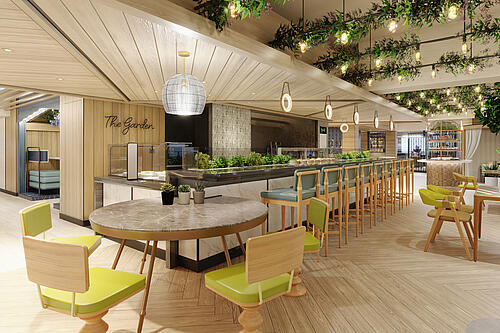 Photo credit: Norwegian Cruise Line
This was a concept that first rolled out on Virgin Voyages cruise ships and recently debuted on the Norwegian Prima. Most items at the food halls on these ships are complimentary and it serves as a trendy dining location reminiscent of food truck parks and marketplaces in cities around the world.
I would love to see a food hall on a Royal Caribbean ship!
Solo travelers area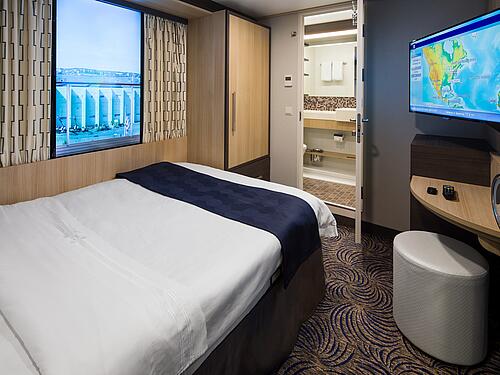 Many cruise passengers cruise solo, and it would be nice to see some sort of exclusive solo cruiser area onboard.
Norwegian Cruise Line, for example, has a solo cruiser-only area with studio cabins and a private Studio Lounge. Solo passengers can enjoy complimentary coffee, espresso, and snacks in the lounge as they get to know fellow solo cruisers.
This would be a nice concept to see on future Royal Caribbean cruise ships, and I would definitely take advantage of it when planning a solo cruise.
Related: What I learned from my first solo cruise
More hammocks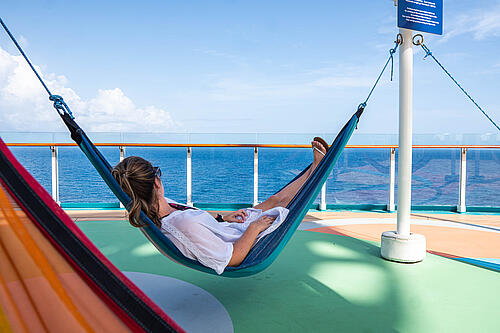 Both Mariner of the Seas and Independence of the Seas have a set of hammocks on the ships' Sports Courts and I love this feature!
Swinging in a hammock is extremely relaxing, especially when on a cruise ship, and it's the perfect place to hang out and enjoy an ocean view. More hammocks, please!
World-themed ship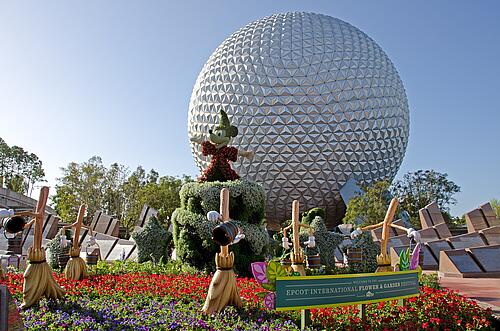 I visited Walt Disney World's Epcot for the first time last year and enjoyed the global atmosphere of the park. Epcot's World Showcase consists of 11 distinct areas representing countries around the world, including Canada, France, Morocco, Germany, Norway, and Mexico.
Each of these showcases features dining, shopping, architecture, and attractions themed by the country it represents, and it's a unique way to "see the world" from one place.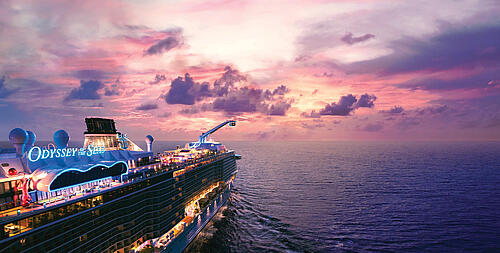 A few months ago while onboard a cruise ship, I was reminiscing about my time in Epcot and thought the global theme could be a really cool idea for a Royal Caribbean cruise ship.
Because Royal Caribbean has so many restaurants from diverse cuisines already, the ship's theme could incorporate these restaurants into their own "enclaves" themed by different countries in the world.
More outlets in public areas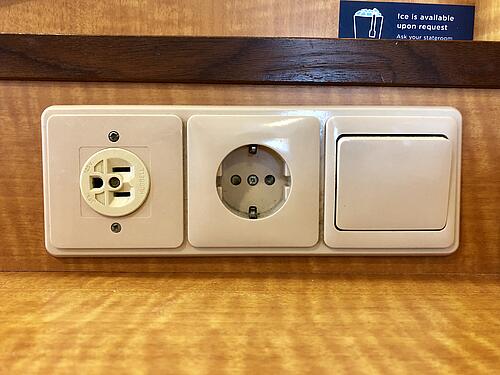 It's very difficult to find an electrical outlet in public areas on Royal Caribbean ships, and when you do, it's often in an inconvenient location and a European-style outlet.
Many people work remotely nowadays and Royal Caribbean is adding Starlink internet to all of its ships. The combination of these two factors may mean demand for working remotely on a cruise ship will soar.
It would be nice to see more outlets in public spaces onboard, although I'm not totally sure this will happen. After all, Royal Caribbean wants its guests to be enjoying the cruise ship's amenities (and spending money on drinks, shopping, etc.) instead of being on their laptop all day!
Labels on Windjammer food items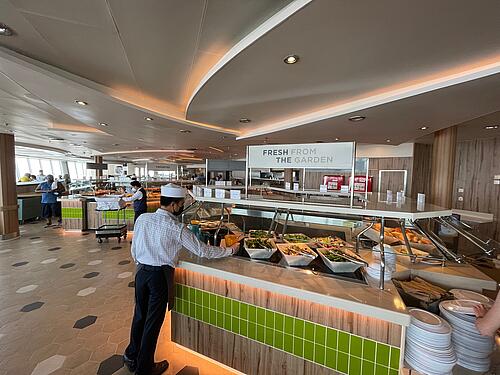 I love eating at the Windjammer on a Royal Caribbean cruise, but I wish they had labels on the items. Some cruise lines have more in-depth labels above each food item listing ingredients and allergy information, and this is really helpful for passengers with dietary restrictions or allergies.
Related: Guide to Royal Caribbean's Windjammer Cafe buffet
While I don't have any food allergies, I am a pescatarian and frequently find myself asking crew members in the Windjammer if they know which ingredients are in a particular food item. I imagine this is a lot worse for those with gluten sensitivities, dairy allergies, etc., so it would be nice to see more labels in the Windjammer and other food locations onboard.
More of The Bamboo Room bar locations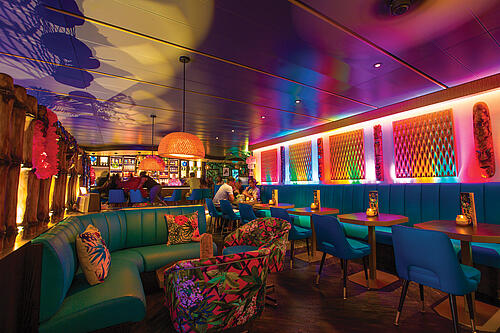 My favorite bar on any Royal Caribbean cruise ship is The Bamboo Room, a Polynesian-inspired tiki bar found only on Navigator and Mariner of the Seas.
The tropical vibes, bossa nova music, and island-themed drinks of The Bamboo Room make it a place I visit time and time again, but unfortunately it's only found on two ships in the fleet.
Related: Check out the signature cocktails at The Bamboo Room on Mariner of the Seas
The vibe of The Bamboo Room perfectly fits the atmosphere I'm looking for on a cruise vacation, and I would be super excited to see more locations on new Royal Caribbean ships or amplifications!
Roller coaster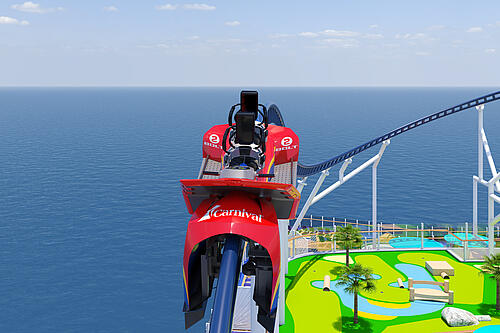 Photo credit: Carnival Cruise Line
While spending the day at Perfect Day at CocoCay's Thrill Waterpark last year, I learned the hard way that water slides make me feel extremely claustrophobic.
Sliding in circles in a pitch-black slide with water gushing everywhere? I loved it when I was younger, but now not so much.
That being said, I still love adrenaline-filled activities and would be interested to see some sort of roller coaster ride onboard a Royal Caribbean cruise ship.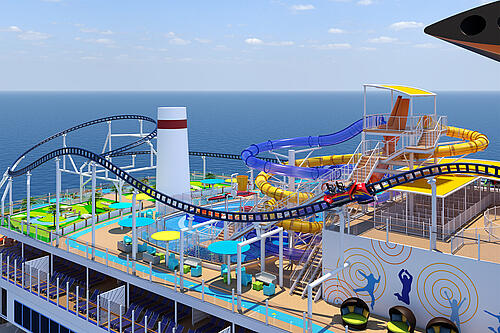 Photo credit: Carnival Cruise Line
Carnival just debuted the BOLT Sea Coaster on the new Carnival Mardi Gras, and this ride looks like a ton of fun. I hope to see a similar feature incorporated on future Royal Caribbean ships!
Language classes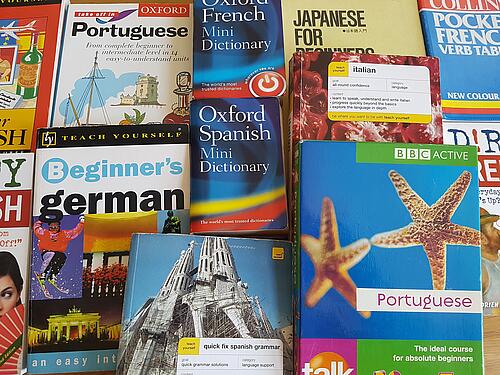 Earlier this year while sailing on Harmony of the Seas, I noticed a few short language classes appeared in the Cruise Compass. I'd never seen this before on a Royal Caribbean ship, so I made sure to attend the 45 minute Spanish class at the Schooner Bar.
I had a ton of fun at the class and would love to see this type of activity offered more often! On my cruise to Greece, for example, it would have been both fun and helpful to attend a short language class so I could have learned basic phrases to use in port.
Movie theater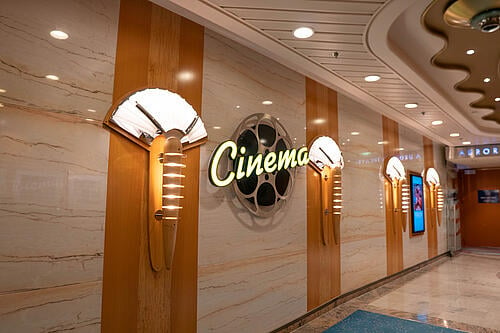 I recently returned from an Alaska cruise on Radiance of the Seas, and one of my favorite features on the ship was the Cinema.
Every Radiance Class ship has a movie theater onboard which plays free movies several times per day, every day of the cruise. The cinema offered a much better viewing atmosphere than watching a movie on the pool deck, and it was fun to catch a movie on a sea day to pass the time.
While I'm not sure Royal Caribbean will incorporate more movie theaters into their new cruise ships, I certainly enjoyed my experience at the Cinema!
Which features would you love to see on new Royal Caribbean cruise ships? Do you agree with my ideas? Let me know in the comments!
Planning a cruise? Start here: