In:
Planning a cruise vacation starts with choosing a cruise ship, itinerary, stateroom category, and time of year to sail, but when is the best time to book a cruise?
With so many promotions and deals available throughout the year, you may be wondering if it's better to book a cruise now or wait until a new discount is announced. 
Spoiler alert: the best time to book a cruise is today
99% of the time, the best time to book a cruise is today. Waiting for a promotion or specific time of year to book your upcoming cruise has few advantages over booking the cruise as soon as possible.
Cruise fares tend to be cheapest the further in advance you book, and despite a few last-minute deals here and there, it's best to book in advance and lock-in the best price.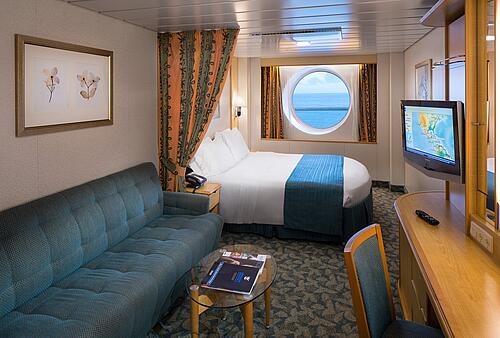 The main reason for booking a cruise today instead of weeks or months from now is that you can reprice your cruise until the sailing's final payment date (75 days prior to sail date for 1-4 night cruises and 90 days prior to sail date for cruises 5 nights or longer).
How does repricing a cruise work?
Royal Caribbean's Best Price Guarantee Program guarantees you'll receive the best price on your cruise if there's a price drop.
If you book a cruise 12 months in advance for $1000, for example, and later see the price has dropped to $750, you'll receive the new, cheaper price provided your cruise is not past the final payment date.
Price adjustments do not happen automatically, so you'll have to periodically check Royal Caribbean's website or contact your travel agent to see if the cruise fare has changed.
Note: The Best Price Guarantee Program is only available in select countries, including the US and Canada. If you're not from the US or Canada, contact Royal Caribbean or your travel agent to check if you are eligible for price adjustments on your cruise.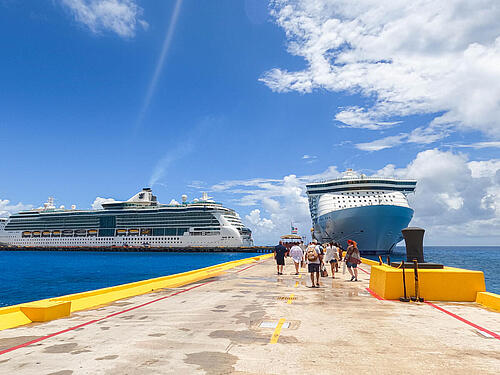 While it's recommended to book a cruise as early as possible, there are certain times of year where you can sometimes find better deals than others. An all-around cheaper cruise is never guaranteed when booking during these promotions, but it's possible to find savings on certain stateroom categories or cruise add-ons.
Booking a cruise during wave season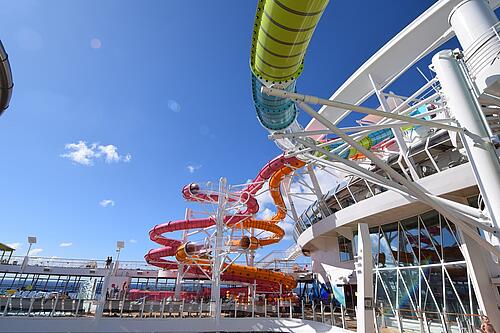 "Wave Season" is a cruise industry term for the time of year in which cruise lines tend to offer their best promotions. Wave season traditionally occurs between January and March, which is a popular time for people to book vacations for the upcoming year and look for a tropical "escape" from winter temperatures up north.
Wave season promotions vary based on year, but you might see savings like 60% off a second guest and up to $150 onboard credit to use onboard. If you're browsing Royal Caribbean's website during wave season, you should take advantage of the offer to hopefully save some money and get onboard perks.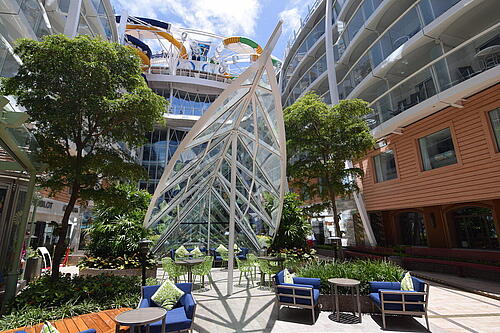 However, don't wait until wave season to book a cruise, as you can always reprice an existing cruise to see if the wave season promotion is lower than the price you originally paid for the cruise or cruise add-ons like shore excursions and drink packages.
Black Friday cruise deals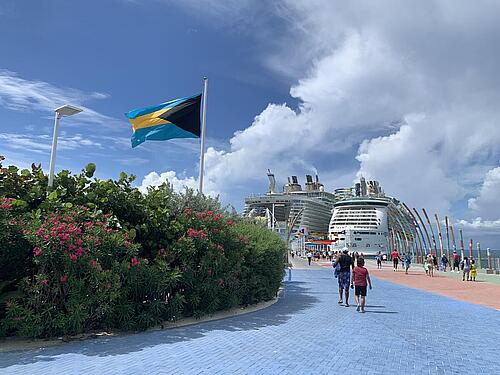 Black Friday can be an excellent time to shop for a cruise vacation, and you'll always find a Royal Caribbean cruise promotion during the biggest shopping weekend of the year.
However, do not wait to book a cruise until Black Friday. Instead, book the cruise now. Royal Caribbean allows price adjustments with no penalty until final payment date, so if you do notice a price drop when Black Friday rolls around, call Royal Caribbean or your travel agent to get the cruise fare adjustment.
Plus, you might find that Black Friday cruise deals are not very different from promotions you'll see throughout the rest of the year. Unlike retail and technology stores, for example, cruise pricing does not drastically change on Black Friday. You might find that the Black Friday promotion is nearly the same as other promotions during the year.
Can I book a last-minute cruise?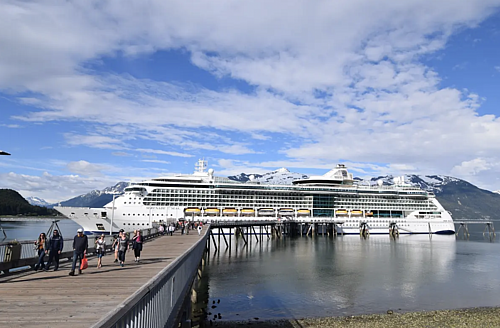 While most of our advice points to booking a cruise earlier rather than later, you can occasionally find a cheap last-minute cruise deal on Royal Caribbean.
If a cruise is past final payment date and not all rooms have been booked, Royal Caribbean may drop prices in order to encourage more passengers to book the cruise.
While this may lead to great savings, a certain level of flexibility is needed before booking a cruise at the last minute. Stateroom, ship, and itinerary choices may be extremely limited, so keep an open mind before booking so you don't end up disappointed!
More information on last-minute cruise deals:
Booking a cruise when new itineraries are released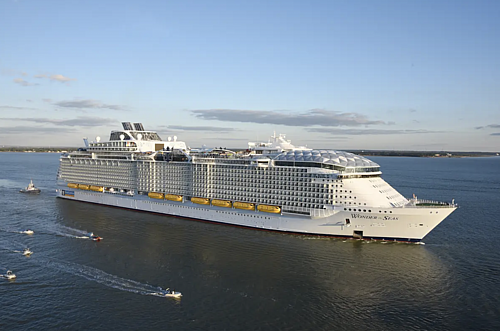 You can often find the cheapest cruise fares right when new cruise itineraries are released. We tend to find that cruise fares increase over time as more staterooms get booked, so booking early can usually ensure the best price.
Cruise itineraries are usually released around two years in advance. One way to stay informed about new cruise itineraries is by subscribing to Royal Caribbean's marketing emails or following Royal Caribbean Blog.
As an example, Royal Caribbean typically releases Alaska cruise itineraries in November for the season to come in two years, so summer 2024 itineraries would be released around November 2022.
Related: When is the best time to cruise to Alaska?
Booking when itineraries are released is especially recommended for cruises at peak times of year, most notably during the holiday season. Cruises over Thanksgiving and Christmas can sell out and see much higher prices than cruises at other times of the year. Booking early allows you to lock-in the best price and have the most flexibility over ships, staterooms, and itineraries.
Related: How Royal Caribbean celebrates holidays on a cruise
Best time for families to book a cruise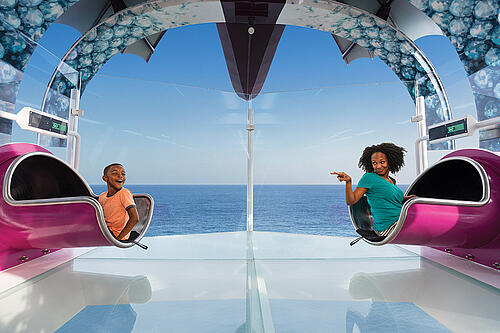 If you're traveling with kids and have specific stateroom requirements, it's better to book further in advance than at the last minute. Certain stateroom options, like connecting rooms, can sell out quickly during peak times of the year when kids are out of school.
Another great time to book a family cruise is during a Kids Sail Free promotion. Royal Caribbean will occasionally offer Kids Sail Free promos, during which the 3rd and 4th guests (or higher) who are 12 years or younger are eligible for free cruise fare.
Related: Here are the absolute best cruises for families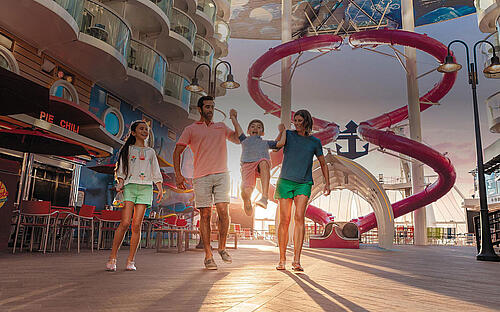 While "free cruise fare" sounds enticing, there are a few caveats with Kids Sail Free. Sailings must be 4 nights or longer and not occur during the promotion's blackout dates. Unsurprisingly, blackout dates tend to be during peak times of the year during school holidays. Additionally, you'll still have to pay taxes, port fees, and gratuities for kids.
That being said, booking during a Kids Sail Free promotion can be one of the best times for families to book a cruise.
Should I wait to book my Royal Caribbean cruise at NextCruise?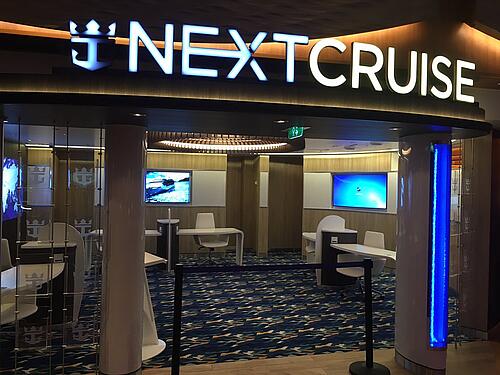 NextCruise is where you can book future Royal Caribbean cruises while onboard a ship. The major perk of booking a cruise at NextCruise is that you will receive up to $600 in onboard credit on the cruise and you'll often see deposits as low as $100 per person.
While the onboard credit offerings at NextCruise are enticing, we don't advise waiting to book at NextCruise if you're not currently onboard a Royal Caribbean ship. Even if you have a cruise coming up in a few weeks or months, it's almost always better to book a future cruise you are interested in while at home and not wait to book the cruise onboard.
This is because the cruise fare may increase in the weeks or months leading up to your cruise, thus negating any extra savings via onboard credit that you would receive while booking onboard.
More cruise planning resources: