In:
Royal Caribbean allows cigarette, cigar, e-cigarette, and pipe smoking on its cruise ships, but smoking is restricted to designated areas onboard for the comfort and safety of all guests. Knowing where you're allowed to smoke (and where smoking is prohibited) will help you be better prepared for your upcoming cruise.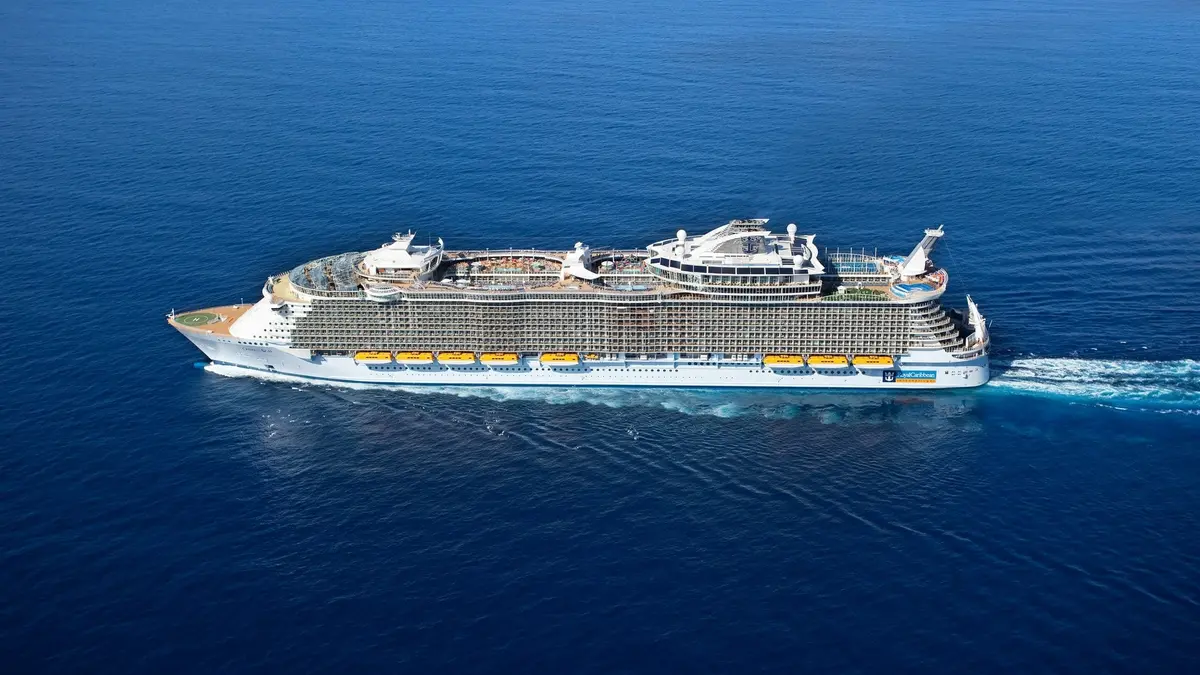 Royal Caribbean's smoking policies are fleetwide, so you can expect to find the same smoking areas on most ships. Guests who violate this smoking policy may be subject to further action pursuant to the "Consequences Section" of this Guest Conduct Policy.
Whether you're looking for a place to smoke or trying to select a stateroom further from smoking areas, here's what you need to know about smoking on a Royal Caribbean cruise.
Promenade deck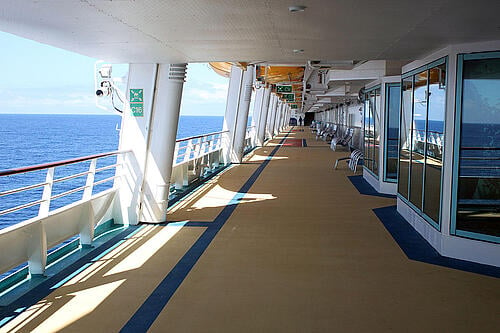 All Royal Caribbean ships have an outdoor Promenade deck where guests can enjoy an outdoor walk away from the hustle and bustle found elsewhere onboard. This space is located on deck 4 or 5 and wraps around the ship, offering fantastic views of the ocean.
Smoking is permitted in a designated area on one side of the Promenade deck only. Whether this smoking area is on the port or starboard side of the ship depends on the ship you're sailing on. Even ships in the same class may differ in smoking location, so it's recommended to take a look at past Cruise Compasses to check where smoking is allowed on the Promenade deck.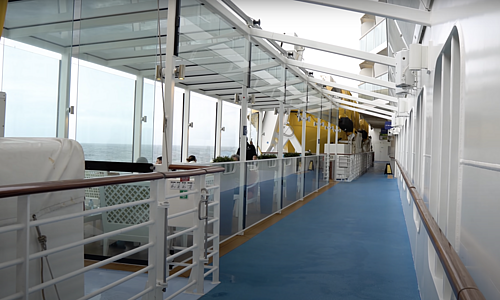 On most ships, the Promenade deck smoking section will be small, with just a few chairs and ashtrays. On Quantum Class ships (excluding Odyssey of the Seas), there is a larger, covered smoking area outdoors with comfy seating. 
Oasis Class ships do not have a traditional Promenade Deck, as this area was designated to be a jogging track. While there are still places to sit and relax on the jogging track, this area is designated as non-smoking on all Oasis Class ships.
Pool deck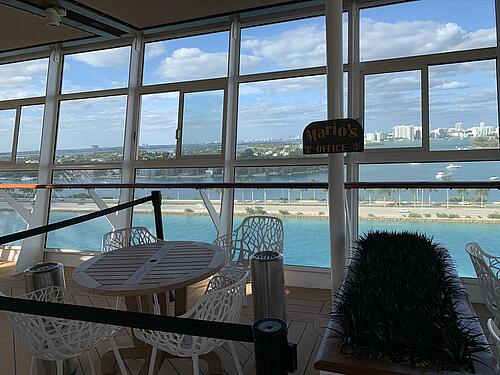 You can smoke in a designated area on one side of the pool deck on Royal Caribbean ships. The smoking side of the ship differs by ship, so it's best to check a recent Cruise Compass for the ship you'll be sailing on to see which side allows smoking.
The designated smoking area will have comfy seating, tables, and ashtrays. Note that while smoking is permitted on one side of the pool deck, it will only be allowed in the designated smoking area on that side, not the entire half of the pool deck.
Smoking is not allowed in other spaces on the pool deck, including near food venues, the upper pool deck jogging track, and the sports deck.
Casino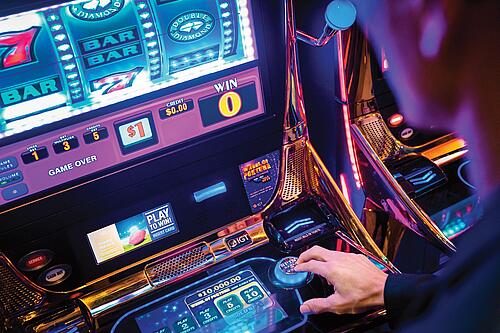 Casino smoking policies vary depending on your cruise departure port. For most departure ports, including those from the United States and Canada, smoking is permitted in the casino while the casino is in operation. Guests will find both a smoking area and non-smoking area at the casino.
On ships departing from the United Kingdom and Australia, no smoking is permitted in the casino. Passengers on cruises departing from China and Hong Kong are free to smoke in any part of the casino.
Cigar and pipe tobacco is not permitted in the casino, as it is only allowed in outside areas (with the exception of the Connoisseur Club).
Connoisseur Club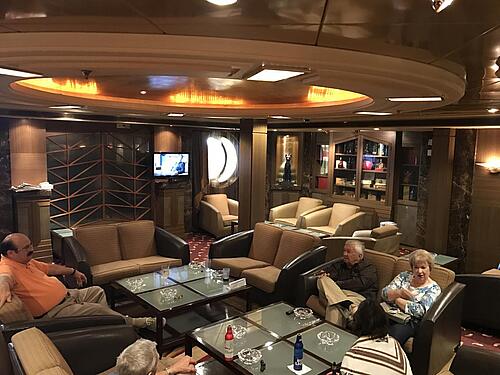 Select Royal Caribbean ships have the Connoisseur Club, an indoor cigar lounge where guests can purchase and smoke cigars as well as order drinks and chat with other passengers.
The Connoisseur Club is being phased out on Royal Caribbean ships, but it can still be found on Liberty of the Seas and Explorer of the Seas. The club will likely be removed when the two ships are amplified. The space will become either the Diamond Club or Library/Card Room.
Vaping
Electronic cigarettes or e-cigarettes are only permitted within the designated smoking areas.
Non-smoking areas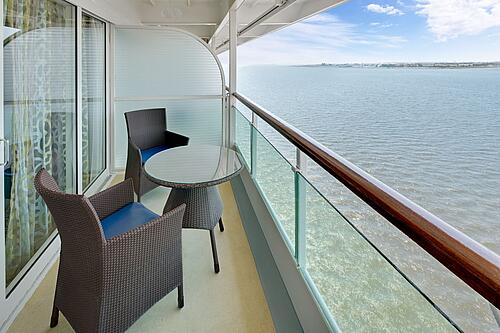 Balcony and stateroom
Royal Caribbean does not permit smoking on stateroom balconies or in the cabin itself. While a balcony may be your own private outdoor space, smoking can cause discomfort to guests in staterooms around you. Any passenger caught smoking in their stateroom or on their balcony will be subject to a $250 USD cleaning fee.
Solarium
The adults-only Solarium on Royal Caribbean ships is non-smoking. While it can be a relaxing place to spend the day away from younger passengers, passengers must stay in the designated area on the pool deck when smoking.
Central Park & Boardwalk neighborhoods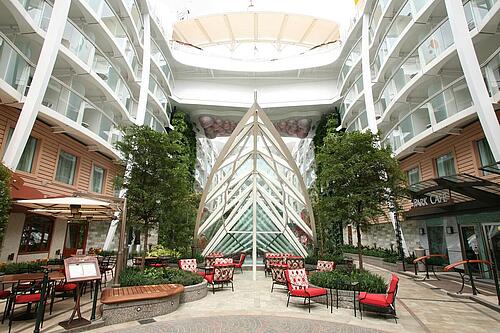 While Oasis Class ships offer many public outdoor spaces onboard, smoking is only allowed in the casino and on one side of the pool deck. The Central Park and Boardwalk neighborhoods are non-smoking.
Other public spaces
Entertainment venues, the Royal Promenade, bars, lounges, and restaurants are all non-smoking. Restaurants with outdoor seating, including the outdoor seating in the Windjammer, are also non-smoking.
One other important distinction is that passengers must be at least 21 years old to smoke on sailings departing from the United States and 18 years old on sailings departing from other countries.