In:
All of Royal Caribbean's cruise ships will eliminate the use of plastic drinking straws by the end 2018 in an effort to reach a comprehensive plastics elimination program.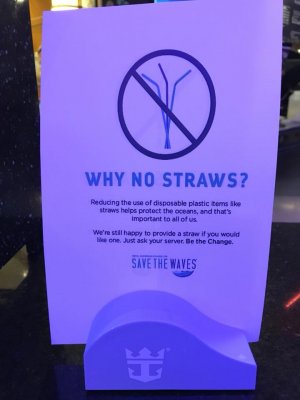 The policy will be mirrored with sister brands Celebrity Cruises, Azamara Club Cruises, TUI Cruises, and Pullmantur Cruceros.
Royal Caribbean has already implemented a "straws upon request" policy, and this new policy will go a step further to eliminate the plastic option all together. That program will be taken a step further by the start of 2019, when guests requesting a straw will receive a paper straw instead of a plastic one. Guests also will begin seeing Forrest Stewardship Council-certified wood coffee stirrers and bamboo garnish picks as part of the plastic reduction strategy.
After straws, stirrers and picks, the company's next efforts will focus on other single-use plastics such as condiment packets, cups, and bags. A full plastics audit is underway, with the overall plan to be completed in phases by 2020.