In:
A Royal Caribbean cruise offers endless opportunities to try new and exciting desserts. From a sundae with twelve scoops of ice cream to a s'mores cookie and tiramisu, there is a dessert fit for every guest onboard.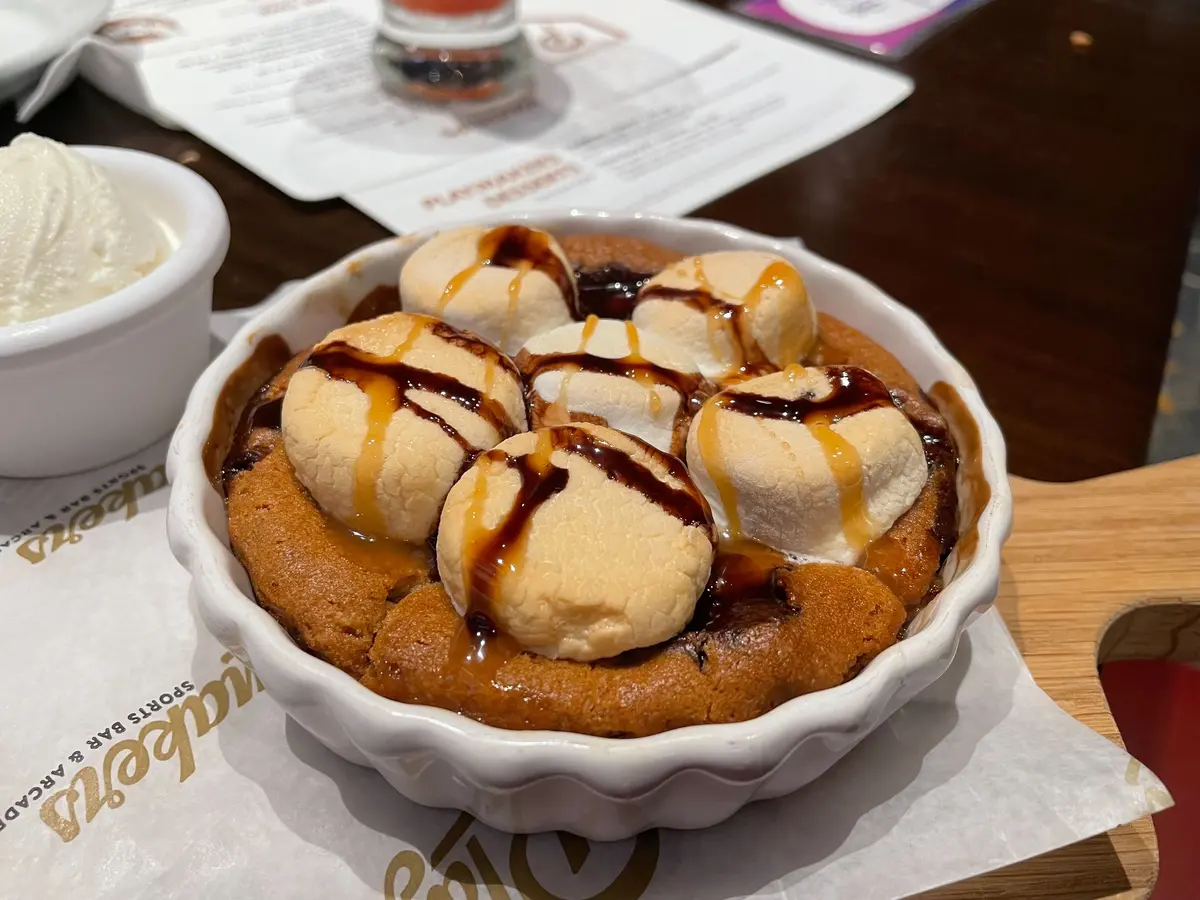 As someone with a sweet tooth, trying new desserts is one of my favorite parts of a cruise. Being able to order a dessert I may otherwise be hesitant to try, or one that I have never heard of before, is always a highlight of my meals onboard.
On my recent cruise on Wonder of the Seas, I took up the challenge of finding the best desserts to eat onboard. After much "strenuous" dessert research, I've put together my list of the top six desserts to try on Wonder of the Seas.
Fried Cheesecake from 150 Central Park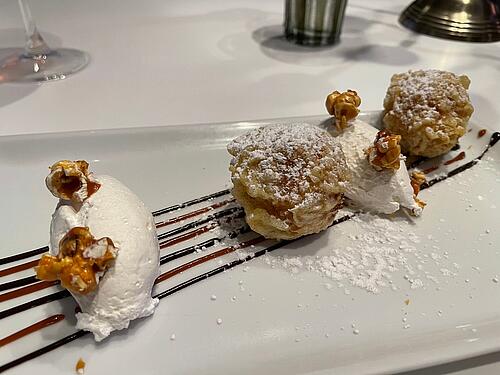 Starting off our list of top desserts is perhaps the most delicious of all: fried cheesecake from 150 Central Park.
Fried cheesecake is a dessert I never knew I needed until I tasted it. Rich, creamy cheesecake covered with a crunchy, powdered sugar-coated shell and doused with fresh whipped cream and caramel sauce? Yes, please!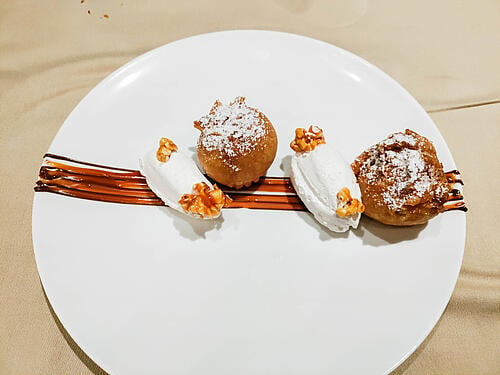 150 Central Park exceeded my expectations as soon as I tasted my first course, but they really went above and beyond with the fried cheesecake. This may be one of my favorite desserts of all time.
If you're considering dining at 150 Central Park on your next cruise, don't hesitate to order the fried cheesecake for dessert (and bring your stretchy pants!).
Warm Bread Puddin' from The Mason Jar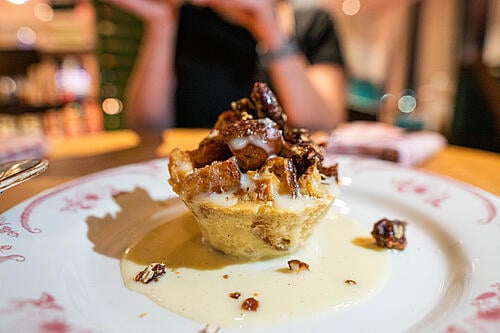 I was so full after my hearty dinner at The Mason Jar that I actually skipped dessert. Due to my aforementioned sweet tooth, skipping dessert on a cruise is unheard of!
Because of this, I had major FOMO (fear of missing out), so I made sure to return to The Mason Jar later in the cruise to try a dessert.
Luckily The Mason Jar bar features a late night menu after 9PM, so I could order menu items without eating a full meal at the restaurant. With fried oreos, Georgia peach ice cream, and chocolate pecan pie on the menu, choosing a dessert was a difficult task in itself.
Ultimately, after hearing a few guests rave about it, I decided on the Warm Bread Puddin'.
Soft, sticky, and sweet, the warm bread pudding is made from buttery croissants and soaked in vanilla-bourbon custard. To top it all off is a serving of rich vanilla bean ice cream, offering the perfect balance between warm and cold.
Bread pudding is not a dessert I would typically order, but I was definitely glad I did.
Note: the Warm Bread Puddin' isn't technically on the late night menu, but I was still able to order it without a problem.
Campfire Cookie from Playmakers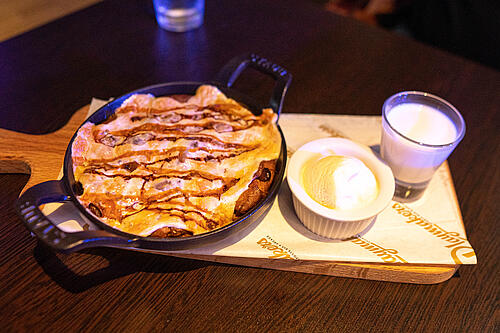 I first tasted the campfire cookie on my first cruise on Mariner of the Seas and it has been one of my go-to desserts ever since. In fact, I love this dessert so much that I'm (very slightly) upset whenever I'm on a ship without Playmakers!
The campfire cookie is one of two desserts at Playmakers Sports Bar & Arcade. In simple terms, the campfire cookie is a chocolate chip cookie with marshmallows on top.
A dessert of this caliber, though, deserves a more thorough description. Let's take a deeper dive into the three components of the campfire cookie:
Layer 1: a warm, gooey, extra-chocolatey chocolate chip cookie cooked in a skillet
Layer 2: a generous coating of marshmallow, toasted to perfection and topped with nutella and caramel sauce
Layer 3: a side of rich vanilla ice cream and milk to add to the cookie
What's great about Playmakers is that, while it is a specialty restaurant, the menu items are priced a la carte. Therefore, there's no need to sit down for a lengthy three course meal in order to try the campfire cookie.
At $6, it's a dessert well worth the cost.
Baklava from Solarium Bistro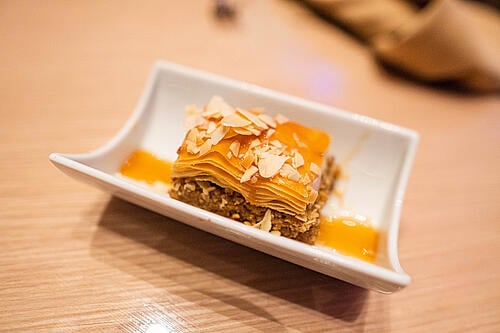 Solarium Bistro is one of my favorite complimentary dinner options on an Oasis or Quantum Class ship. Not only is it usually much less crowded than other venues, but it offers cuisine not available elsewhere onboard.
From hummus and pita to lamb chops and babaganoush, the Mediterranean-style cuisine at Solarium Bistro always hits the spot.
If you have room in your stomach after your eighth serving of hummus, be sure to head to the dessert station. My favorite dessert at Solarium Bistro is also one of my favorites onboard, and that is the nutty, sugary, and sticky baklava.
For a complimentary dessert that is tricky to make, the baklava onboard is surprisingly good. I've never seen baklava anywhere else on a Royal Caribbean ship other than Solarium Bistro, so don't miss it on your next Quantum or Oasis Class cruise.
Crispy Sesame Balls from Izumi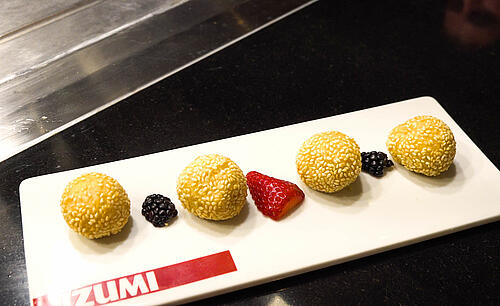 Overshadowed by Izumi's mochi ice cream are the Crispy Sesame Balls. Unassuming yet unique, the sesame balls are the star of Izumi's dessert menu.
The sesame balls are made from glutinous rice flour and sugar, which brings a chewy, mochi-like texture to the dessert.
Each sesame ball is then filled with a small amount of red bean filling, which is slightly sweet yet not overpowering. Red bean is a common dessert flavor in Japan, often used as a filling for steamed buns and mochi.
Lastly, each sesame ball is coated in sesame seeds and fried. The crunchy sesame coating gives each bite a toasted, nutty flavor that blends perfectly with the sugary, chewy consistency inside the sesame ball.
Each order comes with four sesame balls which are served warm.
The majority of guests dining at Izumi tend to order mochi ice cream without considering other desserts on the menu. During your next meal at Izumi, step out of your comfort zone and try the Crispy Sesame Balls. You'll thank me later!
Pool deck soft serve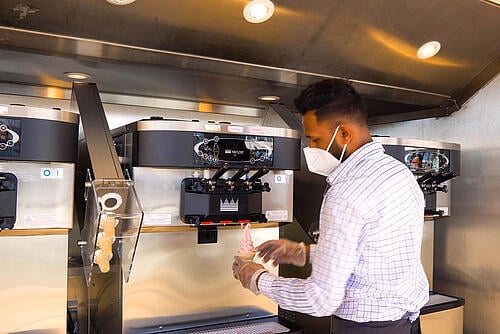 The last dessert on our list is also the most simple: a heaping cone of complimentary soft serve from the pool deck.
On every Royal Caribbean ship is a soft serve ice cream/frozen yogurt station where guests can enjoy unlimited and free ice cream cones. The most common flavors are vanilla, chocolate, and twist, although strawberry (my personal favorite) may be available as well.
While a cold ice cream cone is extremely satisfying on a warm Caribbean day, there are a few ways to take your soft serve game up a notch:
Add soft serve ice cream to a cup of soda for a soda float
Bring a cookie or brownie from the Windjammer and add ice cream on top
Put ice cream in a cup and add chocolate milk. Mix it together for a DIY chocolate milkshake!
Make an Italian affogato by filling a cup with vanilla ice cream and adding a shot of fresh, warm espresso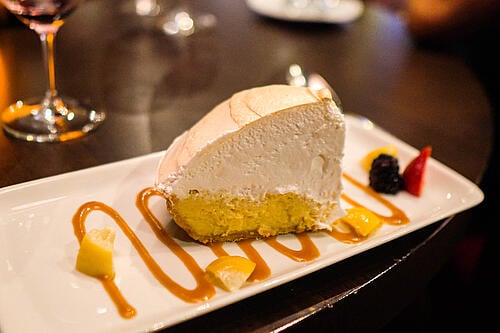 There are a few runner-ups I should add to my list: Key Lime Pie from Chops Grille, Go Bananas from Giovanni's Italian Kitchen, and coconut cookies from Cafe Promenade.
What is your favorite dessert on a Royal Caribbean ship? Let us know in the comments below, and be sure to check out our FULL ship tour of Wonder of the Seas to learn more about Royal Caribbean's newest ship: