In:
An evacuation order has been ordered for the Caribbean island of St. Vincent, and Royal Caribbean has already sent a cruise ship to assist in evacuating residents.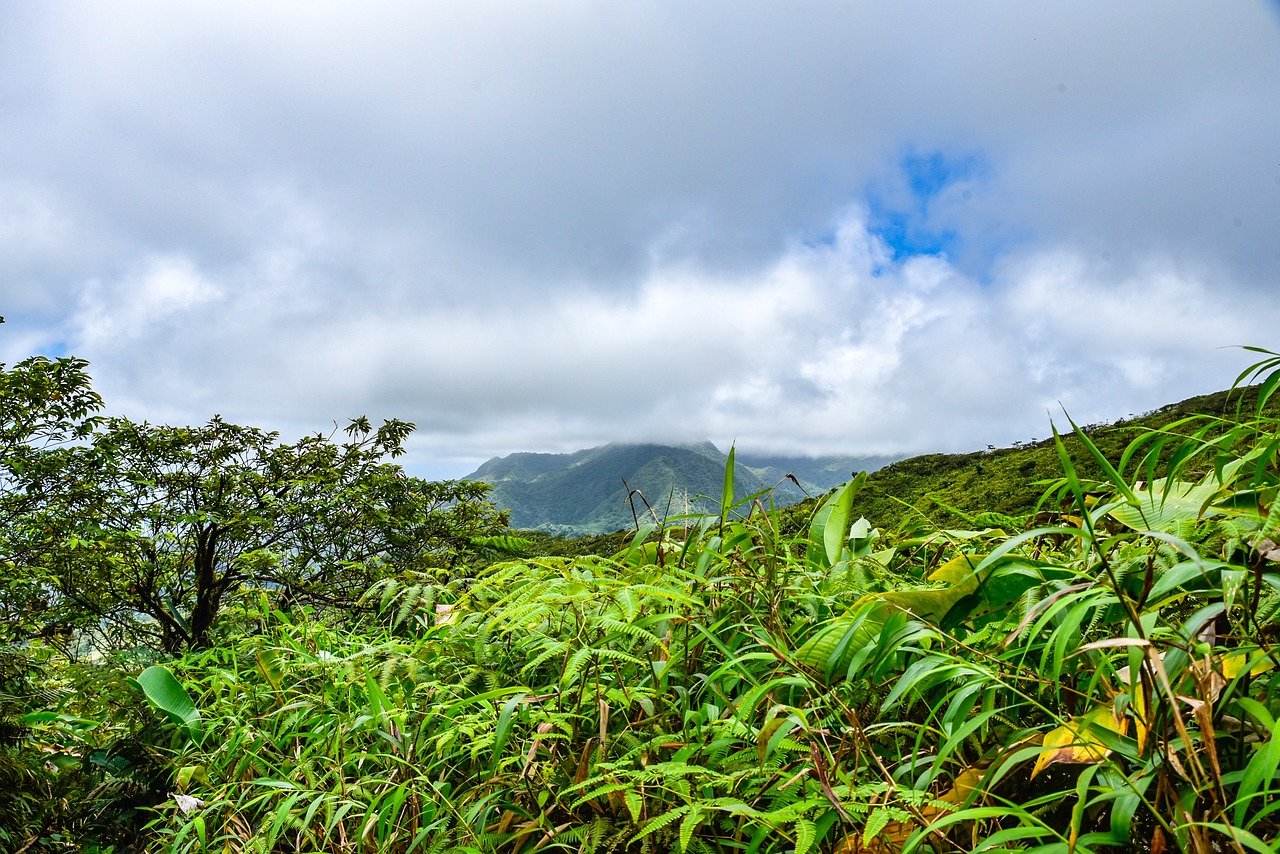 St. Vincent Prime Minister Ralph Gonsalve issued an evacuation order after seismologists declared a "red alert" due to an impending eruption from La Soufrière.
Based on marine traffic websites, Royal Caribbean's Serenade of the Seas is headed to the island according to local officials.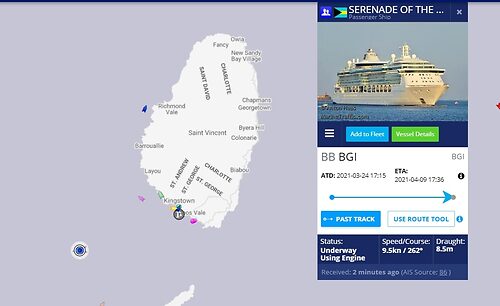 Update: Royal Caribbean Group issued a statement confirming the support of Royal Caribbean International and Celebrity Cruises vessels.
Royal Caribbean International and Celebrity Cruises are sending ships to St. Vincent in the Caribbean to evacuate residents currently at risk from a potential eruption of the island's La Soufriere volcano which has seen increasing activity in recent days.
Both cruise lines are working closely with St. Vincent authorities to assist residents most at risk. Royal Caribbean International's Serenade of the Seas and Celebrity Cruises' Celebrity Reflection are on their way to the island nation and are expected to arrive later this evening to assist with evacuation efforts.
All precautions will be taken to protect the health and safety of the crew and passengers who board our ships.
According to a local Twitter account, the Serenade of the Seas will arrive to help with the evacuation tonight.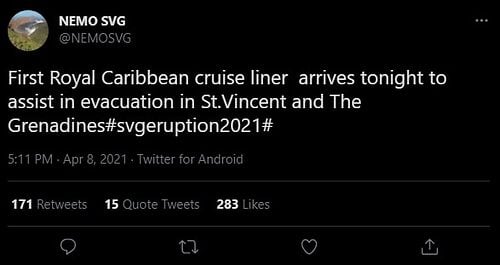 Carnival Cruise Line announced it was sending two of its ships to assist in efforts.
Carnival Cruise Line has agreed to send two ships to St. Vincent to support humanitarian efforts to evacuate residents who are under threat from the volcanic eruption of La Soufriere.  Carnival Paradise should arrive to St. Vincent by 11 a.m. local time on Friday, and Carnival Legend should arrive by approximately 2 p.m. on Friday. 
Each of Carnival's ships can handle up to 1,500 residents who will be transported to neighboring islands.
Experts became concerned about an eruption after monitoring stations reported long earthquakes that suggest fresh magma was trying to reach the surface. In addition, plumes of smoke can be seen emanating from the volcano.
La Soufrière's most devastating eruption was in 1902 when about 1,600 people were killed.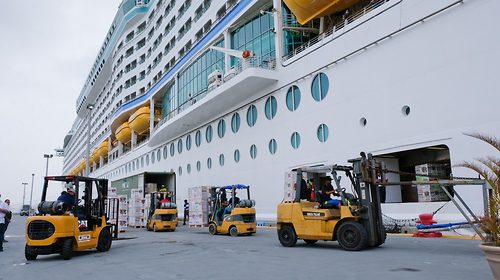 Royal Caribbean has a long history of assisting Caribbean islands when natural disasters strike.
Whether hurricanes, earthquakes, or other calamities, Royal Caribbean has traditionally stepped up with humanitarian aid and assistance.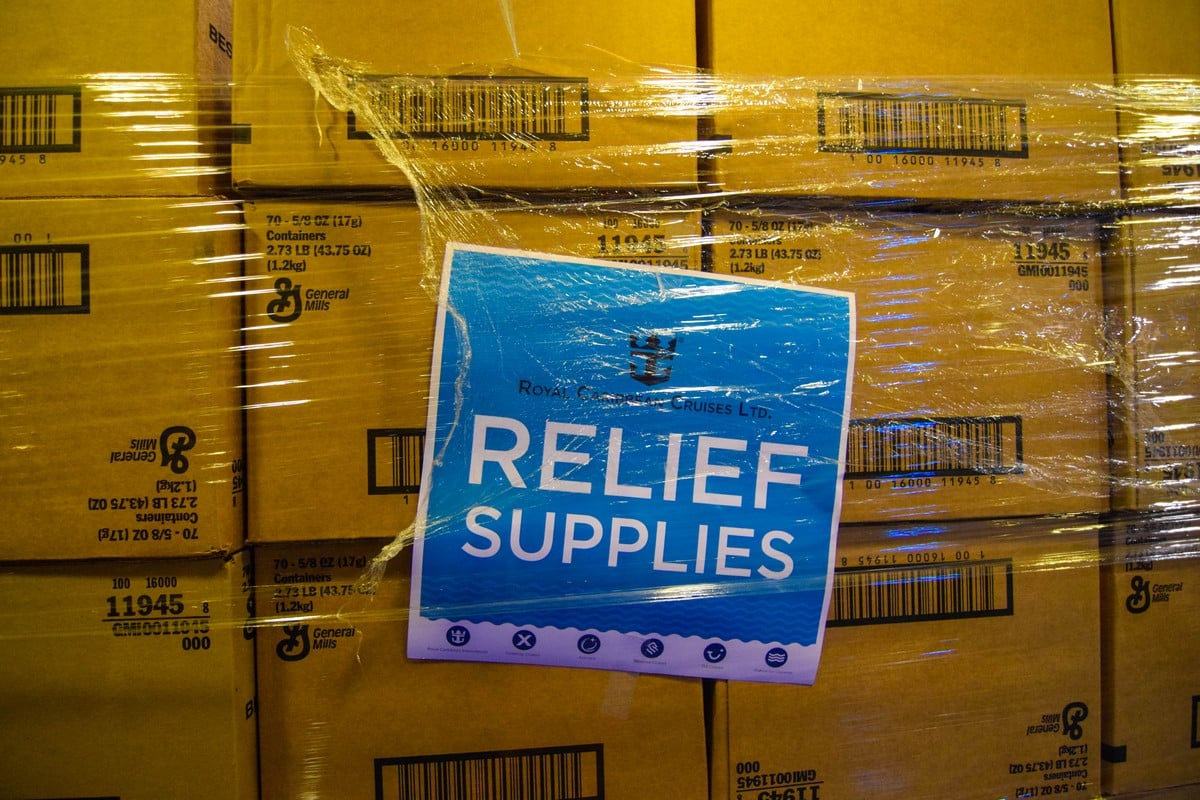 Most recently, the cruise line went to extraordinary lengths to assist the Bahamas following the devastation caused by Hurricane Dorian. Royal Caribbean brough relief supplies and 20,000 daily meals to Grand Bahama Island in just the first week.
Some of their ships also assisted with evacuations to other islands in The Bahamas.