In:
Royal Caribbean ships are packed with so many fun venues, including a few areas you might not know about unless you really looked around.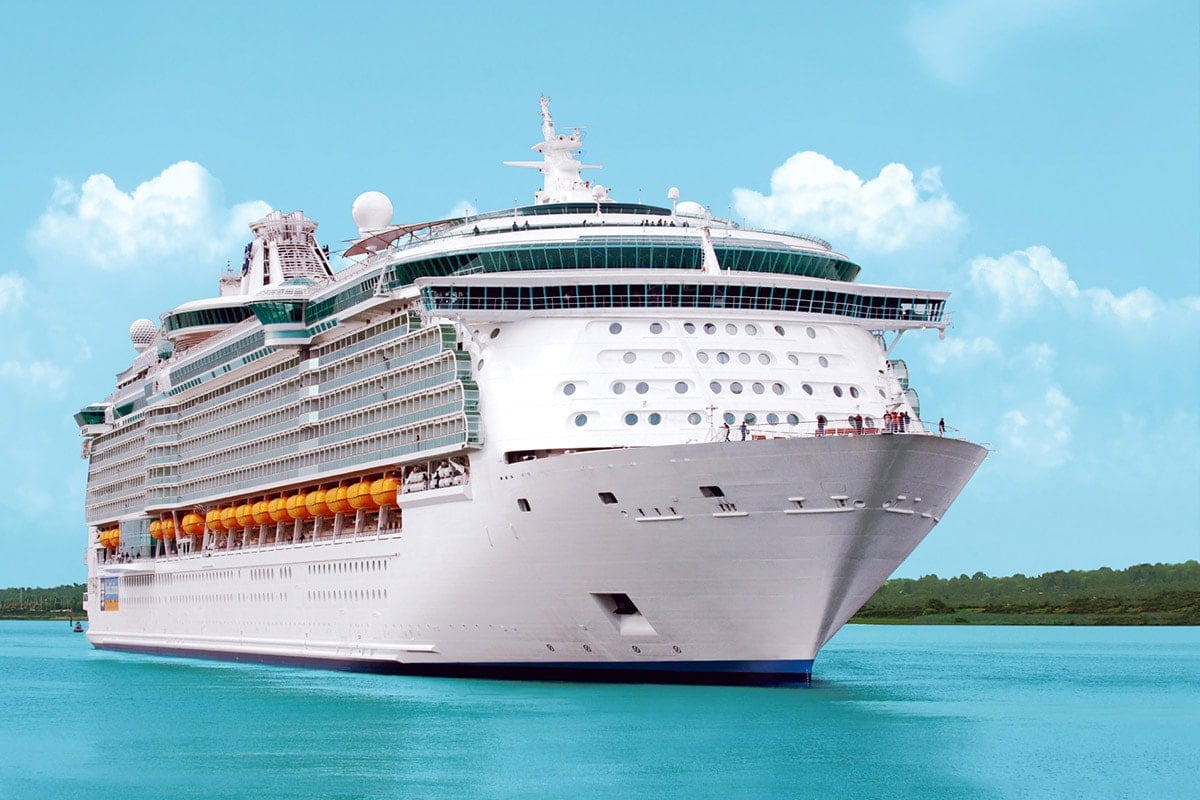 One of my favorite things to do on any cruise ship is try to find an area of the ship most other guests overlook or never consider checking out.  After all, sometimes it is nice to get away from the crowds and enjoy some quiet time (especially if you do not have to compete with the chair hogs).
In looking over the fleet of Royal Caribbean ships, I have compiled a list of my favorite hidden spots so you can enjoy them on your next cruise.  It is up to you if you want to tell anyone else about these secrets.
Aft chairs on Oasis class ships
One of the best spots to relax without crowds and have a great view is the chairs on the aft (rear) of the Oasis Class cruise ships.
Each of Royal Caribbean's Oasis Class ships (Oasis, Allure, Harmony and Symphony) have a jogging track on deck 5 and if you take the track to the back of the ship, you will find a set of chairs that provide a great view of the ocean as you pass by.
This spot is rarely busy, and perfect for reading or just enjoying the scenery.
You can also access this area by going behind the AquaTheater and going down the stairs.
Symphony's piano stairs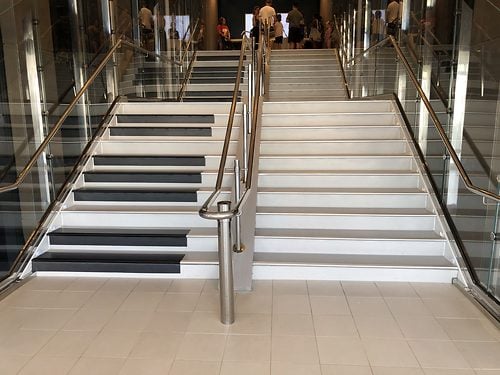 The stairs leading up to Windjammer Marketplace on Symphony of the Seas plays musical notes and briefly light up when you step on them.
There is no sign or anything, so people are always taken by surprise
Play your own tune by walking up or down these stairs located toward the aft of the ship between decks 15 and 16, leading up to Windjammer. 
Helipad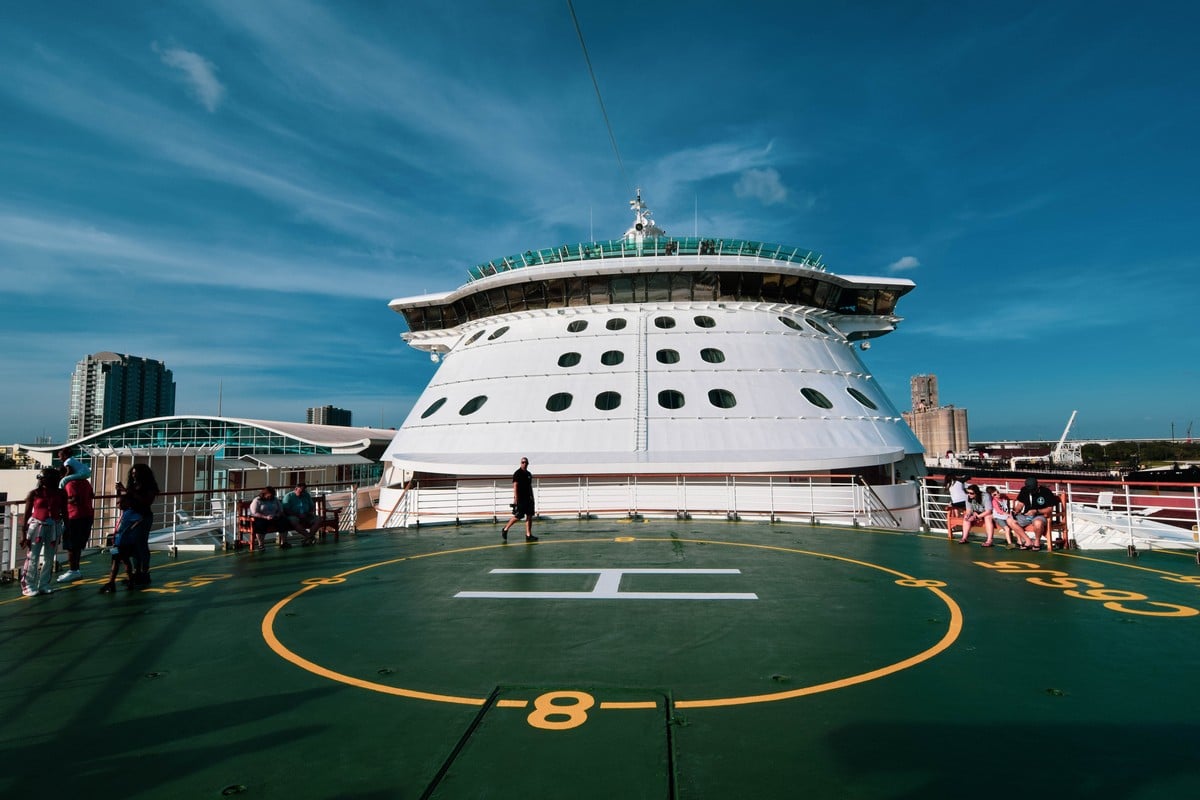 On Radiance, Freedom, and Voyager class cruise ships, you can visit the helipad on the bow (front) of the ship anytime you want for amazing views.
Royal Caribbean permits guests access to the helipad, and it is a great spot to see the port as you leave, especially for those that do not have a balcony stateroom or simply want something a little different.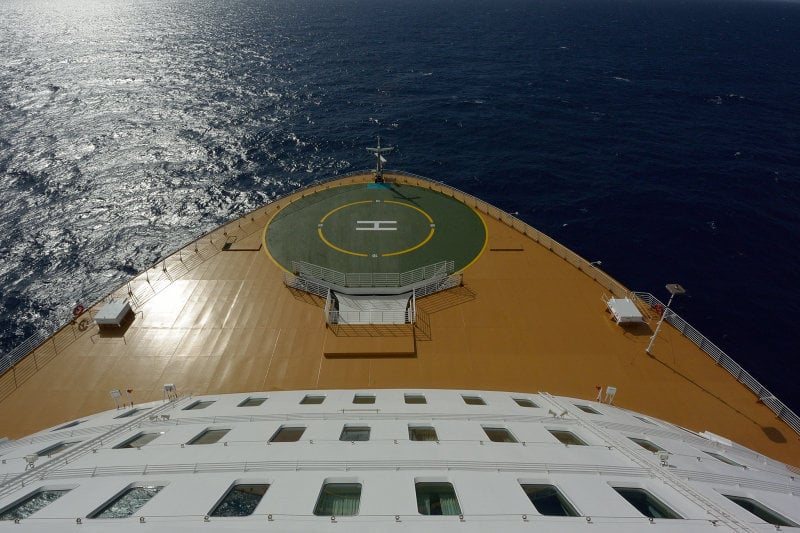 To access the helipad, just go to the promenade deck (usually deck 4 or 5) and walk all the way forward.
Once there, you will find benches to sit on but the best spots are as far forward as you can get.
In addition to sailaway, the helipad is usually open most of the day, but it can close at any time for safety reasons (usually high winds).
Bridge wings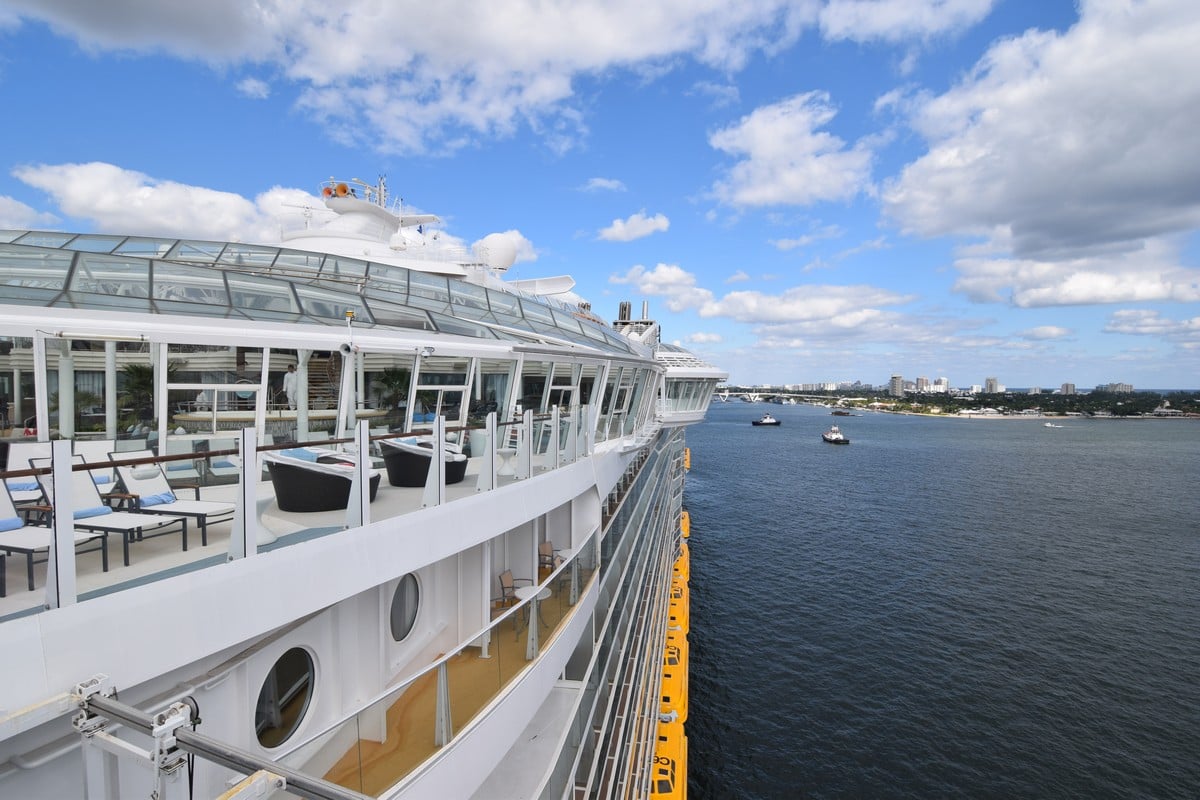 Whether you want the best vantage point for a photo, or just want to get one of the most unubstructed views aboard, the bridge wings are a great choice.
Bridge wings are available on Quantum and Oasis class cruise ships.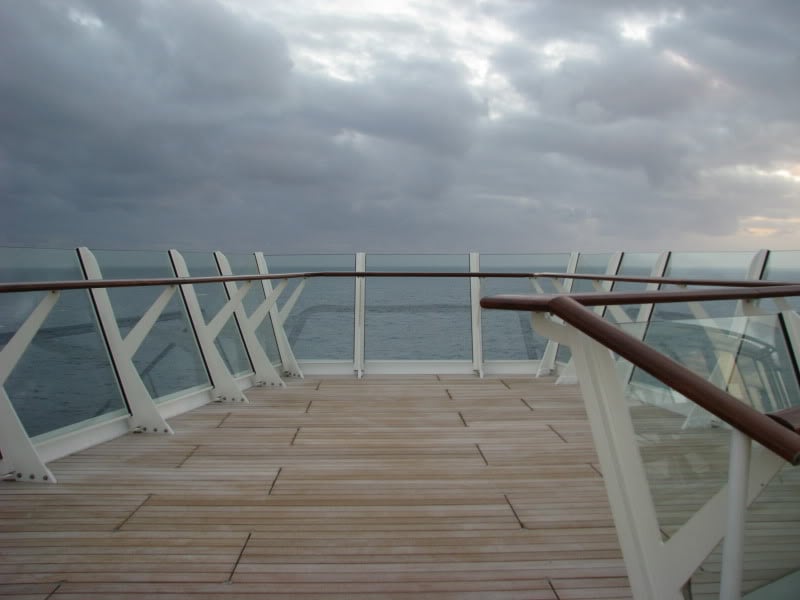 Located on deck 14, these viewing platforms extend out from the ship to provide the absolute best view of what is around.
To get to the wing viewing areas, go to the Solarium and proceed all the way forward
Peek-a-boo bridge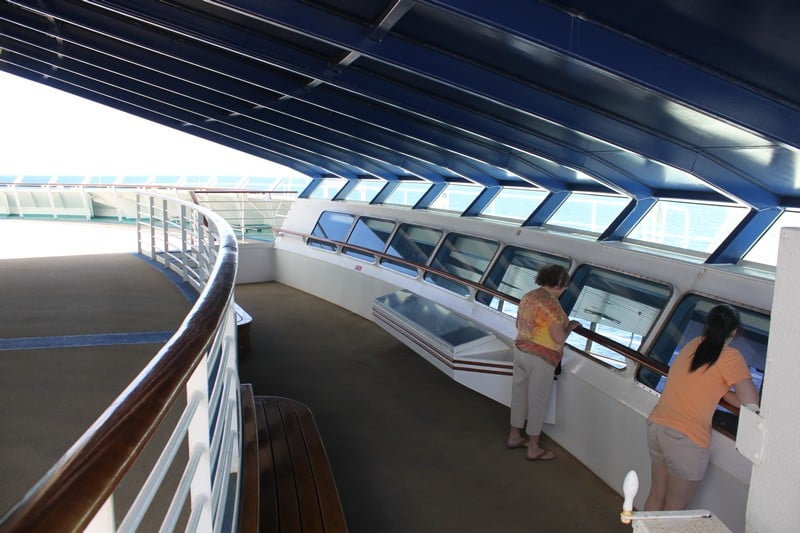 One of the best features of Royal Caribbean's Voyager Class ships has to be is the Peek-A-Boo bridge feature, where guests can peer into the bridge at almost any time.
The observation window allows guests to look down onto the bridge and observe what the officers are up to in their daily navigational duties.  
To reach the Peek-A-Boo bridge, head up to deck 11 and walk past the sliding doors that go forward of the Solarium and do not seem to lead anywhere.
Some Voyager Class ships have had this area removed with recent refurbishments, but not all ships.
Tucked away spots on jogging track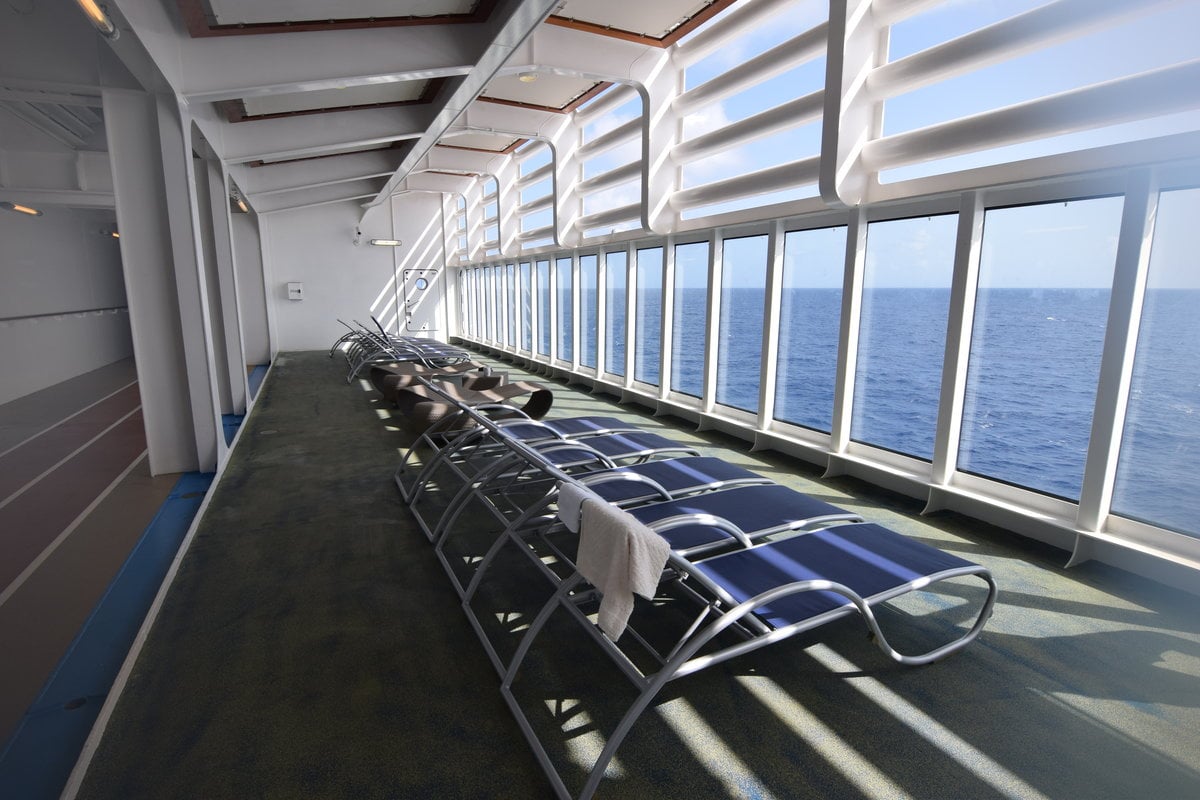 On Harmony of the Seas and Symphony of the Seas, you will find two usually deserted spots for gaming or relaxing.
Harmony of the Seas has a small seating area on both sides of the forward section on deck 5 of the ship to relax in with plenty of lounge chairs.
These areas do not have a name mentioned to reference them, but they are just off the running track on both sides.  Some runners choose to use these areas as a break point, while others simply bring their coffee or book to enjoy the view.
On Symphony of the Seas, you will find on each side of the forward jogging track two alcoves where you can enjoy the view of the ocean and even some lounge chairs.
One side of the deck has a shuffleboard court, and the other had ping pong tables. These alcoves are not only great spots to find seclusion, but they offer something to do with very likely no wait.
Playmaker's Owners Box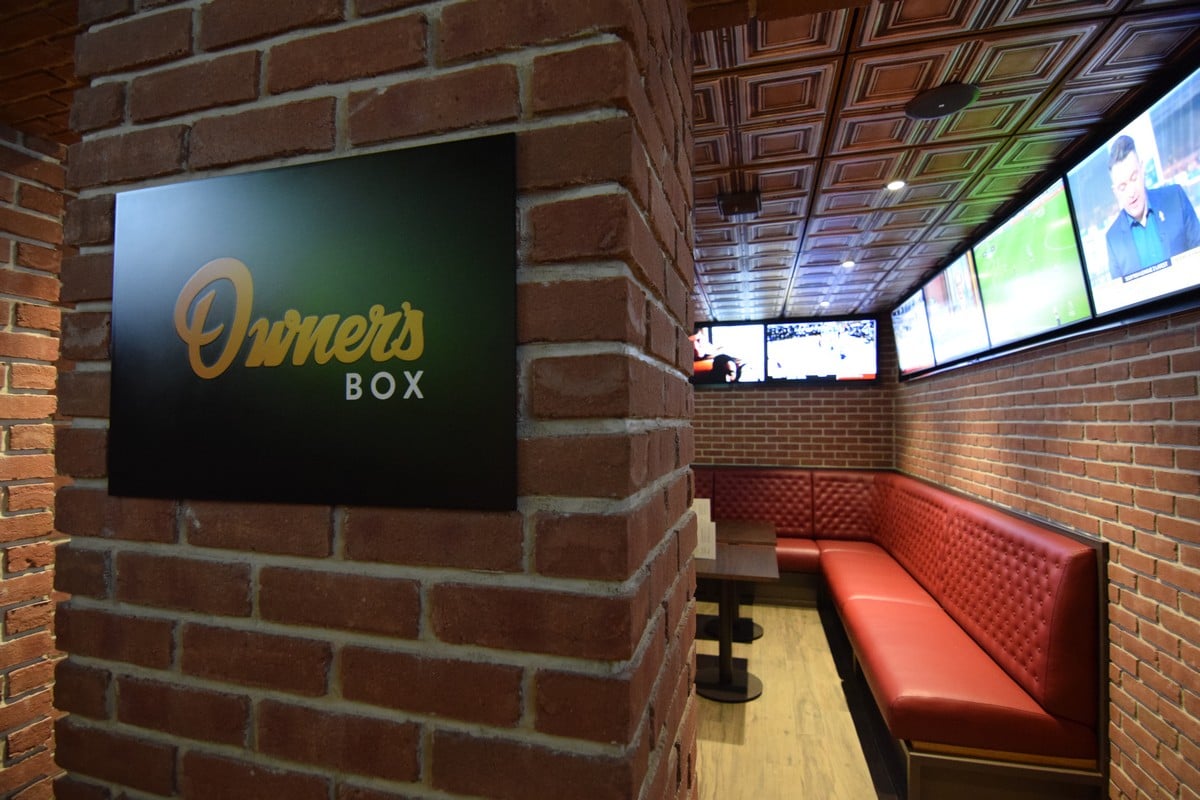 If your crew are looking for a great spot to chat and call your own, be sure to grab the Owner's Box.
On different ships that have a Playmaker's Sports Bar, there is usually a carved out space that is perfect for a group to chat, drink and eat in that provides a bit more privacy than anywhere in the bar.
You can still get drink and food service here, and there is no cost to sit in the Owner's Box. It is simply first come, first served.
Outdoor Windjammer tables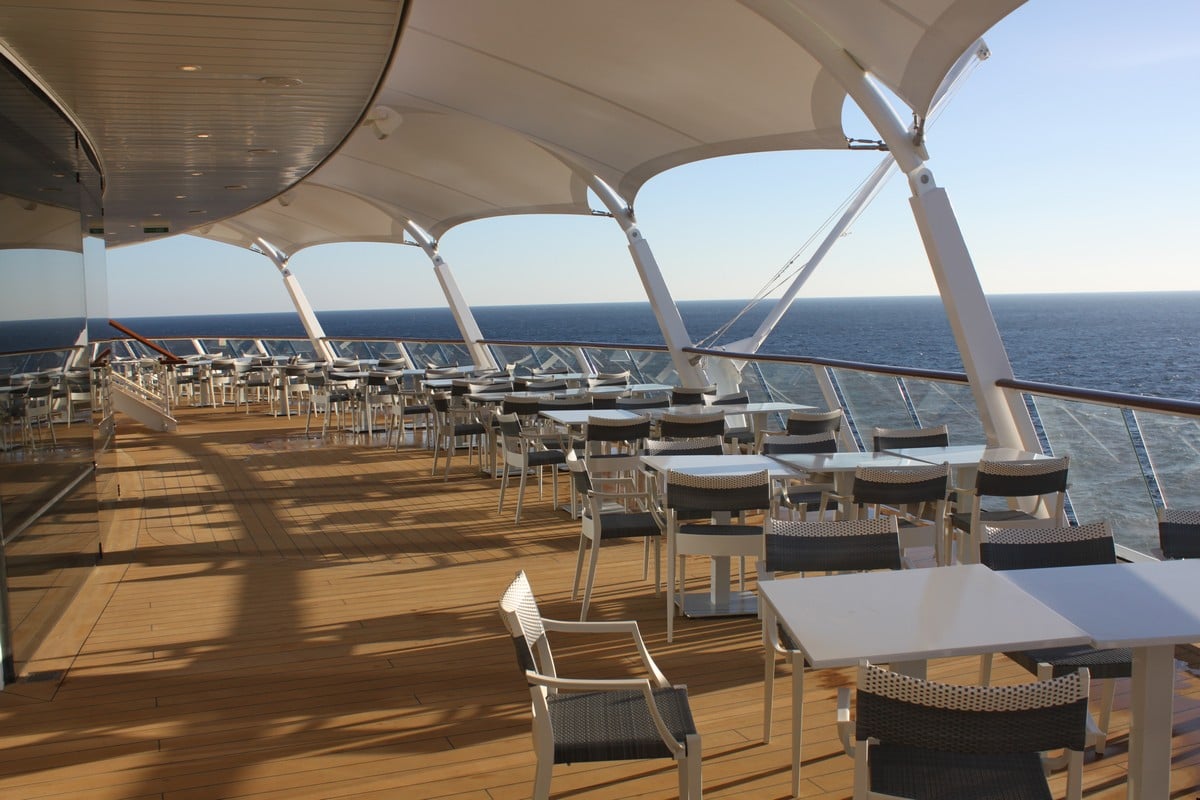 If you happen to be on a Radiance or Quantum Class ship, there is outdoor seating towards the rear of the Windjammer.  
Most guests simply grab their food and sit at one of the tables surrounding the buffet stations, but there is additional seating at the aft of the ship where you can enjoy the passing breeze, as well as the views around you.
After you get your food, keep walking towards the back through a set of doors to discover this usually not busy spot. There are coffee and water stations outside as well.
Your thoughts
Is there a secret spot on a Royal Caribbean ship that you think is worthy of this list? Have you been to any of these hidden gems? Share your thoughts in our comments!